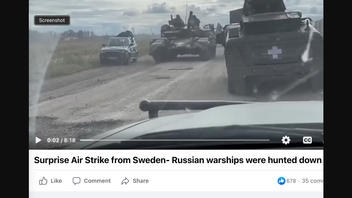 Did Sweden launch a "surprise air strike" against Russia on May 3, 2023? No, that's not true: The claim comes from a clickbait video and is not supported by any other credible sources.
The story originated from a post on Facebook on May 3, 2023. It included a video titled:
Surprise Air Strike from Sweden- Russian warships were hunted down one by one!
This is what the post looked like on Facebook at the time of writing: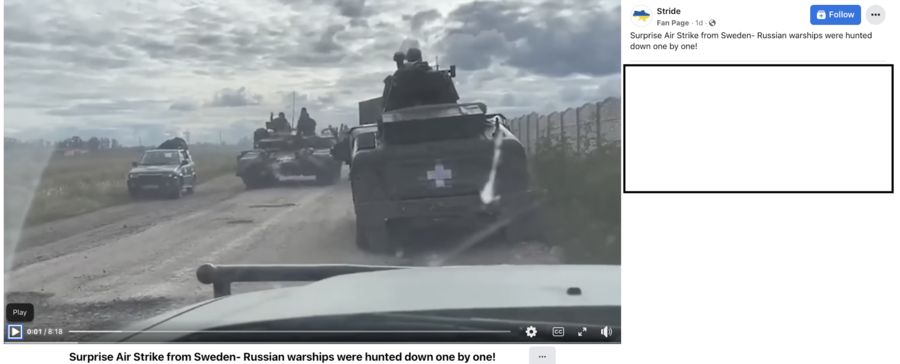 (Source: Facebook screenshot taken on Fri May 5 11:22:31 2023 UTC)
The opening credits in the clip show the logo of CPR Daily News, a YouTube channel that publishes war-related clickbait videos, and a prompt for viewers to "Support us with the 'Super Thanks' Button below!" (The button does not appear on Facebook.)

For the next eight minutes, a male narrator's voice reads what seem to be frontline dispatches but without naming the sources of the information or any particular dates when the described "events" supposedly took place.

The footage that accompanies the claim is labeled "for illustration purposes only." There is no information about when or where it was recorded. One shot of two soldiers in a dry, arid setting (at the 5:55 mark) comes from Getty Images' iStock website.

Furthermore, the visuals do not always align with what the narrator is saying: For instance, while the voiceover discusses ships in the Baltic Sea, viewers see tanks and scenes of land combat.

Had Sweden, an aspiring NATO member, attacked Russia, it would be front-page news worldwide. However, a Google search for such reports in English does not show any relevant results.
Lead Stories also searched Russian-language resources, focusing on articles published within the past month, but, again, found nothing relevant.
The website of the Russian president does not contain any mentions of the purported Swedish "surprise air strike." The website of the government of Sweden does not discuss it, either.
The Facebook account that shared the video is a "Fan Page" created in November 2022 and managed from Germany, according to the account's Transparency tab.
Other Lead Stories fact checks of claims about the war in Ukraine can be found here.