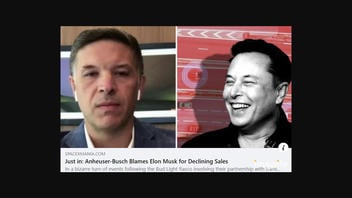 Did Anheuser-Busch blame Elon Musk for a decline in sales in April and May 2023? No, that's not true: The article attached to this post was originally published on a website that says its satirical articles are "not meant to be taken seriously." There are also no corporate statements or credible independent reporting that support the claim.
The claim appeared in a post on Facebook on May 14, 2023. Above a linked article, the caption opened:

Just in: Anheuser-Busch Blames Elon Musk for Declining Sales
This is what the article looked like at the time of writing: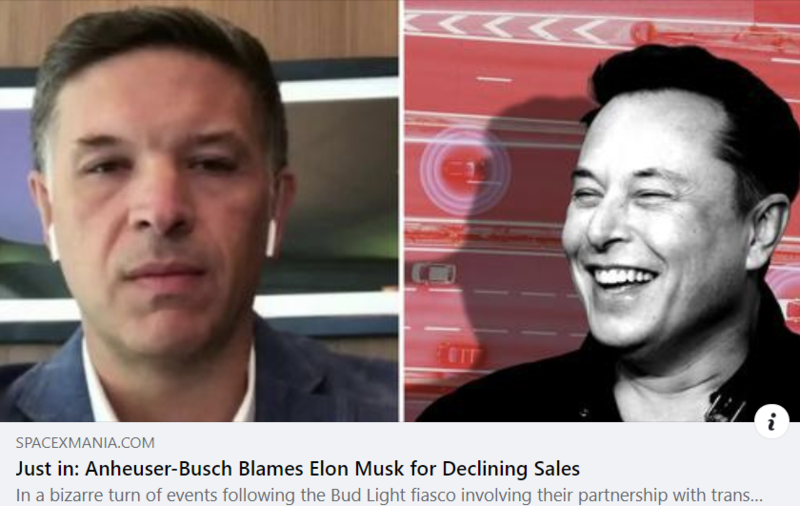 (Source: Facebook screenshot taken on Tue May 16 16:00:18 2023 UTC)
The SpaceXMania article (archived here) attached to this post was dated April 27, 2023, on the SpaceXMania site.
The article claims that Elon Musk's Twitter platform and activity, alongside purported comments he made, contributed to the recent Bud Light and Dylan Mulvaney controversy, aiding in the decline of beer sales at Anheuser-Busch.
Above the article the post links to is a label that reads, "FEATURED SATIRE." The biography of writer "Alex Bruno" says they have a "penchant for satirical commentary." No such label or bio appeared with the article in the version posted on Facebook.
The disclaimer tab on this website, under the "About Satire" section, also reiterates:
Please note that some of the articles on this website are satirical in nature and are not meant to be taken seriously. These articles are meant to be humorous and are often entirely made up. We make no claim that the information presented in these articles is true or accurate.
Readers should exercise caution and use their own judgment when reading and interpreting our satirical articles. We take no responsibility for any actions taken based on the content of these articles.

We understand that some readers may be unfamiliar with satire and may not understand that these articles are not meant to be taken at face value. It is the responsibility of the reader to discern the intent of these articles and to understand that they are not presented as factual news.
The About Us page on the SpaceXMania website also refers twice to its "satirical articles."
A Google News search using the keywords "Anheuser-Busch Blames Elon Musk for Declining Sales" revealed no credible news reports to substantiate this claim, as this would be a significant news event if this claim were true.
A search of the Anheuser-Busch online newsroom using the keywords "Elon Musk," and a Twitter platform search using a key phrase that was misattributed to Musk in the article did not produce any press releases or results to corroborate this claim.
More Lead Stories fact checks about SpaceXmania and Elon Musk can be found here and here.