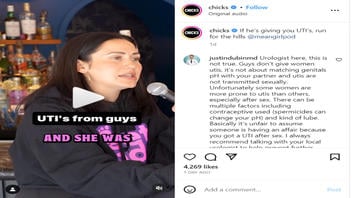 Do cheating partners or "pHs that don't mix" contribute to urinary tract or yeast infections? No, that's not true: While sexual activity can increase the risk of urinary tract infections (UTIs) and yeast infections, there can be other causes, such as improper hygiene, changes in hormones, use of certain medications and underlying medical conditions.
The claims appeared in a post and video on Instagram on May 3, 2023, under the title "UTI's from guys." The description for the post says:
If he's giving you UTI's, run for the hills

@meangirlpod
This is what the post looked like on Instagram at the time of the writing of this fact check: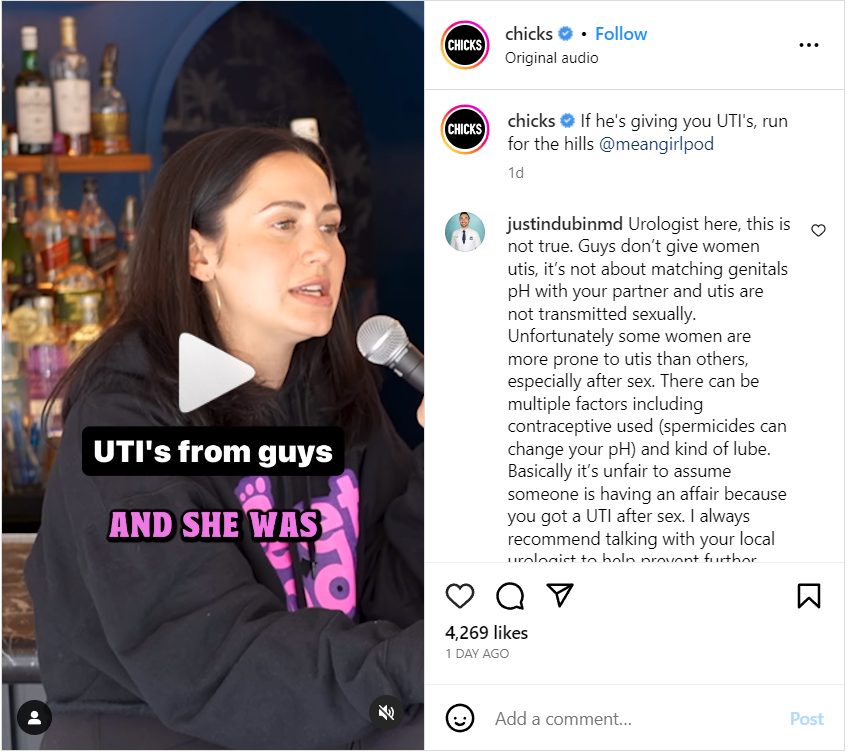 (Source: Instagram screenshot taken on Fri May 5 17:27:29 2023 UTC)
In the 38-second clip, the narrator of the video lays out her case without citing sources for her medical conclusions, other than an unnamed doctor. She said:
UTIs and yeast infection stuff, because my friend just got one, and she used ... well. So, back in the day, she was dating a guy, she would get UTIs every once in a while. And after they broke up, she went to the doctor, and he was like, 'How often do you get UTIs?' And she's like, 'Well, I was dating the same guy for a long time, but I only got it like once or twice.' And he was like, 'Do you think he was cheating on you?'

Because that means someone's pH was out of whack, meaning that someone was having, like, swabbings in some way, shape, or form. So her and I, like, have this running joke where, like, if you are hooking up with a guy and you get, like, UTI or yeast infection, it means your ... pHs don't mix, which means they probably aren't somebody for you.
UTIs and yeast infections have many causes, but Dr. Jacqueline Speed, a urologist at Salem Hospital, part of Mass General Brigham in the Boston area, told Lead Stories in a May 5, 2023, email that none of the claims in the video are true. She said:
The most common reason that UTIs occur in females is that the bacteria from the anus travels into the urethra. (This can be independent of cleanliness--the areas are just anatomically close together.) Intercourse can propel the bacteria around the area into the urethra.
Speed said UTIs have nothing to do with pHs not mixing or a partner cheating. In addition, she said:
We do think about the pH of the vagina in the setting of a post-menopausal women with recurrent UTIs as decreased estrogen levels affect the pH of the vagina and increase the risk of UTIs.
Speed offered some additional prevention advice in her email to Lead Stories:
It is important to urinate directly after intercourse to prevent UTIs. If a women is getting recurrent post-coital urinary tract infections, she should see a urologist who can help with prevention of these.
Centers for Disease Control and Prevention
The CDC website lists the top risk factors for yeast infections and UTIs:
Women who are more likely to get yeast infections include those who:
Are pregnant
Use hormonal contraceptives (for example, birth control pills)
Have diabetes
Have a weakened immune system (for example, due to HIV infection or medicines such as steroids and chemotherapy)
Are taking or have recently taken antibiotics
Cheating partners or pHs that don't mix are not among the risk factors the CDC identifies for UTIs:
UTIs are more common in females because their urethras are shorter and closer to the rectum. This makes it easier for bacteria to enter the urinary tract.

Other factors that can increase the risk of UTIs:

A previous UTI
Sexual activity
Changes in the bacteria that live inside the vagina, or vaginal flora. For example, menopause or the use of spermicides can cause these bacterial changes.
Pregnancy
Age (older adults and young children are more likely to get UTIs)
Structural problems in the urinary tract, such as enlarged prostate
Poor hygiene, for example, in children who are potty-training