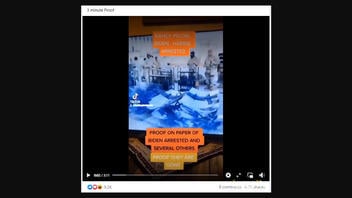 Were three high-profile Democrats, including President Joe Biden, arrested on or before May 10, 2023? No, that's not true: The claim came from a 2021 video that theorized about that happening in the future, but two years later, as of this writing, none of it materialized.
The story appeared in a post published on Facebook on May 10, 2023. It contained a video with a standard present-tense headline for events that have already happened:
NANCY PELOSI, BIDEN, HARRIS, ARRESTED
The caption continued:
3 minute Proof
This is what the post looked like on Facebook at the time of writing: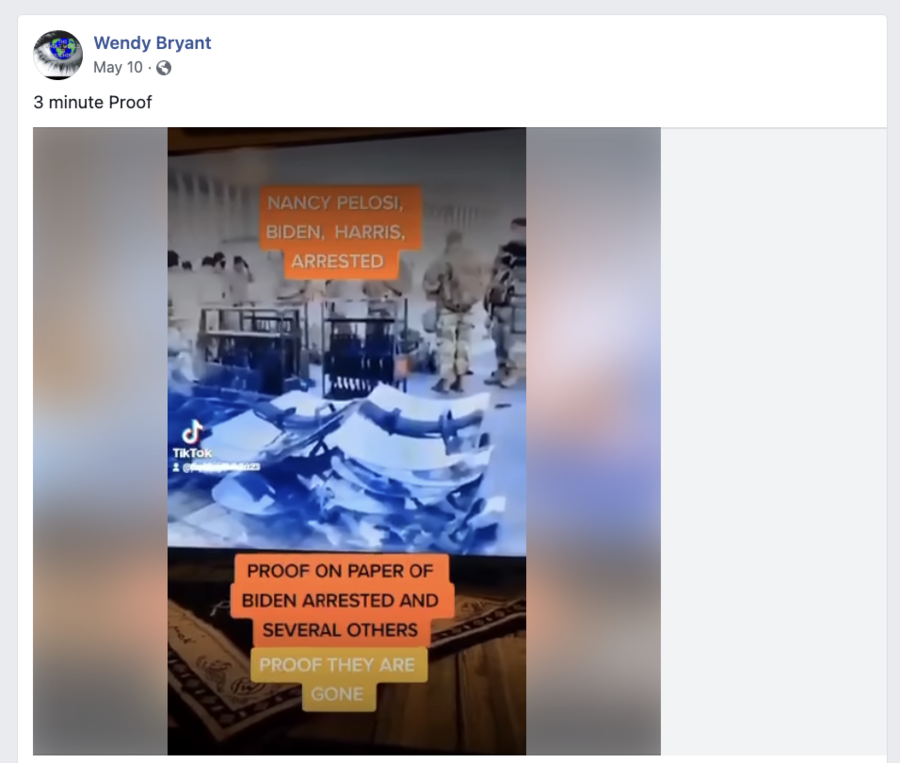 (Source: Facebook screenshot taken on Mon May 22 14:00:19 2023 UTC)
Contrary to the claim, the video did not contain any proof that the purported arrests had been made.
The post on Facebook reused a fragment from the Infowars stream -- an online show hosted by Alex Jones, a conspiracy theorist who has been ordered to pay millions of dollars for false claims. The particular episode with the scene shown in the video (beginning at the 4:33 mark) was broadcast in January 2021. It featured Steve Pieczenik, a psychiatrist by training who worked in the U.S. State Department under several White House administrations through the 1970s. In the fall of 2020, Pieczenik began spreading false claims about that year's presidential election in the U.S.
In the video posted on Facebook, he admits (at the 00:14 mark) that at the time of recording, those arrests did not place:
We are about to arrest Pelosi, we're going to arrest Biden, Hunter Biden, Mitt Romney. We are talking about a whole list of individuals whom I've identified on this show for years.
Who exactly Pieczenik referred to by using the pronoun "we" remained unclear, given that he had no formal affiliation with the federal government or the military at that time.
Had the story about the purported arrests been true, that would be covered by major news organizations. However, no reports about that were published between January 2021 and May 22, 2023.
As of this writing, President Joe Biden, Vice President Kamala Harries and former House Speaker Nancy Pelosi continue to carry out their duties, and given the public nature of their work, all three are frequently seen in public and in news coverage.
On May 16, 2023, Rep. Nancy Pelosi was seen at a gala in Washington, D.C.
Vice President Kamala Harris delivered a public speech in California on May 19, 2023.
On May 18, 2023, President Biden arrived in Japan to participate in the G7 summit. Video of his appearance were aired by many TV stations, including PBS. According to the White House website, on May 22, 2023, Biden made public the names of his new nominees for several roles in his administration.
Other Lead Stories fact checks about the purported arrests of high-profile figures, a favorite traffic-building ruse of conspiracy sites, can be found here.