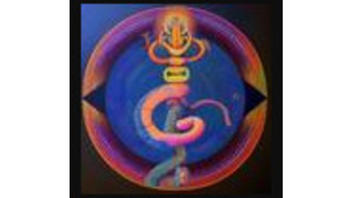 Does a "new study on fasting" prove it can cure any illness? No, that's not true: While fasting has been shown to have potential health benefits and may be useful in certain contexts, such as weight loss and improving insulin sensitivity, there is no evidence to suggest that it can cure all illnesses.
The claims appear in a video on TikTok (archived here) which was published on April 19, 2023. The same video was also published to Facebook (archived here) on April 27, 2023, under the title "Fasting cures everything." The post on TikTok includes these hashtags:
#fastingforhealth

#spiritualtiktok

#conciousness

#focus

#healing

#nutrition

#alkaline

#fruit

#celestialuniversity

#embodimentcelestial
This is what the post looked like on TikTok at the time of writing: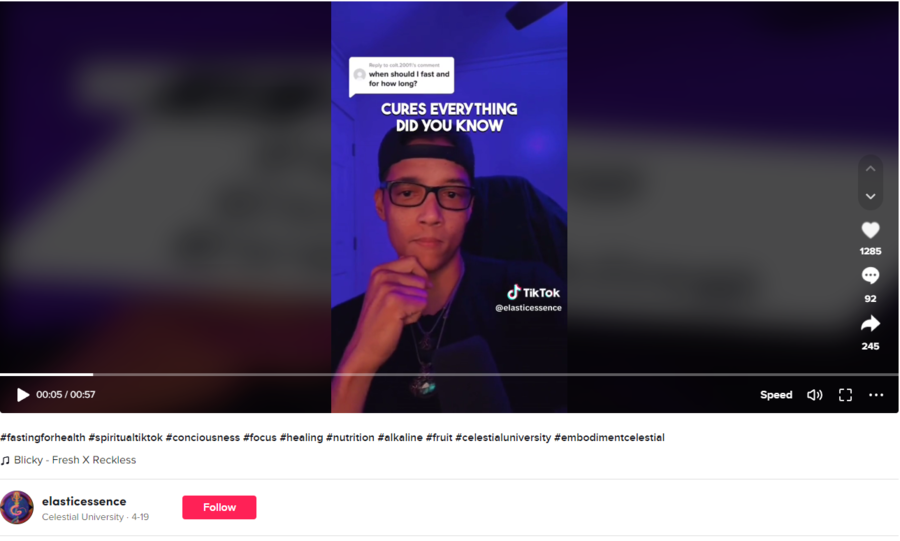 (Source: TikTok screenshot taken on Mon May 8 14:24:39 2023 UTC)
In the 57-second clip, the narrator of the video lays out his case without naming the study he cites as the source for his claims. He says:
The new study on fasting: can cure any illness. They found out that fasting cures everything. Did you know that? You know why? You're not going to find that out because pharma is a multi-trillion-dollar industry. Your whole life is a business. Your whole health is a business. Diabetes is a fucking business.

They had all these people go to an island doing a water fast, spring water fast. By day 20, every single person that was diabetic, whatever disease that they went there with, testing negative. They found out that after 24 hours, your body automatically goes into ketosis. They also found out that, even if you're at a whopping 7 percent body fat, it is equivalent to 40,000 calories and can sustain you for over 40 days.

That's their new study, and guess what happened? They are filming a documentary. The people that were in the documentary are speaking up about it, and they're even showing the evidence that they've found. But guess what, all of the networking groups that were trying to film it, they all got canned, and they all said, 'You can't publish this.'
The narrator of the video doesn't provide any evidence of the people he says are "speaking up" about the study in a purported documentary that he claims has been banned.
Shannon Vukosa, a clinical nutrition manager at Brigham and Women's Faulkner Hospital, told Lead Stories in a May 8, 2023, email that "there are no recent studies that claim fasting 'cures any illness.'" She continued:
There are little to no published data linking intermittent fasting regimens with clinical outcomes such as diabetes, cardiovascular disease, cancer, or other chronic disease like Alzheimer's disease.
Suzanne Davis, a clinical nutrition manager and a certified diabetes educator at Nantucket Cottage Hospital, part of Mass General Brigham, said in a May 8, 2023, email that the assertions made in the video are false. She told Lead Stories:
There is no truth to this claim. Fasting does not cure everything.
There has not been a recent study as the video suggests.
Intermittent fasting strategies have been used and studied but evidence of efficacy have been mixed.
There isn't anything that will cure everything. Fasting for 40 days as the video suggests could be detrimental to your health.

... If a claim is too good to be true it is usually a red flag. However, there are some clinical indicators to make fasting an appropriate approach in certain situations, but there are different types of fasting that also need to be considered.
Vukosa said, "The jury is still out about the effectiveness of time-restricted fasting for weight loss," especially of the type described in the video. She added:
Intermittent fasting is not currently a recommended treatment for weight loss or any other health condition. There needs to be more research, especially regarding any negative side effects of fasting, such as the risk of nutrient deficiencies. Intermittent fasting may pose a health risk for certain individuals, so it is not recommended for people with diabetes, women who are pregnant or breastfeeding, and individuals with a history of eating disorders or disordered eating.
Lead Stories has previously looked into these fasting claims: