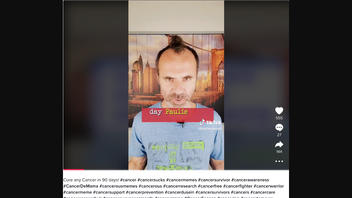 Will a fast of water, coffee and tea followed by a diet of only vegetable juice and a ribeye steak cure cancer in 90 days? No, that's not true: Experts told Lead Stories that there is no scientific evidence that this specific regimen will cure cancer. A 2017 study shows that there may be evidence that intermittent fasting coupled with cancer treatment can reshape antitumor immunity in patients with cancer, but much more research is needed.
The claim appeared on TikTok and was published on December 14, 2022, with the caption "Cure any Cancer in 90 days!" It opened:
Let's cure cancer within three months.
This is what the post looked like on TikTok at the time of writing: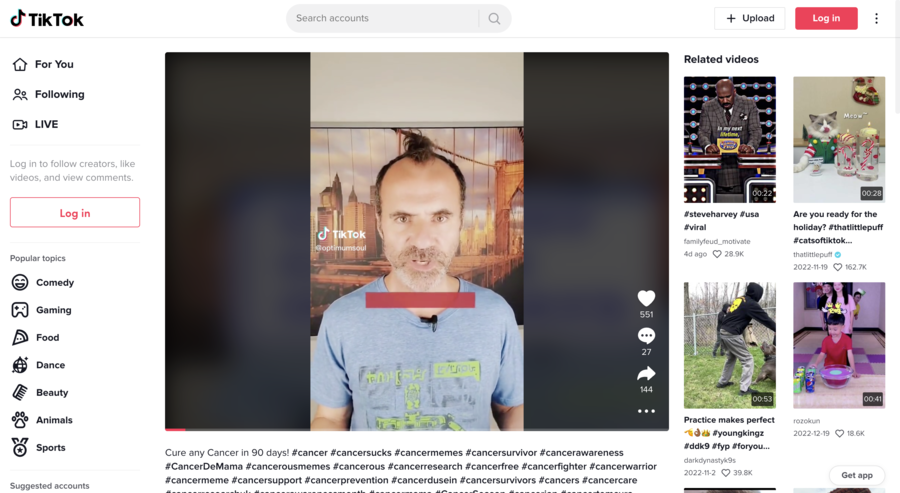 (Source: TikTok screenshot taken on Tue Jan 24 16:29:41 2023 UTC)
The narrator, who identifies himself only as "Paulie," makes the claim that a person's cancer will be "virtually gone" if they follow this specific diet. The diet, according to the narrator, starts with "a water, coffee, tea fast" for 21 days, which the narrator states will reduce a tumor to 50 percent of its original size. That's followed by 60 days of one meal a day that consists of vegetable juice and a "grass-fed, grass-finished" ribeye steak. The ingredients in the vegetable juice are not described in the video. The narrator does not cite any sources for this claim and only says that the diet is "what people have done to cure this 100 percent."
David Turner, a member of the Cancer Prevention and Control research program at Virginia Commonwealth University's Massey Cancer Center, told Lead Stories in a January 24, 2023, email:
It is becoming increasingly apparent that the ... consequences of nutrition are not driven by a

single nutrient, macronutrient, or dietary pattern,

but by the

combined effects of

nutritional behavior on

other cancer risk factors including but not limited to genetic mutation/predisposition, adiposity, and/or disease comorbidities. To this end there is no scientific evidence to support these claims.
Emily Ho
, a professor in the College of Public Health and Human Sciences at Oregon State University, echoed a similar sentiment in a January 24, 2023, email to Lead Stories:
We don't believe in any claims that do not have strong clinical evidence - which is the case here. There is little evidence base to support that these diet strategies will cure cancer.
Ho's academic research focuses on understanding the role nutrition plays in the beginning and/or progression of long-term diseases like cancer.
Thomas Seyfried
, a biology professor at Boston College, also does not recommend this fasting coupled with the diet because "
People cannot survive without water for more than 10-11 days." He does note that some of the points the narrator makes in this video are accurate, but does not recommend the fasting and diet overall. In a January 24, 2023, email, he wrote:

Most if not all cancer cells are dependent on glucose and glutamine fermentation and cannot use fatty acids or ketones as alternative fuels ... Any nutritional diet that can lower glucose while elevating ketone bodies can be therapeutic for managing cancer. While some of the information mentioned in this link is true, the information related to the diet recommendation as a cure for cancer is not accurate.
Seyfried was also mentioned in this
Lead Stories fact check
about how a once-a-year, water-only fasting will not reduce the risk of cancer.
There is no evidence that fasting or a specific diet by itself will make cancer cells disappear. A 2017 academic paper published by Cancer Discovery found that intermittent fasting may help cancer treatments work better, and the results seem promising to researchers. The difference between the claim mentioned in the TikTok and this article is that researchers coupled the fasting with well-researched and reliable antitumor therapies.
More Lead Stories fact checks about inaccurate cancer cures can be found here, here and here.