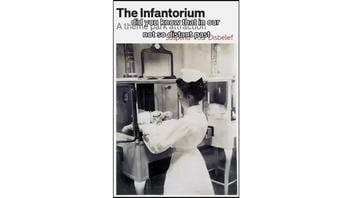 Did a once powerful and technologically advanced "Tartarian Empire" exist before being washed away or buried in a great "mud flood" that reset society? No, that's not true: There is no proof to support this claim. While the assertion has been widely circulated in alternative history and conspiracy theory circles, there is no historical or scientific evidence to support it.
The claim appeared in a video on TikTok (archived here) published on February 21, 2023. The video's description says:
Everything you were taught is a lie. Babies were grown in incubators and sent out West to repopulate abandoned Tartarian cities. The 'Cabbage Patch Kids' were sent on orphan trains and distributed as free labour to farms and factories. Research Tartaria.




#tartaria




#lostworld

#tartarian

#tartarianempire

#tartary

#tartarianarchitecture

#cabbagepatchkids

#orphan

#orphanages

#babies

#babyincubators

#incubators

#coneyisland

#infantorium
This is what the post looked like on TikTok at the time of writing: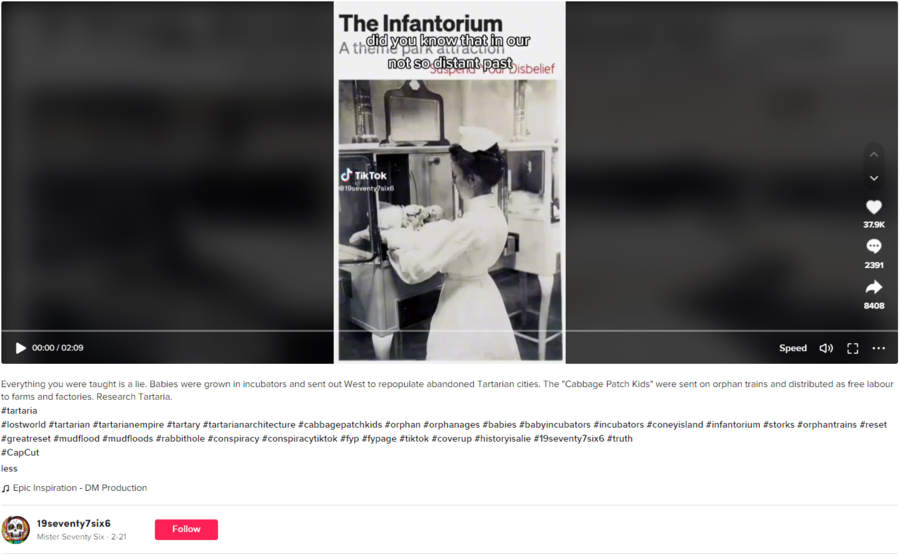 (Source: TikTok screenshot taken on Wed May 10 17:49:55 2023 UTC)
Tartarian Empire
The claims surrounding a "Tartarian Empire" or the "mud flood" that purportedly destroyed it have not been substantiated by mainstream historians, engineers, architects or scientists. Many of the tenets of the pseudohistorical conspiracy theory are spelled out on the back cover of the book "The One World Tartarians: The Greatest Civilization Ever To Be Erased From History" by James W. Lee, which was first published on September 15, 2020. It says:
The Tartary civilization encompassed most of the World we know today.

From Russia to China to Africa to India to Australia and New Zealand to the North and South Americas.

They have been swept from modem his-story books and were likely destroyed in the 19th-20th centuries along with many of their amazing buildings. There are numerous documents proving that there were also Giants amongst them around the World while Black Moors were the Native American people not the Indians.

The people of Tartary were destroved by the same advanced technology that controls our weather today. They were flooded, fire bombed, earthquaked and likely had directed energy weapons (DEW) usdd against them. Many of their remnant skulls and bones have been buried under major cities.

The Tartarian "Old World Order" was an elegant, benevolent society. The[y] used advanced physics and sacred geometrical designs as well as pipe organs and Carillion bells to help and to heal all. One of their main creeds was "To give back more to Nature than we take." All of the architecture and technology we know of today was developed by the Tartar's. There is nothing new under the Sun.

The 18th and 19th centuries were final book burning and removal from historical knowl-edge of this once great civilization that flourished up until just 100 years ago before being eliminated from our history books of today.
Rachel Fulton Brown, an associate professor of history at the University of Chicago, taught a course called "Alt-history" during the winter 2023 semester. It included assignments and discussions on the fictitious Tartaria. In a May 11, 2023, email to Lead Stories, she said:
The reason I used it in my course was to help the students practice both proving and disproving such narratives. It is relatively easy with stories like the Tartarian Empire, which rely on misreading the context of well-known evidence (e.g. the maps of 'Tartaria' on which that story is based) ... The question is not so much why narratives like these arise as why they become so gripping. What is at stake in the stories we tell? That was the point of the course.
Bedross Der Matossian, vice chair of the Department of History at the University of Nebraska-Lincoln, said in a May 10, 2023, email to Lead Stories that there's no truth to the notion of an advanced civilization known as Tartaria. He continued:
It seems that the Tartarian Empire is a fictional place and the mud flood has never [been] taken seriously. I have not been able to find ... coverage of the topic by legitimate scholars. Most of what is out there is based on conspiracies and history buffs.
Lead Stories asked Brown if there is any historical evidence of a Tartarian Empire. She said, "The timelines don't work":
For there to have been an empire of the sort the Tartarian argument claims, everything that has ever been written about European and North American history would be wrong, but this is the kind of exercise that eats its own tail, because to make any historical argument, you have to use correlations and correspondences across chronologies, so completely disrupting the established chronology leaves you with no proof for your own.

The more interesting question is why theories like Tartaria catch on--they typically point to a sense of radical destabilization and an effort to make sense of change by projecting it into the past.
Mud flood
The "mud flood" part of the conspiracy theory suggests the old empire was either washed away by flood waters or covered in deep layers of mud -- both on a global scale -- leaving the old order unrecognizable to modern society.
Adherents to the belief often point to images of windows "going into the ground" or windows that illuminate basement areas of old buildings as examples of the flood inundating what previously existed there. Sometimes excavations in old cities have revealed hidden levels to buildings The images below come from the first five minutes of a video on YouTube called, "Tartaria Mud Flood":

(Source: YouTube screenshots from "Tartaria Mud Flood" video taken on Wed May 10 2023 UTC)
Ground-level windows are often used to provide light to basement areas and in many instances, road bases have been built up over time so that they cover the lower parts of buildings.