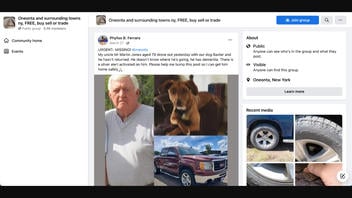 Does this post authentically report someone's elderly uncle named Martin Jones went missing while out with their dog Baxter? No, that's not true: This is a "bait and switch" Facebook post. Social media posts that make this type of claim are purposefully creating emotional content that will grab the reader's attention in an attempt to sell them something, make them provide their personal details or scam them out of their money.
The claim appeared on Facebook (archived here) on March 27, 2023. It read:
URGENT- MISSING #oneonta

My uncle Mr Martin Jones aged 79 drove out yesterday with our dog Baxter and he hasn't returned. He doesn't know where he's going, he has dementia. There is a silver alert activated on him. Please help me bump this post so I can get him home safely
This is what the post looked like on Facebook at the time of writing: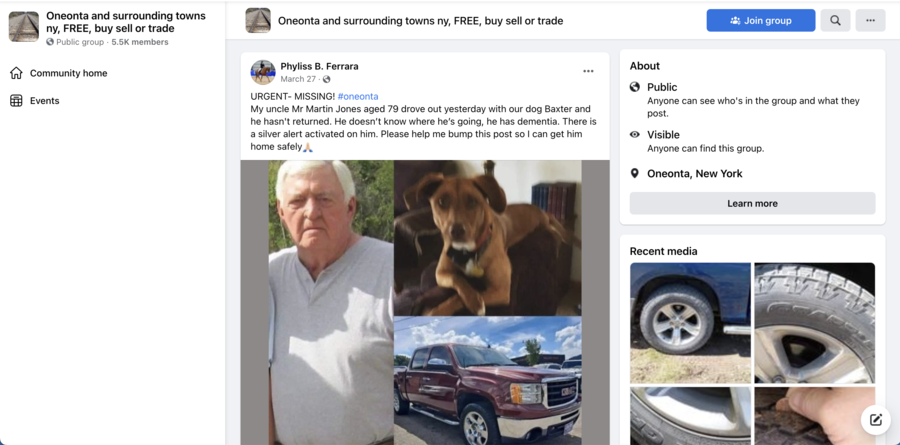 (Source: Facebook screenshot taken on Thu May 4 14:16:57 2023 UTC)
The claim was posted in a Facebook group that buys, sells and trades items in the Oneonta, New York, area.
Lead Stories found the exact same Facebook post in a "Buy my stuff" group in Somerset, Kentucky, on May 1, 2023. However, on May 2, 2023, the post has been "flipped," or revised to say something completely different, delivering the part of the scam in which information is sought. The "flipped" post reads:
To everybody going through a hard time, Hope you find this helpful

Become a member of PineCone Research and have the opportunity to evaluate products before they hit the shelf. A user will earn $3 per survey done too

sign up click

https://bit.ly/3LKEUUx

Please admins

help us support the community, Thank you..
Below is the Edit History of the post: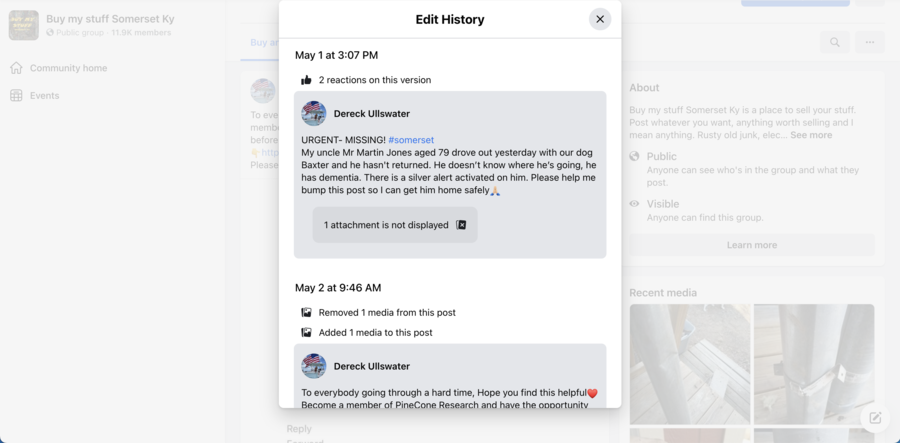 (Source: Facebook screenshot taken on Thu May 4 15:47:10 2023 UTC)
The "flipped" post also included a screenshot of an email claiming that the poster had received $150 in their account and would get an additional $3 after each completed survey. Below is the screenshot of that post: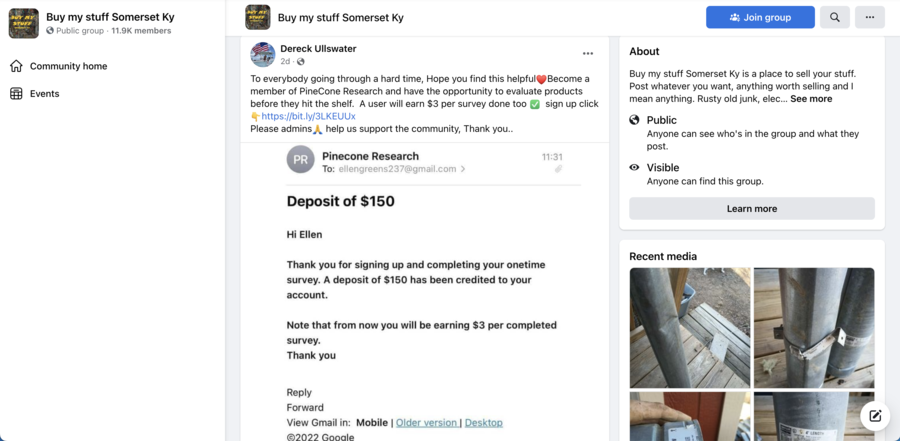 (Source: Facebook screenshot taken on Thu May 4 16:02:12 2023 UTC)
Lead Stories could not find a news organization reporting that Martin Jones was missing in either New York or Kentucky.
The technique used here is a bait and switch -- a social media post that originally said one thing, but was later entirely changed to something else. Most such posts Lead Stories has fact checked have originally tugged at users' heartstrings (missing child, missing pet, etc.) in order to get attention. Once the original post has been engaged with a number of times, the poster will switch the content of the post. The secondary content will usually be about a real estate advertisement or getting paid for answering surveys, like the one seen here.
At the time of writing, the Martin Jones post in the New York Facebook group has not been flipped but the poster had turned off comments, often the first step.
Other Lead Stories fact checks about bait and switch scams can be found here.