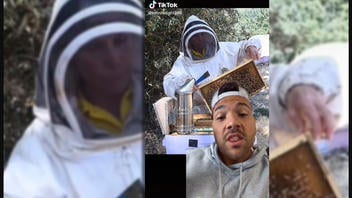 Do beekeepers have the longest life expectancy among all other professions and is this the result of disease-reversing healing frequencies emitted by the bees? No, that's not true: Lead Stories found no evidence to support this claim -- no data comparing the average longevity of all professions and finding beekeepers the longest-lived or that a "bee frequency" resulted in longer lives for beekeepers.
Many studies do look into a variety of purported health benefits and medicinal properties of bee products and bee venom. One 2015 study compared the telomere length (a biomarker for aging) of 30 male Malaysian beekeepers with 30 Malaysian men of the same age who were not beekeepers -- but this study did not compare beekeeper lifespans to all other professions, nor did it measure the actual lifespans of the 60 men in the study.
The claim appears in a video (archived here) on TikTok on May 1, 2022, with the caption:
#bees

#honey

#wisdom

#foryou

#fyp

#spirituality

#manifestation

#lawofattraction
This is what the post looked like on TikTok at the time of writing:
(Source: TikTok screenshot taken on Tue May 2 17:54:02 2023 UTC)
There are several narratives that may have given rise to the unsourced myth that beekeepers have the longest life expectancy of any profession.
Malaysian beekeeper telomere study
A June 2, 2015, study titled, "The relationship between telomere length and beekeeping among Malaysians" was published in the Journal of the American Aging Association, AGE. Telomeres are the end caps of chromosomes, which play a role in protecting the chromosome during cell division. Telomeres get shorter after each cell division and telomere length is considered a marker of biological age. The abstract of the study begins by acknowledging the lack of existing formal evidence to back the longstanding belief regarding the lifespans of beekeepers:
The belief that beekeepers live longer than anyone else is present since ages. However, no research has been done to explore the longevity of life in beekeepers. Here, we investigated the telomere length in 30 male beekeepers and 30 male non-beekeepers and associated them with the longevity of life using Southern analysis of terminal restriction fragments (TRFs) generated by Hinf I/Rsa I digestion of human genomic DNA using TeloTAGGG Telomere Length Assay. Interestingly, we found that the telomere length of male beekeepers was significantly longer than those of male non-beekeepers with a p value of less than 0.05, suggesting that beekeepers may have longer life compared to non-beekeepers.
The study looked at 60 men over 30 years old, half of them beekeepers. By design, this study did not set out to compare beekeeper longevity to all other professions, only to compare men who were beekeepers for at least five years to those who were not beekeepers and who consumed no bee products. Men with any disease or taking medication were excluded from the study. This would be a serious flaw if the study intended to discover the lifespan of beekeepers, but this study looked at telomeres -- markers of biological age, not chronological age. The study lists five main findings in conclusion:
... telomeres in beekeepers are longer as compared to non-beekeepers based on statistical significance analysis. Secondly, since telomere length reflects the longevity of life, biologically, this means that beekeepers may have longer life as compared to non-beekeepers. Thirdly, longer telomere length in beekeepers is associated with longer period of bee product consumption. Other than that, frequent consumption of bee products per day is also associated with longer telomere length. Finally, this study suggests that bee product consumption might be beneficial to telomere length maintenance. Further research on a larger cohort study is deemed necessary to support our findings which is also crucial to provide a better understanding in the roles played by bee products in telomere biology, thus offering a new pathway for us to manage ageing and telomere-associated diseases.
The Caucasus Longevity survey by

Dr. Nicolai Tsitsin
Lead Stories encountered several references to a survey of residents of the Caucasus mountains who frequently lived well over 100 years. The summaries found in English language attribute the survey to a Dr. or Professor Nikolay Vasilievich Tsitsin. They are very consistent with only small differences, saying that he was an expert on geriatrics or that he was associated with the longevity institute of the Soviet Union. Tsitsin was a revered Soviet-era hero -- but he was a botanist whose genetics work was to develop perennial grains and high-yield hybrid wheat. Lead Stories found no Tsitsin affiliations with a longevity institute or a survey of centenarians in the Caucasus region. We found no notable Russian gerontologist by the same name.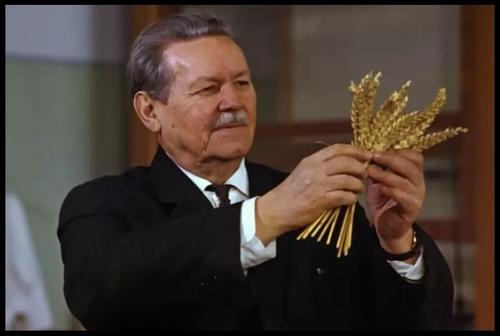 (Image source: Nikolay Vasilievich Tsitsin 1968 in screenshot of rus.team taken on Wed May 03 21:40:12 2023 UTC)
The story of the longevity survey appears again and again and again where bee pollen is promoted. One mention of Tsitsin's report is on page 304 in a 1999 book, "Encyclopedia of Complementary Health Practice" that says the report appeared in the April 1946 issue of the Bee Journal. While it's not uncommon for a story to be published in several places, there is nothing in the April 1946 edition of American Bee Journal (a journal first established in 1861) about longevity or that mentions Tsitsin. Lead Stories found no records of a publication named The Bee Journal (without American). The American Bee Journal told us on the phone on May 3, 2023, that they found no references to Tsitsin in their archives, but did share the link to a mention found in the March 2023 issue of Pennsylvania Beekeeper.
An ad for bee pollen on page 7 in the March 2023 Pennsylvania Beekeeper tells the story of the survey (excerpted below) and says Tsitsin's report was published in the April 15, 1945, London Sunday Express. A search of the Sunday and Daily Express archives comes up empty -- with the only mention of Tsitsin in the March 31, 1943, edition of the Daily Express in the context of his work developing a high-yield hybrid wheat. Although interesting, the following story has yet to be linked to the primary source:
Longevity - Live to bee a centenarian!
Doctor Nicolai Tsitsin of the longevity institute of the USSR reported in the London Sunday Express (April 15th, 1945) that he sent out a letter to 200 people living in the Soviet Union claiming to bee over 100 years old, asking them 3 questions; their age, their livelihood, and their principle food. Receiving back 150 replies, his study revealed that a large number of them were beekeepers. All of them, without exception said that their principle food had always been honey. Dr. Tsitsin explained that these folks were poor and would first sell all their pure honey at market, then consume residue found inside the bottom of their hives. After analysis, the doctor discovered that this residue was not honey, but bee pollen, which had fallen from returning foragers legs upon entering her hive. This diet containing bee pollen contributes to a long lifespan
Lead Stories reached out through email to the National Institute for Occupational Safety and Health (NIOSH), part of the Centers for Disease Control and Prevention. NIOSH is a federal research agency focused on the study of worker safety and health. We asked if they had any data comparing the longevity of various professions, specifically in regard to the claim that beekeepers have the longest life expectancy of any profession. On May 3, 2023, CDC Senior Public Affairs Specialist Belsie González responded that the CDC did not have the data to answer that question.