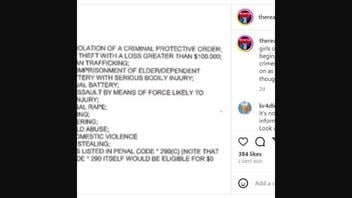 Will people in Los Angeles who have committed violent crimes be "set free" as of May 24, 2023? No, that's not true: A court injunction was scheduled to go into effect in Los Angeles County on May 24, 2023, that reinstated a no-bail policy first implemented during the COVID-19 pandemic in an effort to reduce overcrowding in county jails. However, the judge ruled that those who commit "capital offenses" and other high levels of crime were not eligible for no-bail release and therefore would not be "set free."
The claim appeared in a post (archived here) on Instagram on May 24, 2023. It opened:
Ok boys and girls or he she they, let the craziness begin, this is a list of bon violent crimes in LA that peiple will be set free on as of today, what are your thoughts 👇
This is what the post looked like on Instagram at the time of the writing of this fact check: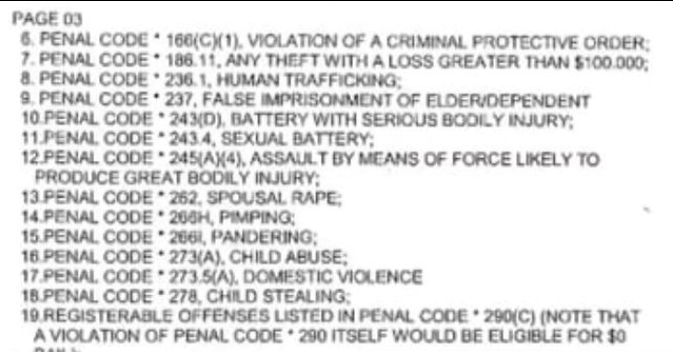 (Source: Instagram screenshot taken on Fri May 26 15:12:45 2023 UTC)
The post does not indicate a source for the claim or citation for the list. On May 24, 2023, a judge in Los Angeles County issued an injunction in a class-action lawsuit that said people who were arrested for nonviolent, low-level offenses would not be forced to post bail. On page 57 of the injunction, the judge states that the injunction does not allow for the release of those accused of "capital offenses" and other crimes:
This injunction does not apply to arrestees who are arrested for a capital offenses or who are otherwise ineligible for admission to bail under California law, arrested for an offense enumerated under Penal Code Section 1270.1(a), who have an open, unresolved criminal case, or are the subject of an arrest warrant.
Page 58 of the court documents states the no-bail guidelines will follow those in the Third Los Angeles County Emergency Bail Scheduled Modification from October 2020. That document states:
GENERAL RULE
As a rule, the bail for all infraction, misdemeanor, and felony offenses will be set at $0, with the exception of the offenses listed below.
The list on the social-media post includes crimes that are listed on page three under FELONY EXCEPTIONS. All are subject to a judge's decision. The judge is allowed to impose bail:
Bail for the offenses listed below shall be set within the discretion of the bench officer utilizing the 2020 Felony Bail Schedule as a guide, and in consideration of the facts of the case, the risk to public safety, as well as consideration of the COVID-19 emergency goal of reducing the jail population.
People who have committed these crimes or are accused of these crimes will not automatically be "set free" or released on bail.