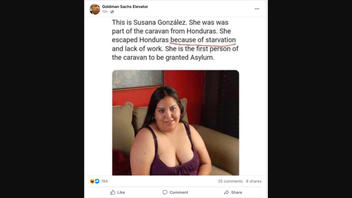 Does a photo on social media depict a Honduran woman named Susana Gonzalez who was the first member of a "caravan" of migrants to be granted asylum in the United States? No, that's not true: This post depicts an old, fake meme that has been recycled online since 2018 by alt-right, conservative online platforms. The woman in the photo is an adult film actress.
The claim appeared in a meme in a post on Facebook on May 4, 2023. Above an image of a woman who appears to be Hispanic, the text reads:
This is Susana González. She was was part of the caravan from Honduras. She escaped Honduras because of starvation and lack of work. She is the first person of the caravan to be granted Asylum.
This is what the post looked like on Facebook at the time of writing: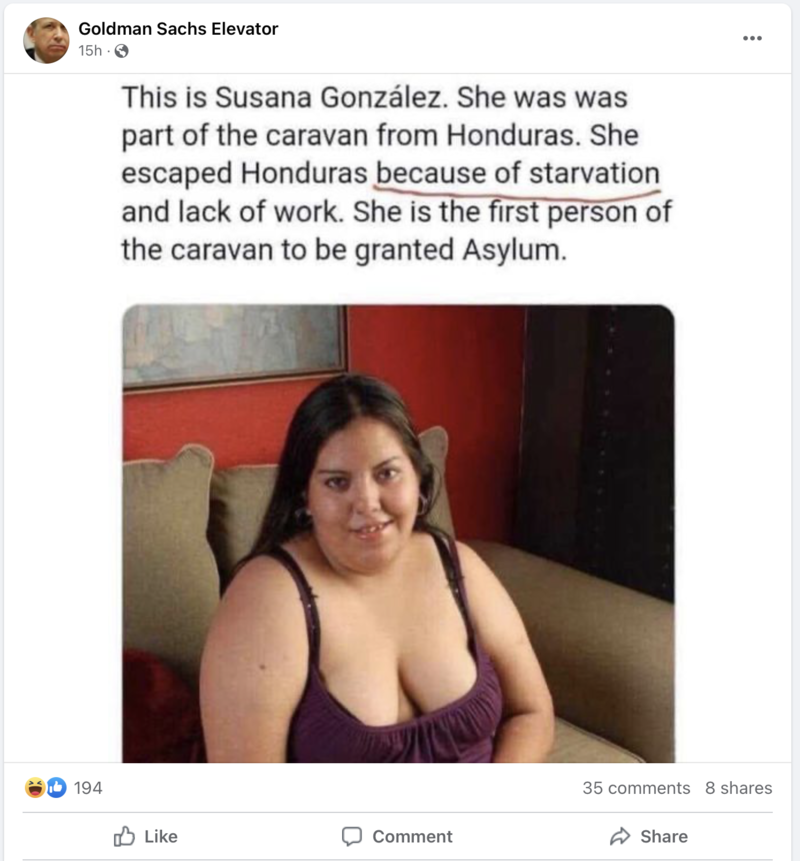 (Source: Facebook screenshot taken on Fri. May 5 17:46:30 2023 UTC)
In May 2018, multiple news outlets reported on a "caravan" of Central American refugees who arrived at the U.S.-Mexico border to seek asylum in the U.S. Eight of these migrants were allowed to cross the U.S. border and apply for asylum, NPR reported.
The Facebook post implies that since the woman in the photo appears healthy, happy and not starving to death, she does not require asylum and is simply trying to secure benefits she does not need.
However, none of the information in the claim is factual.
A Yandex and TinEye reverse-image search showed that the photo came from an adult film website, most likely published before 2009, that advertises corpulent women.

Proof of starvation or inability to find work are not among the conditions the U.S. Citizenship and Immigration Services lists on its website for granting refugees asylum.
The original post with this claim and photo was an April 6, 2018, tweet that has since been recirculated by alt-right online groups such as Patriots Win and 4chan, an anonymous message board.
The tweet inaccurately stated that the woman in the image "entered El Paso, Texas from Juarez, Mexico," whereas the actual refugee group was reported to be seeking asylum at the U.S.-Mexico border between Tijuana, Mexico, and San Diego.
Additional Lead Stories fact checks of claims about refugees can be found here.