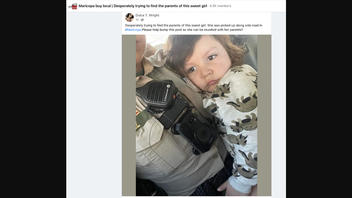 Do social media posts about people "desperately trying to find the parents" of a lost "sweet girl" show a real-life call for help? No, that's not true: Entries with identical wording appeared in many places in the United States; as they gained traction, the content of those posts changed to promote dubious rent-to-own schemes and extract personal information. A sheriff's office in California confirmed to Lead Stories on May 3, 2023, that the child shown in one such post had been reunited with parents and was not in danger.
The claim appeared in a post on Facebook on May 1, 2023. The caption said:
Desperately trying to find the parents of this sweet girl. She was picked up along side road in #Maricopa.Please help bump this post so she can be reunited with her parents!!
This is what the post looked like on Facebook at the time of writing: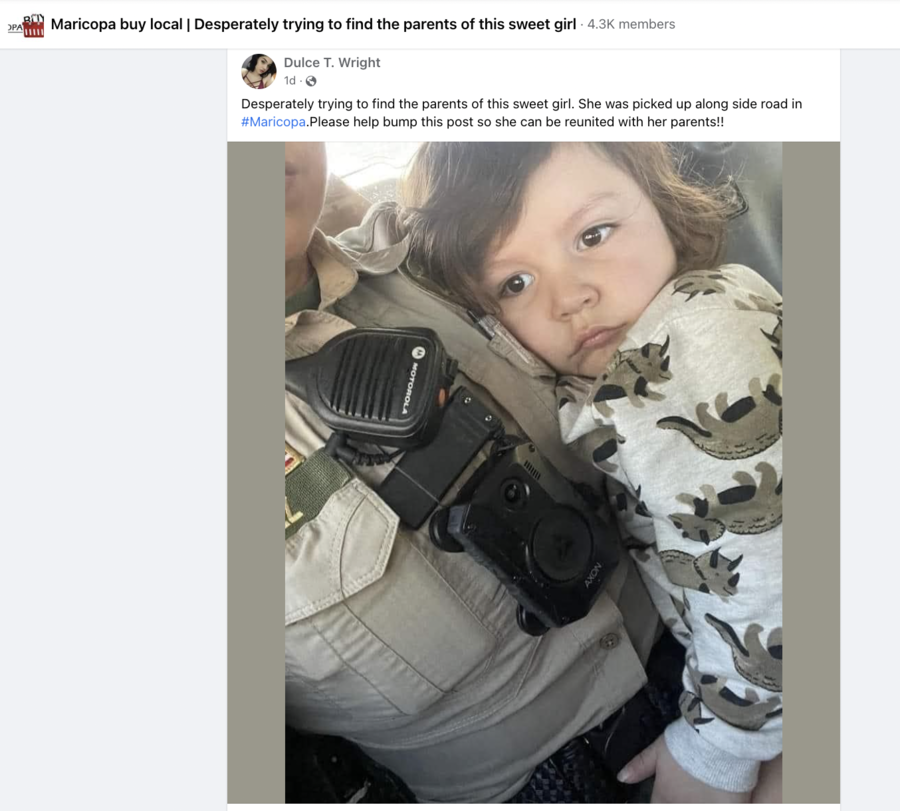 (Source: Facebook screenshot taken on Wed May 3 15:07:11 2023 UTC)
In April 2023, multiple accounts shared posts placing the same incident in different towns across the country, presenting it as an ongoing emergency. In some instances, the same wording was paired with pictures of different toddlers.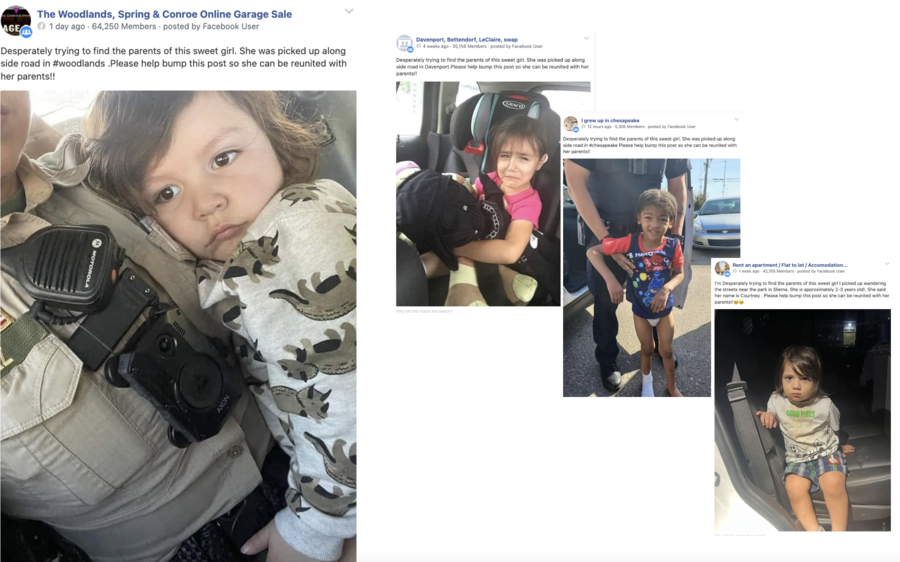 (Sources: Facebook screenshots taken on Wed May 3 15:58:01 2023 UTC; on Wed May 3 15:56:50 2023 UTC; on Wed May 3 15:57:02 2023 UTC; on Wed May 3 15:57:30 2023 UTC; composite image by Lead Stories)
As such posts grew popular in local groups, they were flipped to advertise rent-to-own real estate schemes, as seen, for example, here (via the edit history button):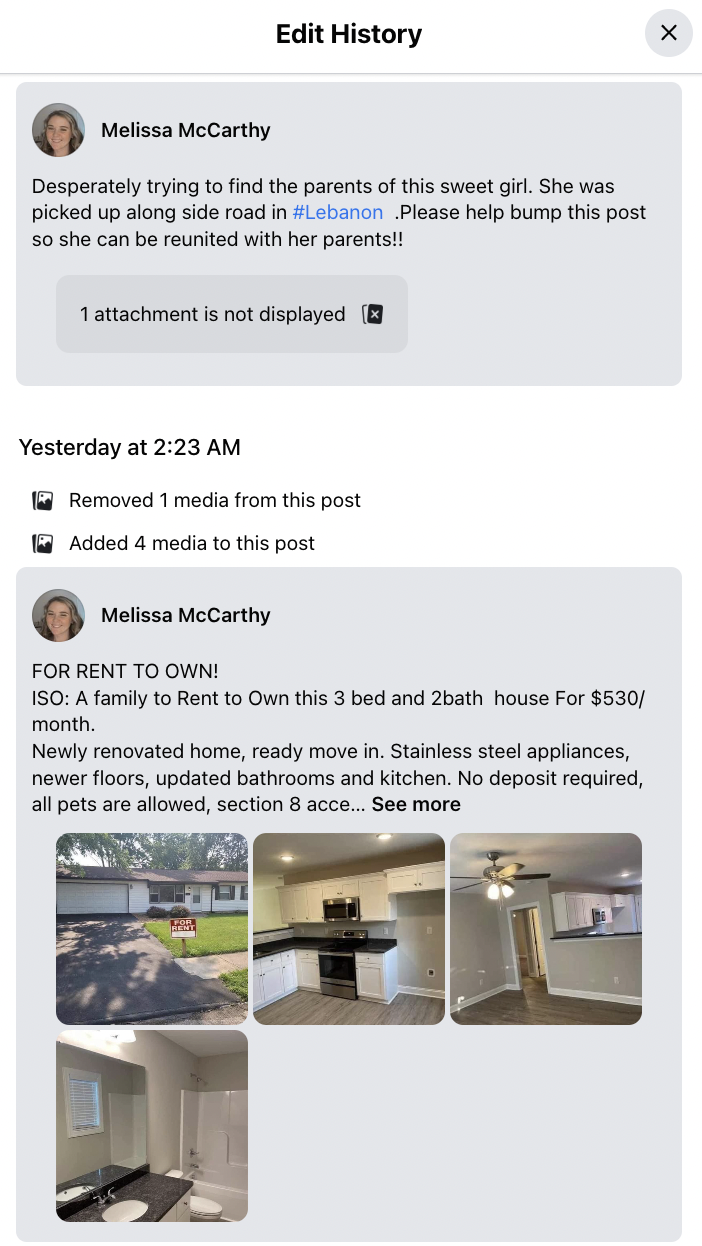 (Source: Facebook screenshot taken on Wed May 3 15:09:42 2023 UTC)
The replaced content contained a link to a website pretending to be affiliated with the U.S. Department of Housing and Urban Development (HUD.) It tried to trick users into sharing their personal information before performing any searches across what was described as a database of "affordable government-owned homes":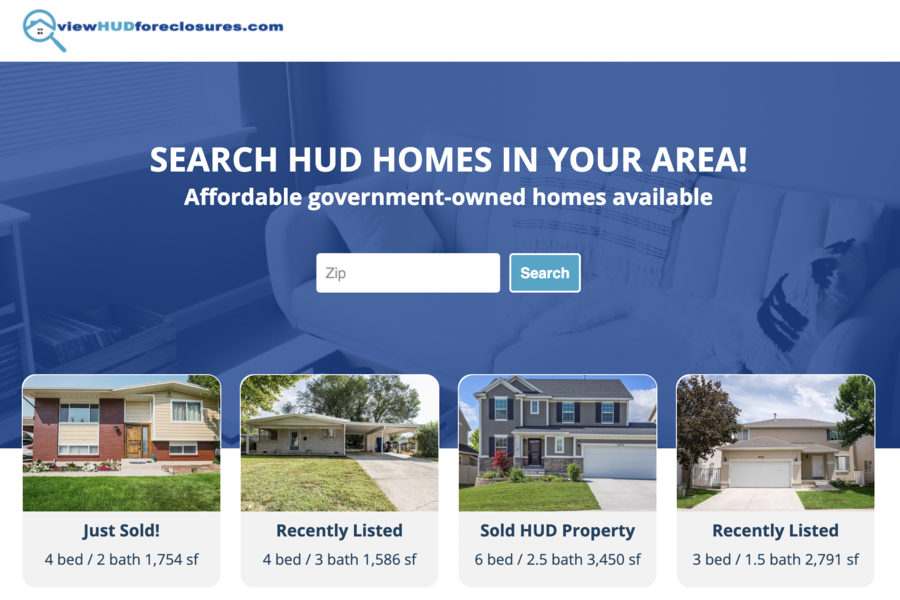 (Source: Viewhudforeclosures screenshot taken on Wed May 3 16:04:15 2023 UTC)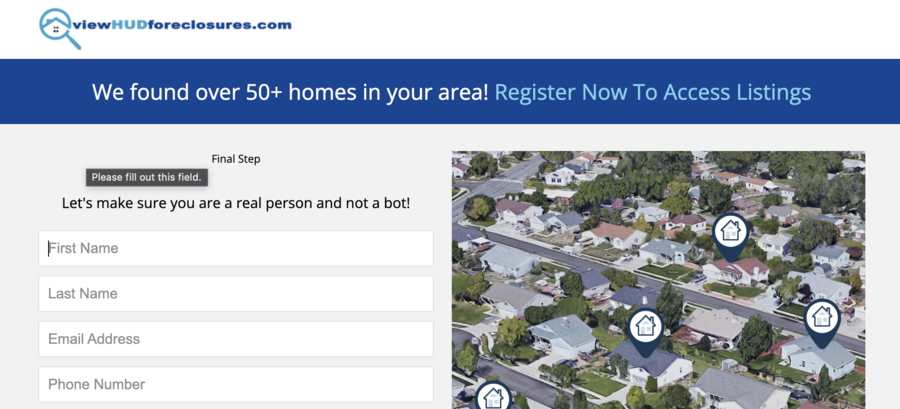 (Source: Viewhudforeclosures screenshot taken on Wed May 3 16:10:25 2023 UTC)
Furthermore, the user agreement said that the entered data would be shared with additional 146 outside entities:
By submitting this form, I provide my electronic signature in which I consent and agree that viewHUDforeclosures.com, including its affiliates, may contact me regarding its programs and offers, which include credit repair, debt relief, health and life insurance, motor vehicle accidents as well as real estate and other home-related matters, via email, and text, telephone, and/or voicemail using automated technology to any telephone number I provide (may be recorded and may be autodialed or use prerecorded and artificial voice), even if my telephone number is currently listed on any state, federal or corporate Do Not Call list.
HUD does run a government website but the search across options does not require sharing any personal information and is free. It does not explicitly mention any rent-to-own buying options.
The HUD press office told Lead Stories via email on May 3, 2023, that ViewHUDforeclosures.com is not a government agency's resource.
Some states explicitly warn their residents about the potential violations of their rights as a result of rent-to-own or lease-to-own installment agreements. For example, the website of the New York State Department of Financial Services (DFS) writes:
DFS is investigating whether alternative home purchase agreements, such as rent-to-own, lease-to-own or land installment contracts, being offered in New York constitute unlicensed, predatory mortgage lending. These alternative home purchase agreements often are being marketed to financially distressed consumers, promising a path to homeownership, but putting consumers at risk.

DFS is concerned that companies may be targeting vulnerable consumers, playing on their desire to achieve homeownership to get them to sign onerous and illegal home finance agreements that often do not lead to homeownership.
One of the earliest publications of this photo on social media is the April 1, 2023. announcement that the incident in question, which had taken place in Perris, California -- not in Maricopa County, Arizona -- was resolved: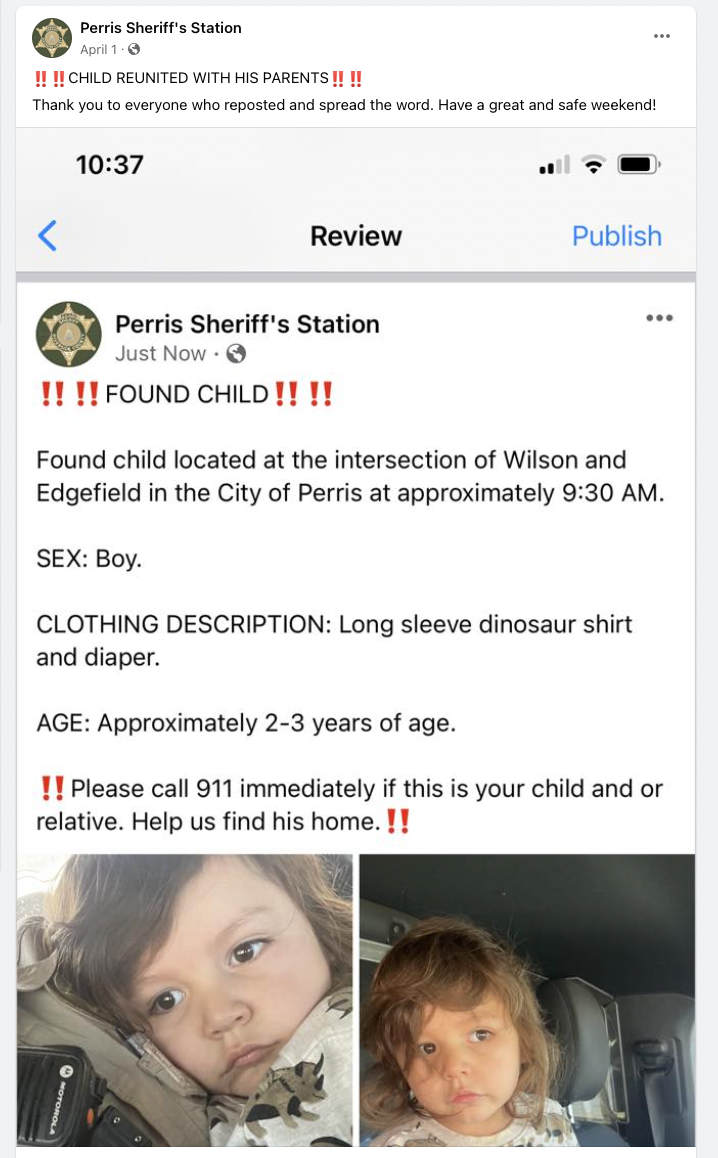 (Source: Facebook screenshot taken on Wed May 3 15:32:44 2023 UTC)
The initial description of the child said it was a boy, not a girl.
The Perris sheriff's station told Lead Stories over the phone on May 3, 2023, that it was the station's account, maintained separately from the Facebook account of the Sheriff's Office in Riverside County, and that, as of this writing, the child was not in danger, contrary to claims on social media.
Other Lead Stories fact checks about bait and switch scams can be found here.