STORY UPDATED: check for updates below.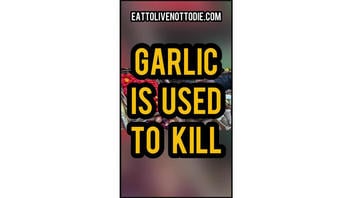 Are knives or bullets coated with garlic juice deadlier than they would be without it? No, that's not true: While garlic does have anti-clotting properties, they're not strong enough to cause people to bleed out from a wound that wouldn't normally have killed them to begin with.
The claim appeared in a video on TikTok (archived here) published by eattolivenottodie on July 31, 2022, with the title "GARLIC IS USED TO KILL." The caption under the video says::
Garlic is garbage. Used wild Ransoms or ginger as an alternative. Learn more from our new book: Hidden Facts on Health & Nutrition 2'. LINK IN BIO.
This is what the post looked like on TikTok at the time of writing: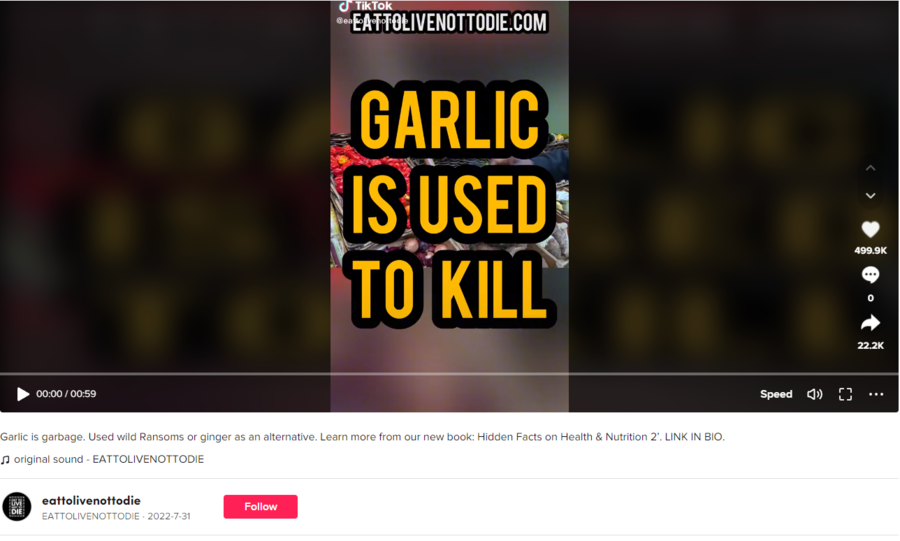 (Source: TikTok screenshot taken on Wed May 3 18:18:38 2023 UTC)
The same 59-second video appeared on Instagram (archived here) on April 30, 2023. The post appears below:
The video features two different speakers. Both of them suggest garlic can be lethal:
[First speaker]: In the Caribbean, when someone wants to kill you, they will get their knife and they'll rub it into a clove of garlic like this. Come closer, they'll rub their knife into the clove of garlic and make sure there's a lot of garlic juice on that knife, and then they'll cut you. You won't feel it, and you'll start to bleed out, and you'll be poisoned by a toxin that's inside of the garlic itself. It doesn't allow wounds to close to heal, and the toxin also poisons your blood, so you'll bleed out. You'll die. In World War II, the soldiers put their bullets in buckets of garlic juice, and they would load up their guns, and when they would shoot their rifles and their guns, even if the bullet grazes their enemy, their enemy would still die. Why? Because of that toxin.

[Second speaker]: Garlic oil, garlic salt, garlic butter and your salad dressing or food, because garlic, when it gets into the blood, is a deadly poison.
Marta Jonson, a nutrition therapist at Nebraska Medicine, told Lead Stories in a May 3, 2023, email that the claims made in the video are "not true." She continued:
Garlic has antithrombotic properties which means it may prevent blood clots although this does not mean a wound/cut would be unable to heal if it encountered garlic juice or flesh.
Alexander Michels, a research associate at the Linus Pauling Institute at Oregon State University, came to a similar conclusion in another May 3, 2023, email to Lead Stories:
Raw, crushed garlic does contain a compound that inhibits platelet aggregation, which means your blood wouldn't clot properly when it is exposed to it. If a weapon was coated in this compound, it could theoretically bleed a little faster - for a short period of time. The problem is that the body will be actively working against this and normal detoxification mechanisms will inactivate the garlic compound. Unless more raw garlic was added, the toxic effects will be limited.
The second speaker in the video suggests that eating garlic, in a variety of forms, is a "deadly poison." Jonson said that's not the case. While eating too much garlic can have some unpleasant side effects for the person eating it and those around them, it wouldn't be deadly:
Like any food - too much of something may cause some gastrointestinal side effects. An appropriate amount of garlic to consume in a day is 1-2 cloves. Anything more than this may cause some side effects.

If an individual consumes too much garlic, they could experience bloating, gas and stomach pain. This is because garlic is high in fructans (a type of carbohydrate). They also could experience bad breath or heartburn. There is no evidence that a certain amount of garlic will cause toxic or harmful effects to the body. You just may ... have bad breath for a few hours.
Michels cited similar outcomes when overconsuming garlic. He said:
When people eat raw garlic, these compounds get metabolized and changed by the body - so it can take quite a bit to see any issues. Most people eating too much raw garlic just get gas, stomach cramps, and other gastrointestinal problems. Cooked garlic contains far less of these compounds, so it takes even more to see adverse effects. Most reports of people showing toxic effects (like excess bleeding) resulting from garlic consumption have to eat many cloves of raw, crushed garlic every day - or have consumed too many garlic supplements.
According to the U.S. Food and Drug Administration (FDA), garlic is listed as "food for human consumption." In a May 4, 2023, email to Lead Stories, Marianna Naum with the FDA's Center for Food Safety and Applied Nutrition provided this response to the claims in the video:
The Code of Federal Regulations, 21CFR184.1317, lists garlic and its derivatives as Generally Recognized as Safe for the intended uses listed - all of which are through ingestion.
In the same email, she added:
We can't speak to non-food uses of garlic or its derivatives, however the NIH [National Institutes of Health] has some additional resources.
2023-05-04T15:28:27Z

2023-05-04T15:28:27Z

Adds comments from Alexander Michels at Oregon State University and the FDA's Center for Food Safety and Applied Nutrition, edits for clarity and flow