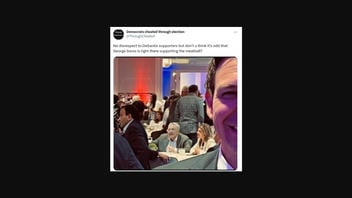 Did Florida governor and 2024 presidential candidate Ron DeSantis post a picture at an event showing George Soros, a billionaire philanthropist who is often the subject of conspiracy theories, in the background? No, that's not true: The original image, posted in a tweet by media personality John Cardillo, was altered to include a person resembling Soros.
The claim appeared in a tweet (archived here) published on Twitter on May 25, 2023. It featured a zoomed-in image of DeSantis with the focus of an older man in the background. The tweet read:
No disrespect to DeSantis supporters but don't u think it's odd that George Soros is right there supporting the meatball?
This is what the tweet looked like on Twitter at the time of writing: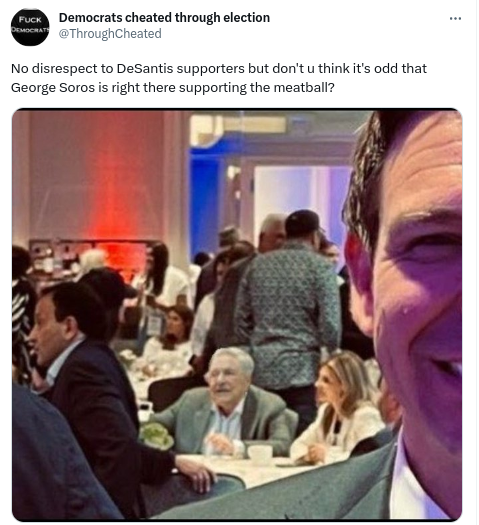 (Source: Twitter screenshot taken on Tue May 30 16:58:33 2023 UTC)
The original image was posted in a tweet published on Cardillo's Twitter account on May 25, 2023, at what appeared to be a fundraising event for DeSantis' presidential campaign. The image showed Castillo posing with DeSantis. The tweet read:
Just had a great chat with @RonDeSantis where he told me, laughing, "I haven't spoken to Paul Ryan since I was elected governor, and I've met Karl Rove once."

Ryan/Rove collaboration is a completely false narrative fabricated by Team Trump out of desperation.
A screenshot of the tweet is included below: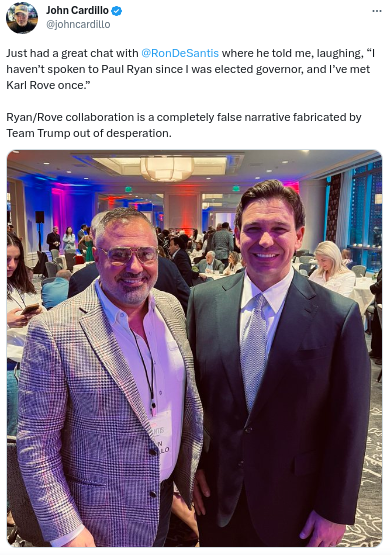 (Source: Twitter screenshot taken on Tue May 30 17:30:17 2023 UTC)
The image was also posted to Cardillo's Instagram page on May 25, 2023.
Some clues give away the fact that the image with Soros in it is digitally altered. The original image and the altered image both feature almost all of the same people in the background, except the altered image is zoomed in to supposedly show Soros. However, in the original image, there is another, unidentified older man sitting in the same place where the altered image purportedly shows Soros. A graphic of the two images, with the original zoomed in for easier comparison, is below: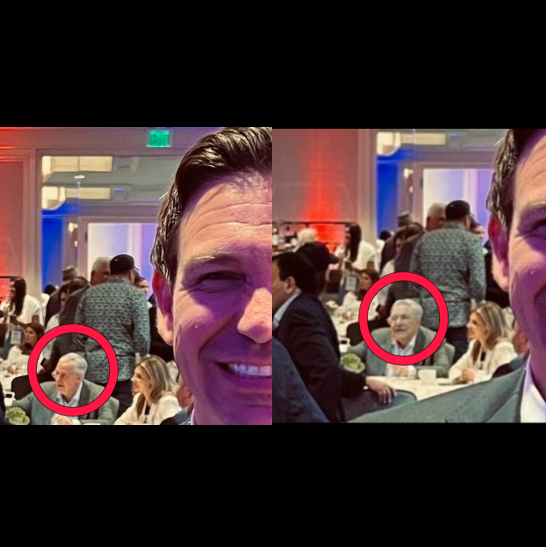 (Source: Graphic comparing the men in the background of the DeSantis image. Left is from the original image; Right is from the altered image. The men are circled. Created by Lead Stories on Tue May 30 17:50:35 2023)
Lead Stories regularly debunks claims related to Soros. We also have debunked several claims related to DeSantis. In another crossover claim about the two, we explained that Soros did not endorse DeSantis for president: he only predicted that the governor would run.