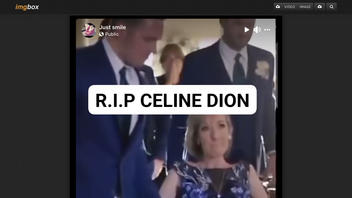 Did Canadian singer Celine Dion pass away on or before May 7, 2023? No, that's not true: She only canceled her tour due to her health condition that, while significantly affecting the singer, according to her own words, did not appear to be immediately life-threatening. The video reused in such posts recycled the 2022 footage showing a different woman with a different health condition.
The story appeared in a post published on Facebook on May 7, 2023, under the title:
R.I.P. Celine Dion
The clip's description contained hashtags:
#celinedion

R.I.P

#fypシ゚viral

#everyone

#FacebookPage

#reelsvideo

#facebookreels

#reelsviral

#adsonreels

#facebookviral
This is what the post looked like on Facebook at the time of writing: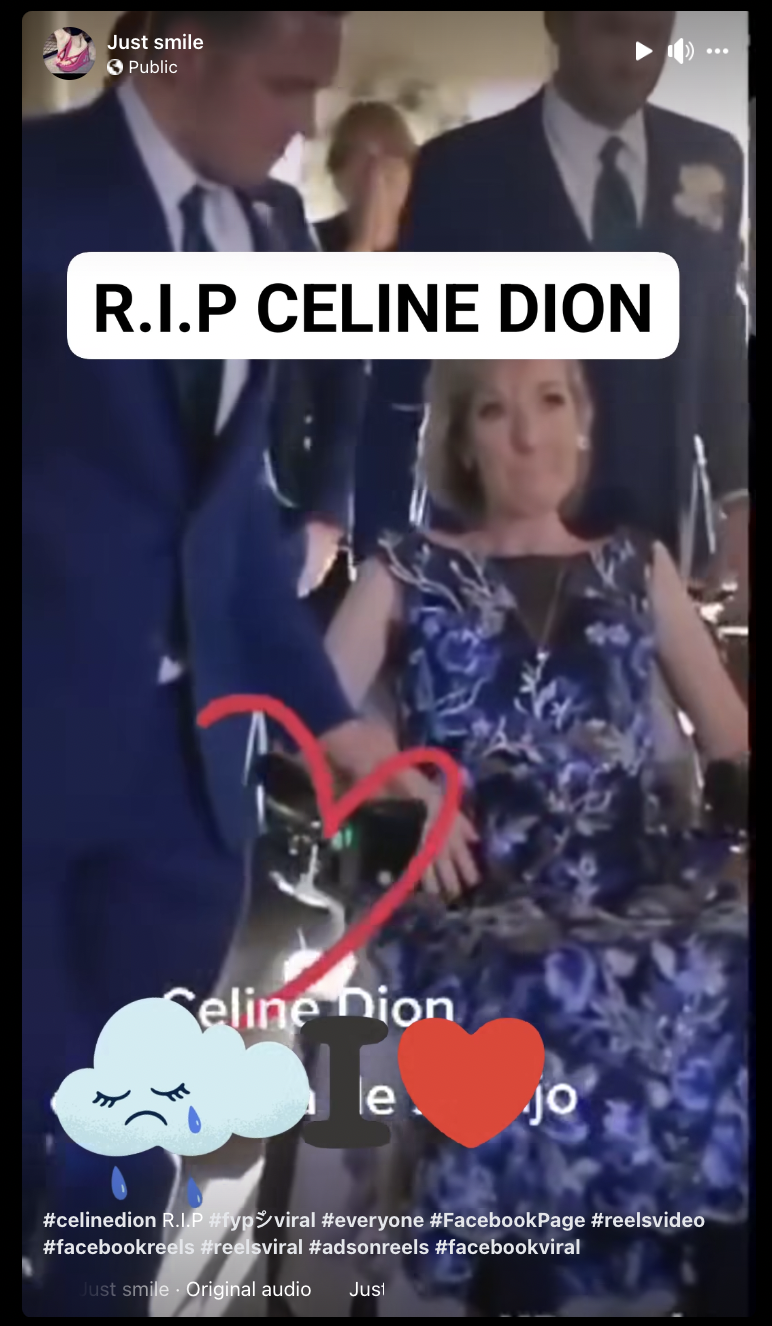 (Source: Facebook screenshot taken on Tue May 30 14:52:18 2023 UTC)
The post included a video showing a light-haired woman in a wheelchair wearing an evening dress.
However, it was not the Canadian singer -- the footage portrayed a Florida resident named Kathy Poirier who was diagnosed with a form of sclerosis. In 2022, when the video of her dancing with her son at his wedding appeared online, the story was aired on national TV in the United States.
The claim about Dion's passing was posted before she canceled her world tour.
On May 26, 2023, the announcement appeared on the singer's Instagram account, the Twitter account maintained by her team and on her official website. It said:
I'm so sorry to disappoint all of you once again... and even though it breaks my heart, it's best that we cancel everything until I'm really ready to be back on stage... I'm not giving up... and I can't wait to see you again!
Earlier, on December 8, 2022, Dion posted a video on her Instagram, revealing that she had been diagnosed with the condition called stiff person syndrome. She acknowledged that the spasms it causes affect "every aspect" of her life.
According to the National Institute of Neurological Disorders and Stroke, stiff person syndrome is a "rare, progressive neurological disorder" that disrupts normal muscle reactions and increases sensitivity to noises. As a result, the affected people may have difficulty walking and face increased risks of falls. The condition may affect other muscles in the body as well and lead to severe anxiety. While there is no cure, symptom-based medication may help to control the disorder.
In late May of 2023, it was news about Dion's tour cancellation that was reported by many major outlets across the globe (for example, here, here, here and here), but there were no stories in major media about the singer's purported death.
The Courage World Tour was planned before the pandemic. Dion performed 52 times, postponing other shows to later dates back in 2020.
The account that posted the video on Facebook described itself as a "digital creator." The page's content would typically include pictures of food and lifestyle videos. According to the Transparency Tab, the account was created on May 13, 2022, and the manager was located in Hong Kong.
Clickbait videos about a celebrity's death are not uncommon on social media. Lead Stories previously uncovered a network of Cambodian websites promoting such claims to spread malware. On other occasions, social media content of this type was part of a bait-and-switch scheme.