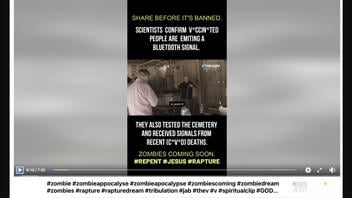 Do vaccinated people emit Bluetooth signals? No, that's not true: There is no indication that the chip required to use this technology can be injected into a human body through a needle as of this writing. The claim's main argument derives from a "documentary" showing a pseudoscientific study that misrepresents how Bluetooth technology operates.
The claim appeared in a post on Facebook on May 17, 2023. Text overlaid on the video states:
SHARE BEFORE IT'S BANNED

SCIENTISTS CONFIRM V*CCIN*TED

PEOPLE ARE EMITING A

BLUETOOTH SIGNAL.
Bluetooth is a small part of the chip in an electronic device that allows the wireless transfer of information without an Internet connection.
Hashtags make up the caption accompanying the video:
#zombie #zombieappocalyse #zombieapocalypse #zombiescoming #zombiedream #zombies #rapture #rapturedream #tribulation #jab #thev #v #spiritualclip #GOD #JESUS #LORD
This is what the post looked like on Facebook at the time of writing: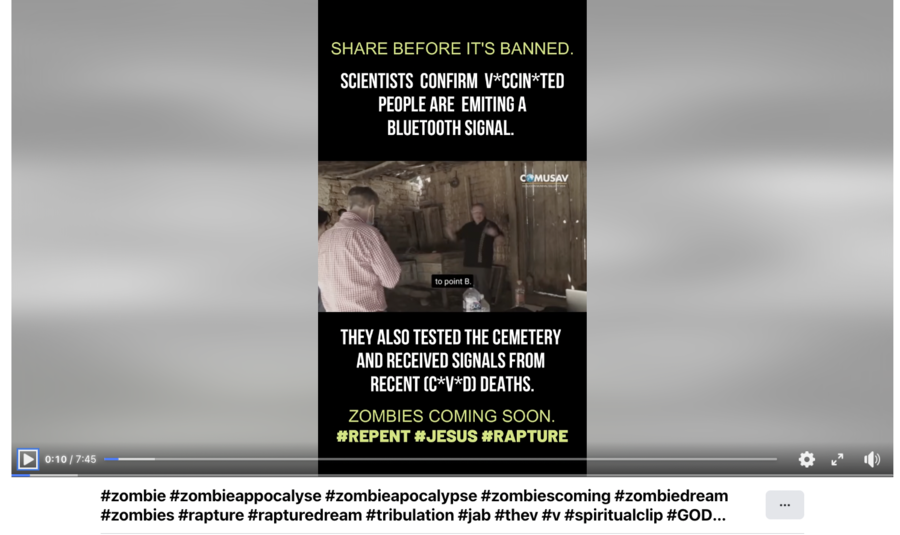 (Source: Facebook screenshot taken on Thu May 18 16:21:52 2023 UTC)
The video is a fragment (taken from the 9:54 mark) of a Spanish-language "documentary" called "Blue Truth," created by a group called Comusav (Coalición Mundial Salud y Vida or Global Health and Life Coalition), whose logo appears in the upper righthand corner of the clip on Facebook.

Comusav is not a TV channel, but an entity that describes itself as a "global non-profit organization made up of open-minded and spirited people."

The film on the Comusav site identifies the narrator seen in the video clip on Facebook as the president of Comusav Mexico, Dr. Pedro Chávez Zavala, a person with a reported history of spreading misinformation in the Spanish-speaking world.

At the film's 6:46 mark, Zavala says, according to the English subtitles:
With an electronic device such as this simple cell phone with a Bluetooth application. When they were near 'vaccinated' people, some Bluetooth codes were collected, which are called M.A.C., which means Media Access Control.
Zavala attempts to conduct a "study" to prove his theory. He asks supposedly vaccinated people to walk into a room with some equipment to take their "readings." He uses a sniffing tool called Kismet, which scans the environment for electronic devices.
Unlike the regular system of Bluetooth detection built into nearly any cellphone or laptop, the tool can tell not only that there is a device with Bluetooth on nearby, but also identify its Media Access Control (M.A.C.) address. This consists of 12 characters tied to the manufacturer and the device's unique code. Both can be looked up on the Internet.

The film claims that since the discovered M.A.C. addresses don't match the known codes of electronic manufacturers, this "proves" that the M.A.C. addresses detected by Kismet are from people, not devices.
However, this claim has no factual basis.
The Kismet website says nothing about being able to extract M.A.C. addresses supposedly emanating from people.

Lead Stories previously has debunked a claim that vaccines contain microchips, the element used for Bluetooth.

The inventory of all Bluetooth products on the website of the Bluetooth Special Interest Group (Bluetooth SIG), which oversees the use of the technology, does not include vaccines or any modifications of the chip suitable for use inside a human body:

(Source: Bluetooth screenshot taken on May 18 18:53:52 2023 UTC)

(Source: Bluetooth screenshot taken on May 18 18:53:39 2023 UTC)
In December 2021, Bluetooth SIG Chief Marketing Officer Ken Kolderup told Reuters:
There is currently no known way to develop a Bluetooth chip small enough such that it could be added to a vaccine and injected through a hypodermic needle
Both the video on Facebook and the film itself provide no explanation of how this would be possible.

Though the golden rule for any scientific experiment is to describe its methodology so that it can be replicated and the results confirmed, the Comusav team does not share its methodology for arriving at the conclusion that vaccines emit M.A.C. addresses.

Viewers are only provided with a vague description of some "readings." They never see a scene where participants remove their cellphones from their pockets or bags and leave them behind -- it is only Zavala who claims that happened.

Moreover, the "study" is shot in such a way that viewers cannot exclude that the experiment's participants have an electronic device or devices on them when a M.A.C. address is detected. Here is an example of such a shot: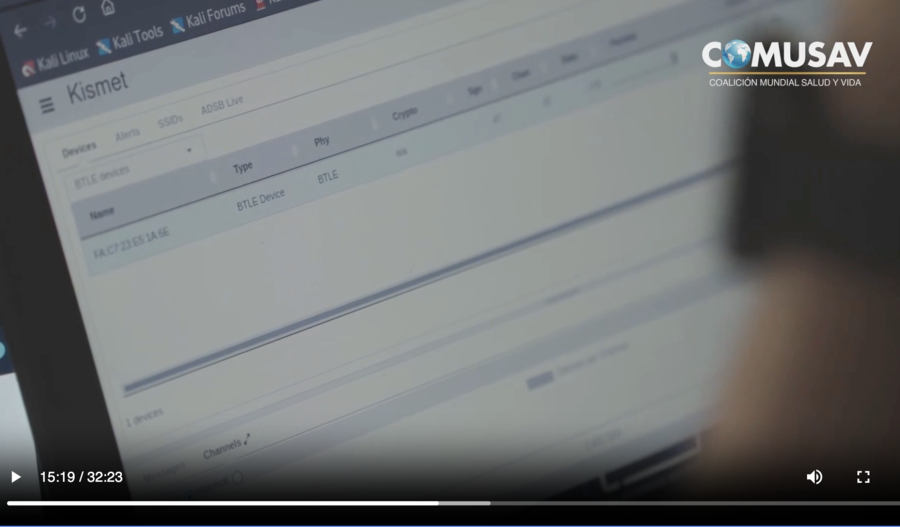 (Source: Comusav screenshot taken on Fri May 19 14:53:28 2023 UTC)
In one instance, viewers see a female participant entering the room with her hand at her waist or possibly in a pocket. The shadow precludes determining what, if anything, she is carrying: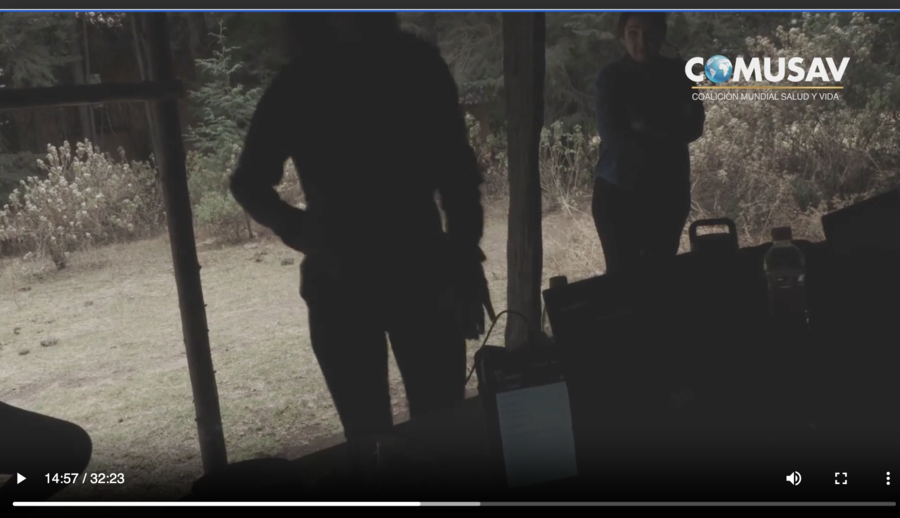 (Source: Comusav screenshot taken on Fri May 19 14:56:38 2023 UTC)
In a different scene, another participant openly admits that they do have their cellphone with them, but claims that its Bluetooth is off: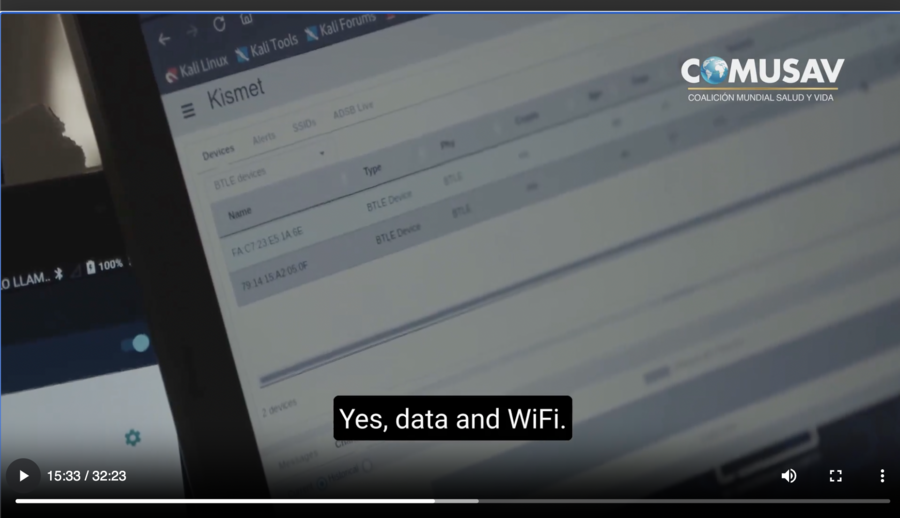 (Source: Comusav screenshot taken on Fri Mar 19 15:04:35 2023 UTC)
That statement contradicts the announced structure of the experiment. Moreover, having Bluetooth off does not necessarily prevent Kismet from finding a device.
The fact that online M.A.C. lookup services do not identify a manufacturer's code for a found M.A.C. address could simply indicate that it is a randomized M.A.C. address -- a technology that allows users to use alternative M.A.C. addresses and conceal the factory-generated one. In some cases, it is a built-in feature, as on Apple iPhones.
One of the websites used in the Comusav "documentary" to "check" built-in M.A.C. addresses also offers to generate new ones: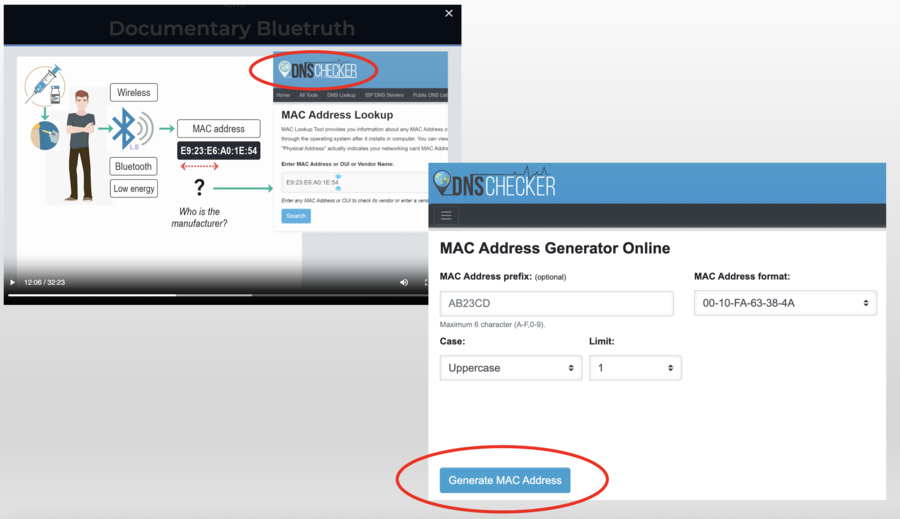 (Sources: Comusav screenshot taken on Fri May 19 15:30:37 2023 UTC; DNSChecker screenshot taken on Fri May 19 15:24:08 UTC; composite image by Lead Stories)
The Comusav film features Andreas Kalcker, a known spreader of false medical claims whose supposed cure for COVID-19 has been linked to two deaths in Argentina.

The film contains other false statements already debunked by Lead Stories, including claims about the purported "magnetism" of the vaccinated and that the vaccines contain nanotechnology and graphene.
Additional Lead Stories fact checks about vaccines can be found here.