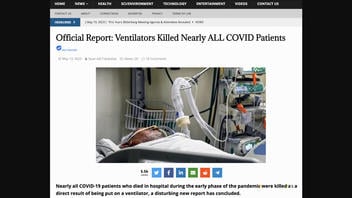 Did mechanical ventilators kill "nearly all COVID patients" during the early stages of the pandemic? No, that's not true: The headline making the claim misrepresented the results of a study that reached a different conclusion: that secondary infections preyed on COVID patients connected to a ventilator to up their oxygen intake.
The claim appeared in an article (archived here) published by the People's Voice on May 13, 2023. It opened:
Nearly all COVID-19 patients who died in hospital during the early phase of the pandemic were killed as a direct result of being put on a ventilator, a disturbing new report has concluded.
This is what it looked like at the time of writing: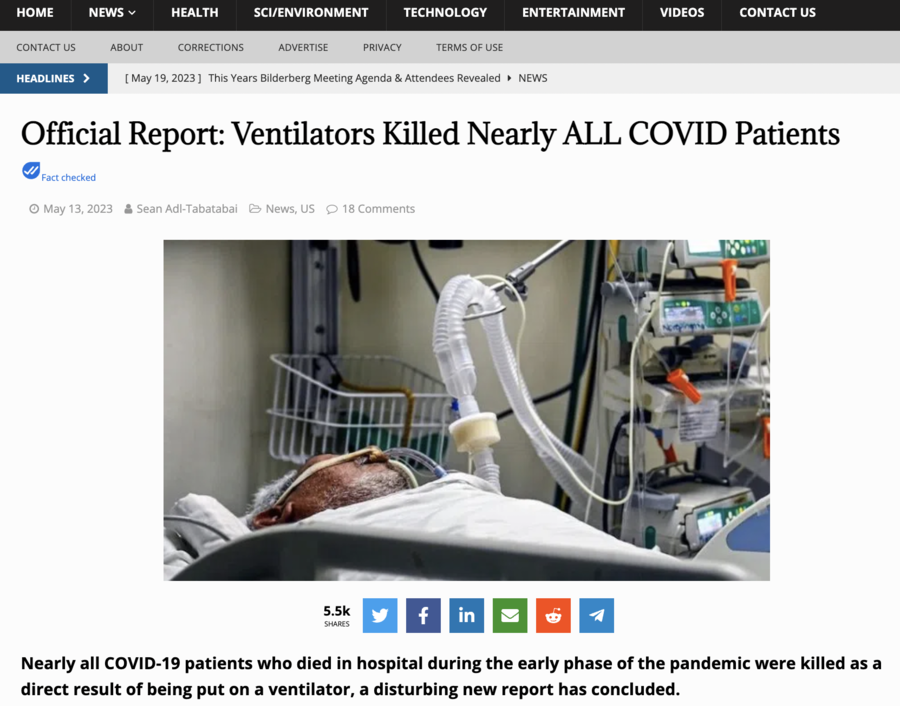 (Source: The People's Voice screenshot taken on Fri May 19 16:42:22 2023 UTC)
The article linked to a study published by The Journal of Clinical Investigations on April 27, 2023. It included 585 people who were placed on a ventilator; 190 of whom -- roughly one-third -- were diagnosed with COVID-19. The authors of the study looked at primary pneumonia, which caused people to be mechanically ventilated, and secondary ventilator-associated pneumonia (VAP).
The study acknowledges that the presence of VAP was underestimated in COVID patients, in part because the test available at the time did not "accurately distinguish between primary SARS-CoV-2 pneumonia and secondary bacterial pneumonia."
However, the conclusion was different from what the People's Voice article said. The authors clarified that "VAP was not associated with mortality overall" -- only when it wasn't treated or when the treatment didn't work:
Unsuccessful treatment of VAP is associated with greater mortality. The relatively long length of stay among patients with COVID-19 is primarily due to prolonged respiratory failure, placing them at higher risk of VAP.
One of the authors, Dr. Benjamin Singer, said that "preventing, looking for and aggressively treating secondary bacterial pneumonia" is important in all "critically ill" patients who already have primary pneumonia, not only those with COVID. Commenting on the study, he added:
Those who were cured of their secondary pneumonia were likely to live, while those whose pneumonia did not resolve were more likely to die
The full text of the study emphasizes:
Despite significantly longer durations of critical illness, mortality in patients with COVID-19 is similar to patients with other causes of pneumonia and respiratory failure.
Contrary to the claim, the authors did not attempt to draw conclusions about all COVID cases nationwide and all related deaths.
The People's Voice, founded in 2014, is among the most prolific online publishers of fake news.
As of this writing, the Terms Of Use section says that the website is operated by an entity named "Fact Checked Limited" that refuses to bear responsibility for the published materials:
FACT CHECKED LIMITED AND/OR ITS SUPPLIERS MAKE NO REPRESENTATIONS ABOUT THE SUITABILITY, RELIABILITY, AVAILABILITY, TIMELINESS, AND ACCURACY OF THE INFORMATION, SOFTWARE, PRODUCTS, SERVICES AND RELATED GRAPHICS CONTAINED ON THE SITE FOR ANY PURPOSE. TO THE MAXIMUM EXTENT PERMITTED BY APPLICABLE LAW, ALL SUCH INFORMATION, SOFTWARE, PRODUCTS, SERVICES AND RELATED GRAPHICS ARE PROVIDED 'AS IS' WITHOUT WARRANTY OR CONDITION OF ANY KIND.
Other Lead Stories fact checks about COVID-19 can be found here.