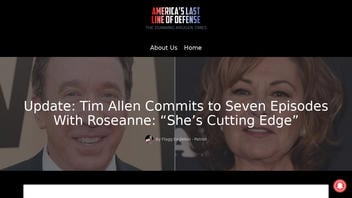 Did actor Tim Allen agree to film new episodes of Roseanne Barr's new show? No, that's not true: This claim was published on a self-described satirical website aimed at trolling conservatives. Lead Stories could find no credible news reports or public statements confirming that Barr has a new show titled, "Raising the Barr," nor that Allen committed to film seven episodes with her.
The claim appeared in an article (archived here) published by The Dunning-Kruger Times on February 21, 2023, with the headline "Update: Tim Allen Commits to Seven Episodes With Roseanne: 'She's Cutting Edge.'" It opened:
Roseanne Barr is back and bigger than ever, and she hasn't forgotten those who stood by her along the way. While the entire cast and crew of 'The Conners' may never work again, her good friend Tim Allen, who used to shoot his show 'Home Improvement' on the same Des Moines soundstage as 'Roseanne,' has agreed to do seven episodes of her new show, 'Raising the Barr."
A search of Google News, which indexes thousands of credible news sites, using the keywords "Tim Allen Commits To Seven Episodes With Roseanne Barr" yielded no credible reports confirming the casting news. Barr's IMDb page does not list a show that she has either acted in or produced called "Raising the Barr."
Barr was in the news after her appearance on the Megyn Kelly podcast on May 17, 2023, where she spoke about feeling betrayed by her ex-castmate Sara Gilbert who reacted to her racist tweet about an Obama administration official. Barr was fired from Roseanne in 2018 after the comment was made. Allen spoke out in support of her that year but has not publicly commented on her latest claims.
The Dunning-Kruger Times
The Dunning-Kruger Times is a satirical website with an about page (archived here) that has following disclaimer:
About Us

Dunning-Kruger-Times.com is a subsidiary of the 'America's Last Line of Defense' network of parody, satire, and tomfoolery, or as Snopes called it before they lost their war on satire: Junk News

About Satire

Before you complain and decide satire is synonymous with 'comedy':

sat·ire ˈsaˌtī(ə)r noun: The use of humor, irony, exaggeration, OR ridicule to expose and criticize people's stupidity or vices, particularly in the context of contemporary politics and other topical issues.

Everything on this website is fiction. It is not a lie and it is not fake news because it is not real. If you believe that it is real, you should have your head examined. Any similarities between this site's pure fantasy and actual people, places, and events are purely coincidental and all images should be considered altered and satirical. See above if you're still having an issue with that satire thing.
The website is named after the Dunning-Kruger effect, a term from psychology named for experimenters who found that we are ignorant of our own ignorance. (That experiment has been disputed by a math professor.)
It is run by self-described liberal troll Christopher Blair.