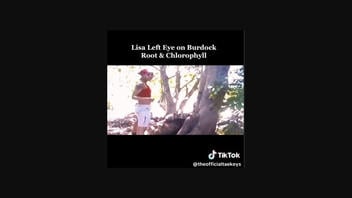 Will eating a leaf with chlorophyll provide relief to a person bitten by a venomous snake? No, that's not true: A board-certified emergency medicine toxicologist specializing in herpetology and envenomation (exposure to poison from a bite or sting) treatment told Lead Stories, "Chlorophyll does not neutralize snake venom." A botany expert also told Lead Stories there is "no scientific basis that would support such a claim."
The claim appeared in a post on Tik Tok on May 19, 2023. The caption said:
Consuming Burdock root and Chlorophyll on a daily will make you feel like a God #lisalefteye #healingjourney #drsebi #burdockroot
Superimposed text at the top of the video says:
Lisa Left Eye on Burdock Root & Chlorophyll
This is what the post looked like on TikTok at the time of writing: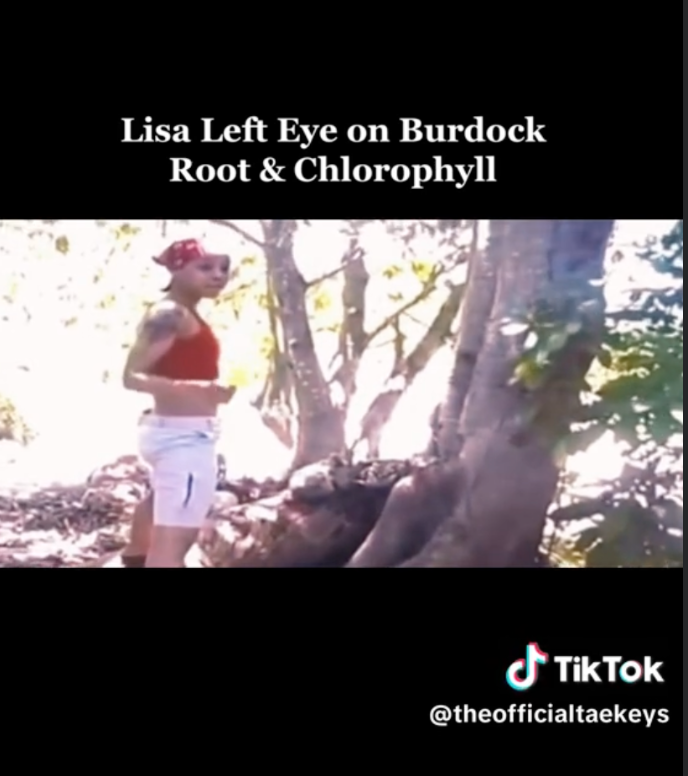 (Source: TikTok screenshot taken on Mon June 12 16:34:05 2023 UTC)
The recording seen in the TikTok post is a segment from a February 9, 2012, YouTube video titled, "LISA LEFT EYE LOPES AT DR. SEBI'S VILLAGE IN HONDURAS (USHA VILLAGE)." At 10:44 in the video, a woman is seen speaking while standing next to a tree. She says, in part:
If for some reason God forbid somebody gets bit by a snake ... what I recommend you do, you grab the nearest green leaf around you and you chew it up and you eat it ... if you get bit by a snake you want to grab a leaf because what this is is chlorophyll ... the chlorophyll thins out your blood so when you get a snake bite, that stuff, it coagulates the blood, it makes it so that, you know, it clots up this will unclog your blood ...
The implied claim in this video is that eating a green leaf will help counter the venom.
Chlorophyll is defined as "the green substance in plants that allows them to use the energy from the sun." While studies have shown that specific types of plants have potential medicinal value against snake bites, these same studies have ultimately concluded that more research needs to be conducted to ensure the safety of using traditional herbal medicine.
Dr. Nick Brandehoff, a board-certified emergency medicine, medical toxicology and addiction medicine doctor who specializes in the research and treatment of envenomation, confirmed for Lead Stories via email on June 9, 2023, that this claim was false:
Chlorophyll does not neutralize snake venom. The only effective treatment currently available is antivenom. And even then, there are specific antivenoms for specific snakes.
As defined by The Smithsonian Institution:
Antivenom (often spelled 'antivenin') is an antibody product that can disable a particular venom's toxins. If injected quickly after a bite or sting, the antibodies in antivenom neutralize the venom, potentially saving the victim's life or limb.

Antivenom is still produced by much the same method that was developed in the 1890s to produce antitoxins for diphtheria and tetanus. An animal, such as a horse or goat, is injected with a small amount of venom. The antibodies released by the animal's immune system to fight the damaging venom are later harvested via bleeding. The blood serum or plasma is then concentrated and purified into pharmaceutical-grade antivenom.
The World Health Organization webpage titled "Control of Neglected Tropical Diseases" says "Antivenoms remain the only specific treatment that can potentially prevent or reverse most of the effects of snakebite envenoming when administered early in an adequate therapeutic dose."
Brandehoff told Lead Stories that chlorophyll doesn't thin blood because it "is digested prior to being absorbed in the gut." He added that thinning one's blood after being bitten by a snake is not a good thing:
Given that most snakes with hemotoxic venoms cause worsening bleeding, I would not recommend any blood thinners since it would greatly increase the risk of further bleeding. There are some rare instances for specific snakes, but overall we avoid blood thinners in snake bites.
Brian Ellis, a professor emeritus of the University of British Columbia's Department of Botany, also told Lead Stories, via email on June 9, 2023, this claim was unfounded:
I know of no scientific basis that would support such a claim.

In particular, the suggestion that it is chlorophyll that is responsible for any putative anti-venom effect is absurd; ALL green plants have essentially the same chlorophyll.
He added:
there are hundreds of different (natural) chemicals dissolved in our blood. Adding a little chlorophyll (even if it had survived its trip through the digestive tract) would make absolutely no difference to the viscosity of the blood.
Lead Stories has debunked a similar claim that Benadryl is the proper treatment for venomous snakebites.
Other Lead Stories fact checks about medical treatments involving snake venom and "Dr. Sebi" can be found here and here.
"Dr. Sebi," whose real name was Alfredo Bowman, was a Honduran man who died in 2016. He was not a physician or a licensed traditional medicine specialist and was known for promoting unsupported herb-based products and holistic practices.