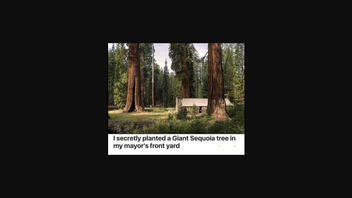 Did a self-proclaimed arborist plant a giant sequoia tree in their mayor's front yard along with 127 giant sequoias and giant redwoods throughout the Redondo Beach, California, area in response to the city removing a 30-year-old pepper tree? No, that's not true: The mayor mentioned in this Facebook post has written this claim off as a "practical joke." The deputy director of public works for Redondo Beach had no knowledge of this claim. And a contractor working in the Redondo Beach area told Lead Stories that giant sequoias and giant redwoods would need more water than the Los Angeles area could supply.
The claim appeared on Facebook (archived here) on June 5, 2023, with the caption "I don't know if this is a true story, but I love it nonetheless
." It opened:
I secretly planted a Giant Sequoia tree in my mayor's front yard
This is what the post looked like on Facebook at the time of writing: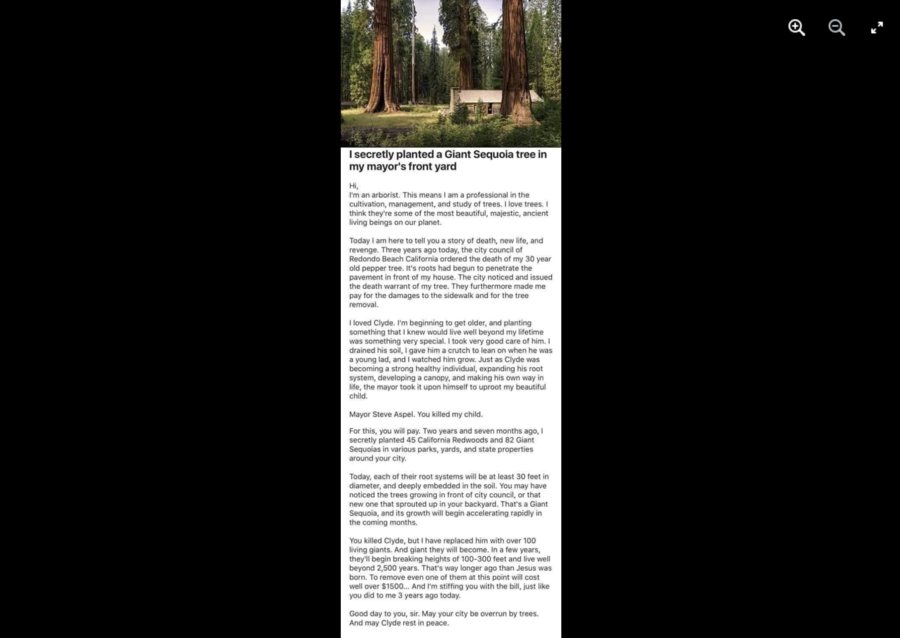 (Source: Facebook screenshot taken on Wed Jun 14 15:11:15 2023 UTC)
The author of the lengthy post claimed that he planted a giant sequoia tree in former Mayor Steve Aspel's yard because the city of Redondo Beach had removed a favored pepper tree from the author's yard after the roots "had begun to penetrate the pavement in front of my house." In addition to the giant sequoia, the unidentified writer claimed he planted 127 trees; 45 were "California redwoods," or giant redwoods as they're more commonly called, and the other 82 were giant sequoias in various locations.
In a June 15, 2023, phone call with Lead Stories, Aspel, who was mayor of Redondo Beach from 2013 to 2017, said he did not "have any sequoia trees growing in his front yard" and the whole claim was a "practical joke by a high school kid in Torrance." Torrance is a California city that's less than four miles from Redondo Beach. Aspel did not remember the student's name.
Michael Klein, the deputy director of public works for Redondo Beach, told Lead Stories on a June 15, 2023, phone call "No, I've never heard of that" claim.
Mike Garcia, a state-licensed contractor in Redondo Beach, told Lead Stories by phone on June 14, 2023, that he was the only person to successfully plant mini sequoias in his neighbor's yard 15 years ago. Asked why only mini ones, he responded:
Sequoias and California redwoods grow where there is a lot of moisture, so northern California where there is more rain. These trees have a deep root system, and the amount of rain that L.A. gets is not enough to sustain them.
Redondo Beach is in Los Angeles County.
"Giant sequoias grow at middle elevations along the west slope of the Sierra Nevada," according to the Sequoias and Kings Canyon National Park website. The Sierra Nevada mountain range does not reach Los Angeles County.
Giant redwoods need to be "in the moist, humid climate of the Northern California coast," the Sequoia and Kings Canyon website says.
When Snopes fact checked this claim in 2017, it reported the original Reddit user who posted this story was not an arborist, but a "biology major" who lived "on a college campus." Their fact check can be read here.