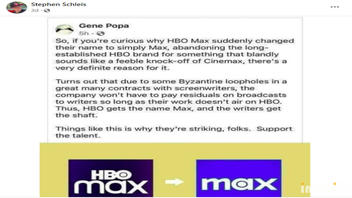 Does HBO Max "suddenly" changing "their name to simply Max" mean "the company won't have to pay residuals" to screenwriters? No, that's not true: The name change from HBO Max to Max does not have any direct impact on the company's obligation to pay residuals to screenwriters or any other content creators. This is a contractual and legal obligation that exists regardless of any name changes or rebranding efforts by the company. A spokesperson for Max and a law professor told Lead Stories that the assertion is not true.
The claim appeared in a post on Facebook (archived here) published on June 8, 2023. The post says:
So, if you're curious why HBO Max suddenly changed their name to simply Max, abandoning the long-established HBO brand for something that blandly sounds like a feeble knock-off of Cinemax, there's a very definite reason for it.

Turns out that due to some Byzantine loopholes in a great many contracts with screenwriters, the company won't have to pay residuals on broadcasts to writers so long as their work doesn't air on HBO. Thus, HBO gets the name Max, and the writers get the shaft.

Things like this is why they're striking folks. Support the talent.
This is what the post looked like on Facebook at the time of writing: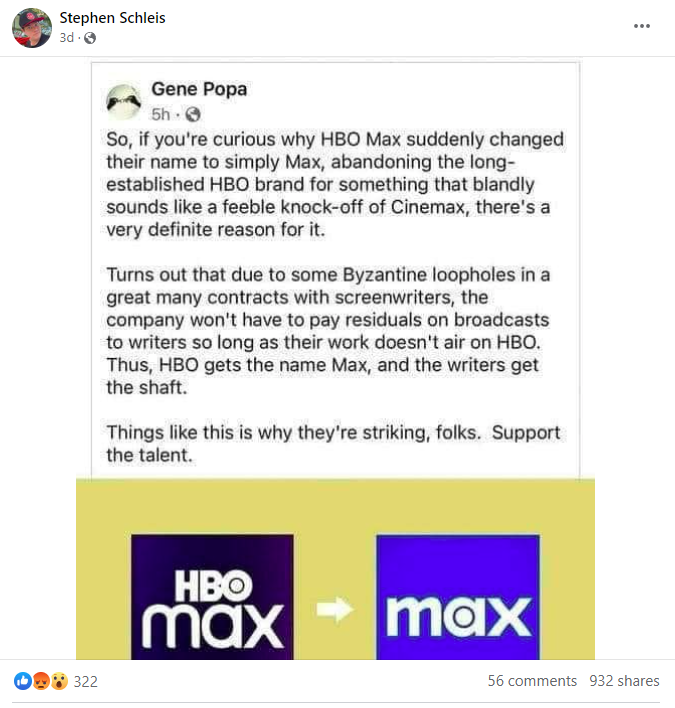 (Source: Facebook screenshot taken on Mon Jun 12 16:21:05 2023 UTC)
The payments made to screenwriters are known as residuals. It's money paid to them and other talent based on the subsequent use or distribution of their work, such as when their content is aired or streamed.
HBO Max to Max
In a June 12, 2023, email to Lead Stories, a spokesperson for Max said, "This claim is inaccurate. It is not true," when it comes to the reason behind the name change. The response from the Warner Bros. Discovery streaming service spokesperson added:
We've established brand equity with the name HBO Max. To name it Max builds off of that brand equity and signals to viewers that it's still the home of HBO but also showcases a significantly expanded content catalog that offers something to watch for the whole household.

Taking HBO out of the name also allows us to reach new subscribers who might have thought an HBO product wasn't for them. We can go broad, while still preserving and protecting the HBO brand.
Contract law
Paul Weitzel, an assistant professor and contracts expert at the University of Nebraska School of Law, told Lead Stories in a June 12, 2023, email that "Changing your name doesn't get you out of business contracts." He continued:
Companies have a legal name, which is the one on their charter and contracts. Most also have a 'fictitious name'. That's a name you can register with the state to do business. So you might have Paul's Dry Cleaning Inc., but on the sign out front I just say 'Paul's Dry Cleaning' or 'Paul's Clean-o-rama'. The name on the sign is just marketing.

I haven't seen the corporate documents, but it seems very unlikely that a contract that refers to HBO would use only the fictitious/marketing name. It's possible, but it would take almost intentionally terrible lawyering.
Weitzel said it would be a "terrible world" if the claim in the social media post were true. He provided this example:
Step 1: Form a corporation.

Step 2: Take out a loan.

Step 3: Change your corporate name.

Step 4: Bahamas.