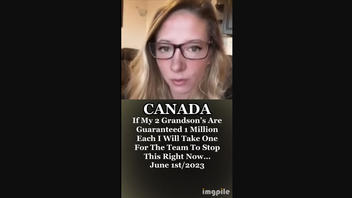 Is Canada implementing a digital ID in order for their provinces to access health care and funding for citizens? No, that's not true: On February 7, 2023, the provincial premiers accepted a proposal to further fund and improve the way health care data is stored, collected, and shared. The press release on the increase of funds did not mention digital IDs anywhere in the document.
The claim appeared on Facebook (archived here) where it was published on June 4, 2023. The caption read:
Coming soon to a city near you!

get your chip now before the Rush!

They can shove the digital id up there 🍑
This is what the post looked like on Facebook at the time of writing: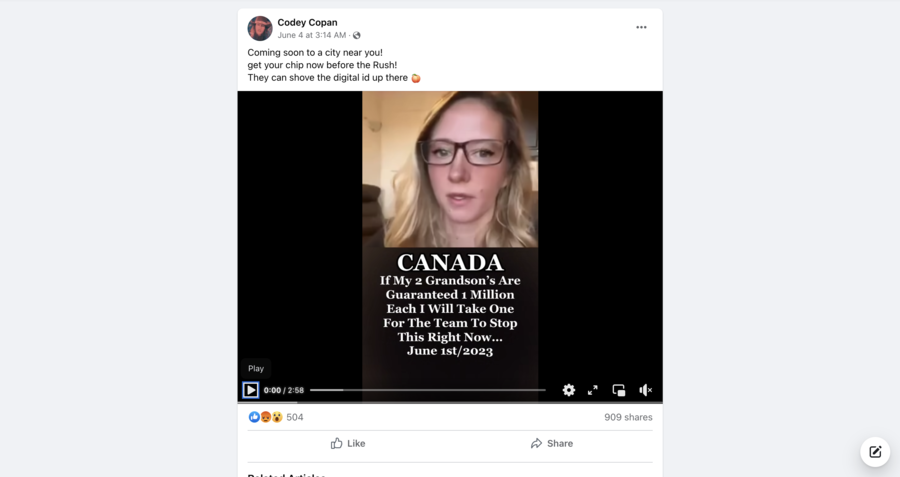 (Source: Facebook screenshot taken on Mon Jun 12 14:25:42 2023 UTC)
The woman in the Facebook video speaks about Canada's prime minister urging the provinces to implement digital IDs or they will not receive funding for health care for their citizens. Canada is divided into multiple provinces, or regions. She then shows a diagram created by the World Economic Forum of what a digital ID would allow users to do.
The speaker claims that without a digital ID, Canadians "will not be able to access any health care." She then shows a screenshot of text while saying, "These are the federal conditions in order for us to access to our money, our tax money." The narrator does not identify where the screenshot is from, and there are no logos to indicate where it came from. Lead Stories found the screenshot, on a now-archived Canadian Broadcasting Corporation article, which says the government wants health information "so that it can better track health-care performance and outcomes." The article claims this quote came from a government document given to reporters. The article does not say anything about digital IDs or tax money.
On February 7, 2023, Prime Minister Justin Trudeau sent out a press release about an increase in funding for health "by $196.1 billion over 10 years, including $46.2 billion in new funding." Some of the initiatives the funding will go towards includes: "$1.7 billion over five years to support hourly wage increases for personal support workers" and "$175 million over five years for the Territorial Health Investment Fund in recognition of medical travel and the cost of delivering health care in the territories." There is no mention of digital IDs in this press release.
The claim that there is a condition that Canadian citizens have to agree to a digital ID may have stemmed from this section of the press release, "That is why to access [Canadians] share of the federal funding, including the 5 per cent [Canada Health Transfer] guarantee, provincial and territorial governments are asked to commit to improving how health information is collected, shared, used, and reported to Canadians to promote greater transparency on results ... Canadians should be able to access their own health information and benefit from it being shared between health workers, across health settings, and across jurisdictions." But there is no mention of digital ID in this paragraph or any of the paragraphs of the document.
An Agence France-Presse fact check from March 15, 2023, includes a quote from a spokesperson at Health Canada, the government agency in charge of health care for Canadians. In a March 8, 2023, email, the spokesperson wrote:
The Government of Canada will not create a single health data system or a national health care digital ID ... As it stands, digital systems across the country are highly fragmented leading to limited ability to collect, share and use health data.
Other Lead Stories fact checks about Canada can be found here.