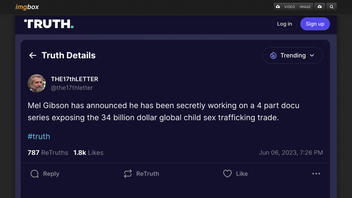 Did Mel Gibson start working on a new documentary "exposing the 34 billion dollar global child sex trafficking trade"? No, that's not true: No credible sources confirmed he made such an announcement, and his publicist explicitly denied Gibson's involvement in the alleged project in an email to Lead Stories.
The claim appeared in a post (archived here) on Truth Social on June 6, 2023. It said:
Mel Gibson has announced he has been secretly working on a 4 part docu series exposing the 34 billion dollar global child sex trafficking trade.
Here is what it looked like at the time of writing:

(Source: Truth Social screenshot taken on Jun 13 14:58:49 2023 UTC)
Gibson's publicist Alan Nierob repudiated the existence of such a project. His email sent to Lead Stories on June 13, 2023, was concise:
Deny
The rumor originated from a June 6, 2023 Leading Report tweet (archived here). It lacked any sourcing. Before that, the account had already posted false statements debunked by Lead Stories, for example, here.
Other posts (for example, here and here) claimed that the supposed documentary was a joint venture of Gibson and Tim Ballard. Ballard is a founder of an anti-trafficking nonprofit who did not condemn QAnon-driven conspiracies while acknowledging them as such, and made exaggerated statements about partnerships with major U.S. organizations.
Ballard did issue a statement cited by the AP and Newsweek. He also refuted the claim:
I am personally grateful for his support as we worked on this documentary, however reports this four-part series is actually being produced by Mr. Gibson are not accurate.
A Google search for the keywords "Mel Gibson documentary child trafficking" returned only duplicates of the claim or its debunks.
Lead Stories previously wrote that Gibson did not direct a film about the Rothschild family.
Other Lead Stories fact checks about the actor can be found here.