STORY UPDATED: check for updates below.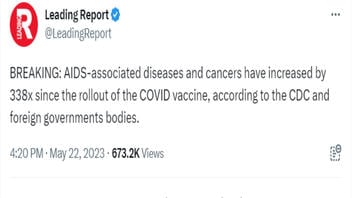 Did the Centers for Disease Control and Prevention (CDC) say that AIDS-associated diseases and cancers have increased by 338 times since the rollout of the COVID-19 vaccine? No, that's not true: The CDC says there are no indications that COVID vaccines are causing or contributing to these conditions. The public health agency regularly monitors and reports on health conditions including HIV/AIDS and cancer, but there is no indication of such a dramatic increase associated with the COVID vaccine.
The claims appeared in a post on Twitter (archived here) published by Leading Report on May 22, 2023. The tweet says:
BREAKING: AIDS-associated diseases and cancers have increased by 338x since the rollout of the COVID vaccine, according to the CDC and foreign governments bodies.
This is what the post looked like on Twitter at the time of writing:

(Source: Twitter screenshot taken on Wed May 24 16:45:14 2023 UTC)
The so-called "breaking" news in the post comes from an October 5, 2022, article in The Exposé (archived here) with the headline "CDC confirms USA suffered 338x increase in reports of AIDS-associated Diseases & Cancers in 2021 following COVID Vaccine roll-out." The article was nearly 8 months old at the time of this writing.
The opening paragraphs of the story quickly back away from the bold claims made in the headline. Instead of saying the CDC "confirms" the information, it pivots to "strongly suggests." Here's what those lines say:
Official data made available by the U.S. Government and Centers for Disease Control strongly suggests that fully vaccinated Americans may be developing Acquired Immunodeficiency Syndrome [AIDS] or a similar disease that is decimating the innate immune system.

But they are not alone, because further data made available by the UK Government and the Government of Canada suggests the vaccinated population in both of these respective countries are also developing the debilitating condition.
The opening of the story also shies away from the notion of "AIDS-associated Diseases & Cancers" in the headline and, instead, goes with "fully vaccinated Americans may be developing Acquired Immunodeficiency Syndrome or a similar disease."
Centers for Disease Control and Prevention
Press officer Scott Pauley with the CDC provided the agency's response to the claims in a May 24, 2023, email to Lead Stories. It said:
To date, CDC has not detected any unusual or unexpected patterns for HIV or AIDS-associated diseases and cancers following immunization that would indicate that COVID vaccines are causing or contributing to these conditions. CDC recommends that everyone ages 6 months of age and older stay up-to-date with COVID-19 vaccination, including receiving an updated (bivalent) vaccine when eligible. Vaccination is the most effective tool we have for reducing death, hospitalization, and severe disease from COVID-19.
The CDC response also said:
COVID-19 vaccines are undergoing the most intense safety monitoring in U.S. history. The Vaccine Adverse Event Reporting System (VAERS) is co-managed by CDC and FDA [Food and Drug Administration]. It is their frontline vaccine monitoring system. It is designed to rapidly detect unusual or unexpected patterns of adverse events and alert CDC experts to possible safety concerns known as safety signals.
Public Health Agency of Canada
Senior media relations advisor Anna Maddison provided a response to the claims in the article for the Public Health Agency of Canada in a May 26, 2023, email to Lead Stories. It said:
The Public Health Agency of Canada (PHAC) is aware of a blog post circulating online that makes the claim that COVID-19 vaccines can induce a state of immune suppression following immunization. The Government of Canada's vaccine safety surveillance systems have not identified any safety signals for this, nor have any reports of a safety signal been communicated by international regulators or public health authorities. ...

With billions of COVID-19 vaccine doses administered to individuals across the world, real-world data strongly suggest that COVID-19-vaccinated individuals are not immunocompromised following vaccination. The protective efficacy of these vaccines against severe COVID-19 is unequivocally known to be mediated by the activity of the immune system of the vaccinated individual.
Vaccine Adverse Event Reporting System
In the United States, VAERS, which the CDC co-sponsors with the FDA, operates as a crude early warning system and not as a database for the quantification of specific outcomes following vaccination.
Anyone with internet access can add a report to the VAERS list of reports. The public access link to it expressly warns against unwarranted conclusions based on VAERS material because the list only provides a tally of unverified notes about any health event people experience after they are vaccinated.
The list itself cannot be used to prove or quantify, since all it shows is a chronological correlation, not the causal link that would be more difficult to establish. It's the equivalent of a police precinct's running "blotter" reports that may serve as a starting point for police work, not an endpoint.
No such evidence
Dr. William Schaffner, a professor of medicine in the division of infectious diseases at Vanderbilt University Medical Center, told Lead Stories that there's no evidence that "COVID vaccines generally suppress or weaken the immune system." His comments came in a July 25, 2022, email to Lead Stories for an earlier story titled "Fact Check: COVID Vaccines Do NOT Suppress Immune System." He continued:
Of course, the vaccines specifically strengthen the immune system so that it can prevent serious COVID infections. Beyond that, if the COVID vaccines generally suppressed the immune system in a substantial way, that would have become evident by now. Those who had received the vaccines by now would have evidenced an increase in a myriad of other infections. Millions of doses of COVID vaccines have been administered around the world and this has not occurred anywhere.
Schaffner's email also noted that there have been some occasional unexpected medical problems linked to the shots:
The US vaccine safety surveillance system is the best in the world. It has picked up several rare adverse events that have been attributed to COVID vaccines. These include:

Anaphylactic reactions, particularly in person who previously have experienced serious allergic reactions to medications or to environmental factors.
The thrombotic thrombocytopenic syndrome following the J&J vaccine, particularly in younger women.
Myocarditis/pericarditis following the mRNA vaccines, particularly among adolescent and young adult males, especially after the second vaccine dose.

All these have been defined and information about them has been communicated transparently and immediately to medical professionals and to the public.
World Health Organization
Dr. Federico Martinón-Torres, the head of the World Health Organization's Collaborating Center for Vaccine Safety, said in a video released on April 11, 2022, that COVID vaccines can't cause AIDS:
There is no evidence from clinical trials or from the field following worldwide use of currently available COVID-19 vaccines that COVID-19 vaccination causes any type of immunosuppression in any population group.

It is not possible for COVID-19 vaccines to cause AIDS, which is caused by the Human Immunodeficiency Virus (HIV). Suggestions that COVID-19 vaccination can cause a similar immunosuppressed outcome, which some have dubbed 'VAIDS,' are not based on any observed or reported evidence.
The CDC website says the most common COVID vaccine side effects are:
Tiredness
Headache
Muscle pain
Chills
Fever
Nausea
Lead Stories has previously debunked claims about the COVID vaccine and HIV/AIDS or suppressed immune systems:
Additional Lead Stories fact checks of claims related to vaccines can be found here.
2023-05-26T21:41:37Z

2023-05-26T21:41:37Z

Adds response from the Public Health Agency of Canada.