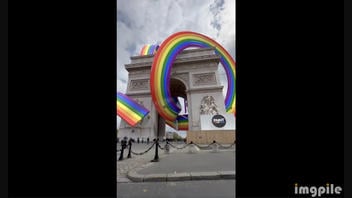 Is the French monument known as the Arc de Triomphe decorated with a giant rainbow for Pride Month? No, that's not true: This is work done by an artist who works in the medium of videos. Video artist Ian Padgham used three-dimensional animation processes and "lots of hand-edited details" to create this artwork. There are no credible news outlets reporting that this claim, about a landmark in the center of Paris, is true.
The claim appeared on Twitter published on June 2, 2023 (archived here). The tweet read:
🇫🇷 The Arc de Triomphe in Paris, the iconic memorial opened in 1836 to commemorate war heroes and soldiers who died during wars has been defaced with a giant Rainbow to celebrate Pride.

The landmark, which holds the Tomb of the Unknown Soldier, has been covered with a giant pride rainbow 🌈 as well as a trans colored square and a giant cloud ☁️ with the words 'March Des Fiertes' which translates as Pride March.

This is what the tweet looked like at the time of writing: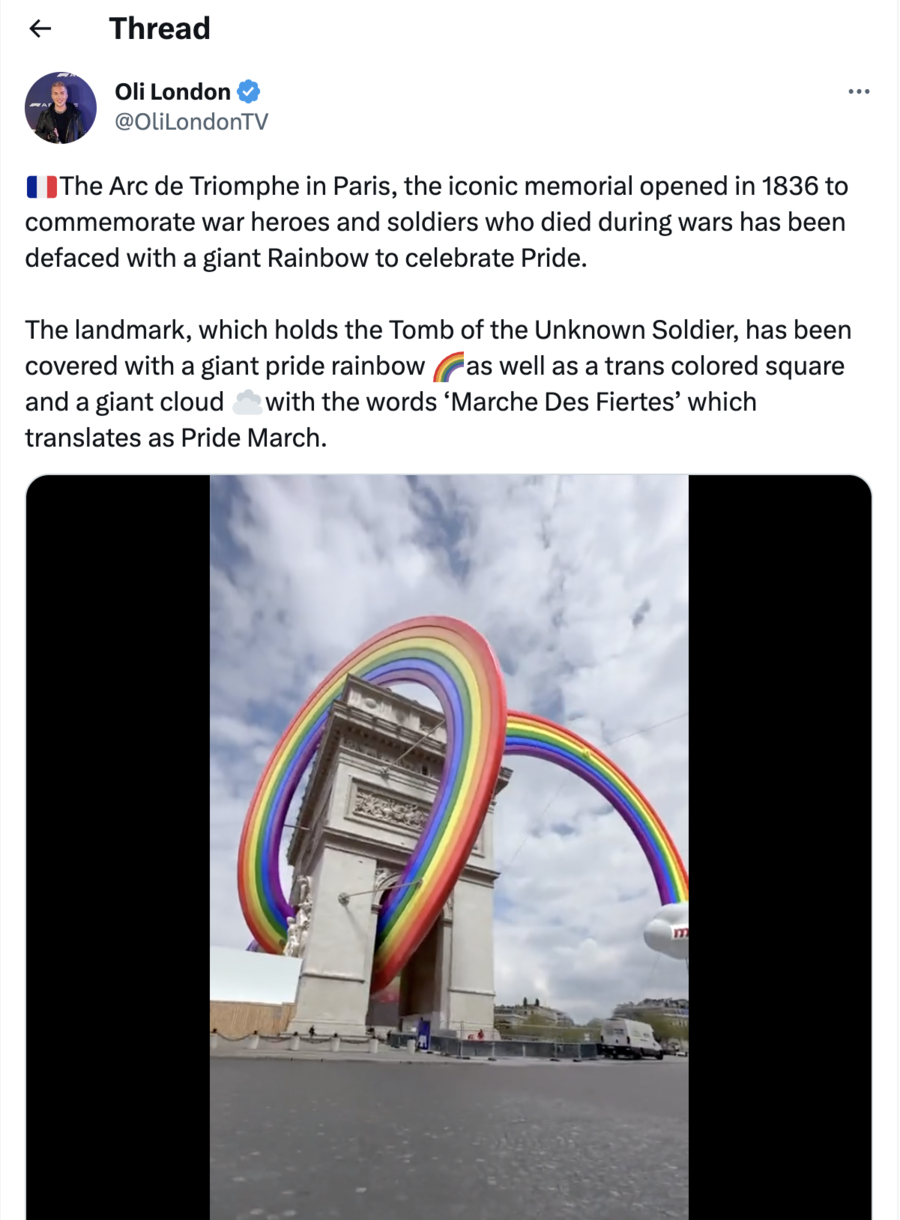 (Source: Twitter screenshot taken on Mon Jun 5 14:39:28 2023 UTC)
Lead Stories found the original post under the Instagram account "origiful." Origiful, or Ian Padgham, posted it on June 1, 2023. Padgham describes himself in his Instagram bio as a "video artist from California living in France."
Padgham's Twitter account, also under the username origiful, also posted the reimagined Arc de Triomphe art piece. A Twitter user responded to it saying "AI IS GETTING WILD", which Padgham replied back with, "No AI was used. Just me doing 3D animation and lots of hand-edited details." The tweet exchange can be found here:
No AI was used. Just me doing 3D animation and lots of hand-edited details.

-- Ian Padgham (@origiful) June 1, 2023
A search for the phrase "arc de triomphe rainbow pride month", using Google News' index of thousands of credible news sites did not reveal any factual reports that this is a real art installation.
More Lead Stories fact checks on Pride Month can be found here.