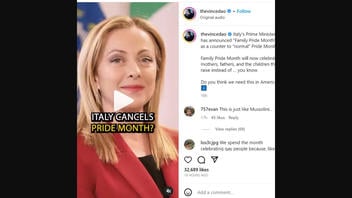 Did the Italian government announce "Family Pride Month" to celebrate heterosexual "mothers and fathers" instead of the LGBTQ+ community? No, that's not true: While Italy's Prime Minister Giorgia Meloni has been criticized domestically and internationally for her government's policies on LGBT+ issues, the country did not officially replace Pride Month with the celebration of heterosexual families.
The claim appeared in a post published on Instagram on June 5, 2023. It said:
Italy's Prime Minister has announced 'Family Pride Month' as a counter to 'normal' Pride Month.

Family Pride Month will now celebrate mothers, fathers, and the children they raise instead of ... you know

Do you think we need this in America? ⬇️
The video attached to the post mostly showed a man in headphones whose words appeared not to be synced with the movements of his lips.
This is what the post looked like at the time of writing: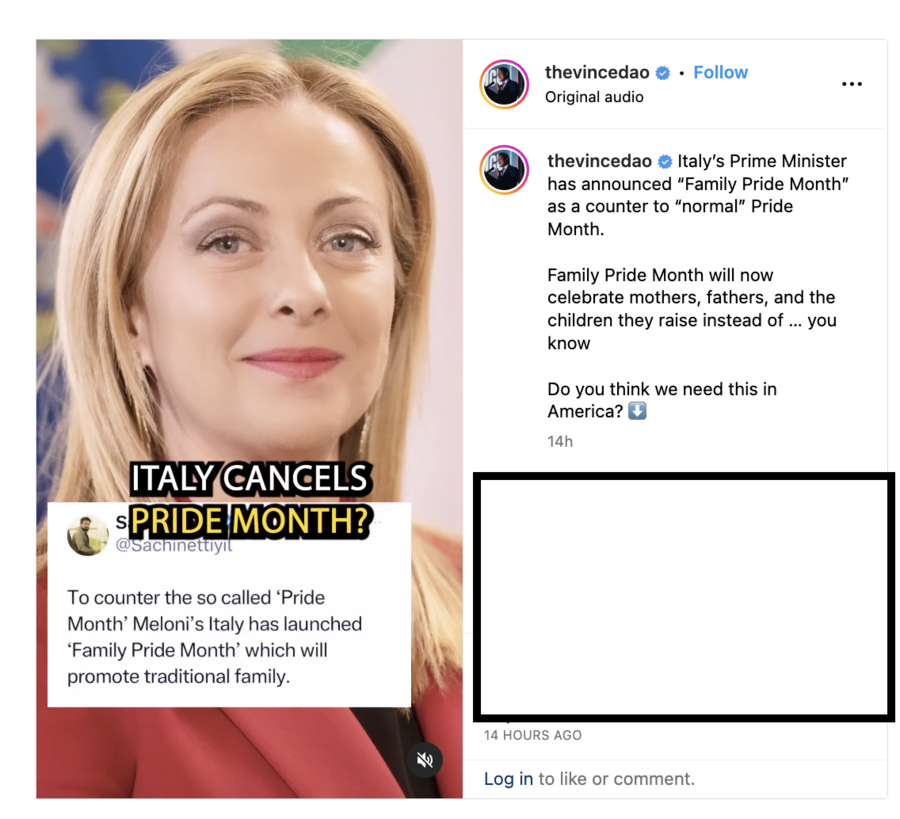 (Source: Instagram screenshot taken on Mon Jun 5 15:44:27 2023 UTC)
There is no evidence the claimed change took place.
The website of the Italian government did not produce any results for the Italian name of the supposed official "family" celebration.
Neither of the two major Italian newspapers, la Repubblica and Corriere della Sera, reported the "news."
The website of The Agenzia Nationale Stampa Associate (ANSA), which is a leading Italian news agency, does not show any articles about the purported government decision.
Even Meloni's official Facebook account does not mention that: search terms for "family" and "pride" only lead to her older posts about other things.
A Google search across English-language news websites does not show anything either.
The only source cited in the post on Instagram was a tweet (archived here) making the same claim without any attribution. Later, its author changed the content of the entry.
The rumor originated from a June 1, 2023, tweet (archived here). It contained a different video that included shots of people carrying a banner with a logo of an anti-abortion group that also defines family as a union between a man and a woman.
Besides English, the claim circulated in Spanish.
Meloni is the first Italy's female prime minister whose party is on the far-right end of the political spectrum.
In the fall of 2022, a month before she was scheduled to take over from her predecessor, Italy adopted a "National LGBT+ Strategy" for the period between 2022 and 2025. At the time, Reuters reported that Meloni was against the extension of the existing protections, but "ruled out rolling back" them. However, same-sex couples with children already saw legal changes making the process of guardianship much more difficult.
In June 2023, the Italian press reported that multiple events were scheduled in different regions of the country to celebrate the LGBTQ+ community.
Other Lead Stories fact checks about the LGBTQ+ community can be found here.