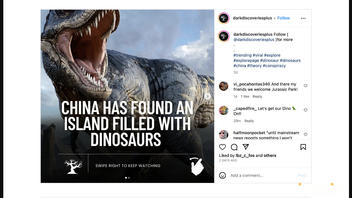 Did Chinese researchers find a uninhabited island with dinosaurs? No, that's not true: There is no evidence that anyone found an uninhabited island with dinosaurs. The most recent dinosaur news out of China was reported to be researchers finding 100 million-year-old dinosaur footprints in southwestern China.
The claim appeared on Instagram where it was published on July 4, 2023. The caption read, "Follow ( @darkdiscoveriesplus )for more #trending #viral #explore #explorepage #dinosaur #dinosaurs #china #theory #conspiracy." The text on the image read:
CHINA HAS FOUND AN ISLAND FILLED WITH DINOSAURS
This is what the Instagram post looked like at the time of writing: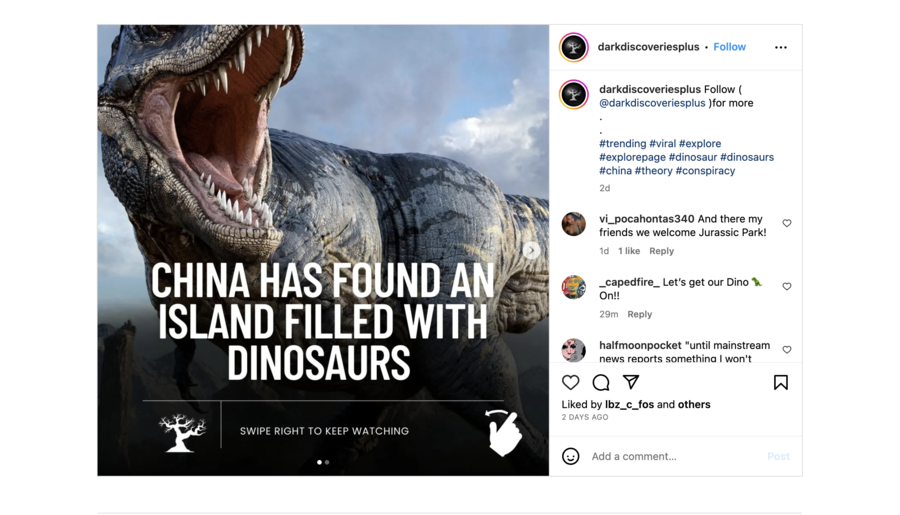 (Source: Instagram screenshot taken on Thu Jul 6 14:50:52 2023 UTC)
The post contains a second slide. That second slide is a silent video explaining that China sent 15 people on an expedition to "an unknown land." On that allegedly unknown land, two new species of dinosaurs purportedly were found. The only supposed details viewers are given about the purported dinosaurs is that one of the two new species found supposedly"is like a killing machine."
The video does not tell viewers which country was nearby this "unknown land" or show proof of the living dinosaurs.
Lead Stories searched this claim on Google News with the search, "China found an island with dinosaurs," and did not find anything that corroborated this claim. Another search of "unhabited island filled with dinosaurs" on Google News also did not yield any relevant results.
The beginning of the Instagram video claims that a woman in a nail salon saw a Chinese news report of the uncharted island full of dinosaurs being found. Xinhua News Agency, a Chinese news agnecy, did not produce any information related to the search of its site for, "uninhabited island filled with dinosaurs."
The most recent dinosaur news coming out of China was from July 2022. Researchers found 100 million-year-old dinosaur footprints in the southwestern region of the country.
As recently as June 2023, a BBC article reported on fossilized remains found on the Isle of Wight in the United Kingdom. Remains of a giant dinosaur that had not been seen for 70 million years were found in the San Juan Basin of New Mexico in August 2022 as well.
More Lead Stories articles on dinosaurs can be found here.