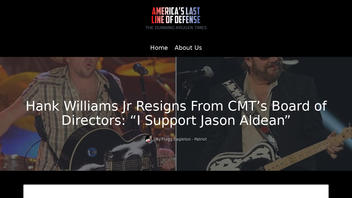 Did country music's Hank Williams Jr. resign from the Country Music Television's (CMT) board of directors to support fellow singer Jason Aldean? No, that's not true: The website this claim is from is satirical. Lead Stories could not find any evidence that Williams had left the board or even had been on the board, or evidence of a statement from CMT on such a situation.
The claim appeared in an article published by The Dunning-Kruger Times on July 22, 2023, titled "Hank Williams Jr Resigns From CMT's Board of Directors: 'I Support Jason Aldean'" (archived here) which opened:
Hank Williams Jr. has decided to join the boycott of Country Music Television (CMT). For Williams, however, the move is far more personal.
This is what the article looked like at the time of writing: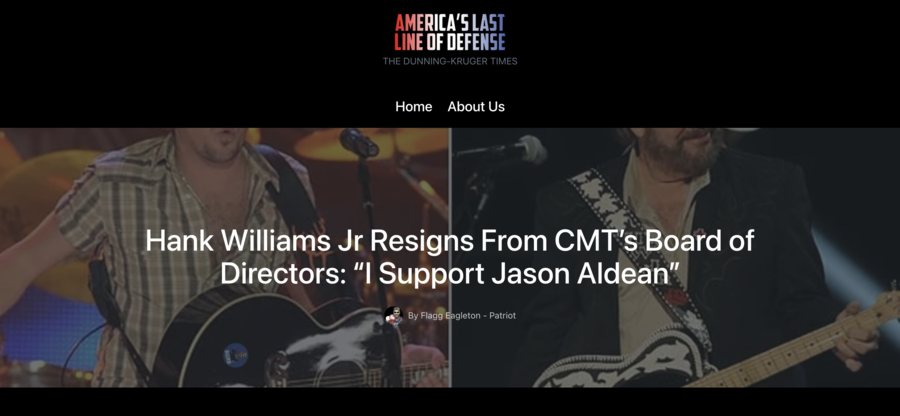 (Source: The Dunning-Kruger Times screenshot taken on Mon Jul 24 14:57:38 2023 UTC)
According to the article, Williams stepped down from being a board member for CMT to support Jason Aldean and free speech. The article does not explain why Aldean may need support, but Lead Stories inferred it was because CMT made the decision to pull Aldean's music video, "Try That In A Small Town" from their channel due to its controversial nature.
The article also claims that CMT CEO Joe Barron released a statement thanking Williams for his service on the board. The CMT board of directors does not have a CEO, but a chair that is currently held by Chuck Aly.
"Joe Barron" is the name of a deceased friend of Christopher Blair, the man behind The Dunning-Kruger Times and other satirical sites. Barron's name is frequently used in Blair's satirical stories as an homage.
Lead Stories did not find any evidence of Williams joining or leaving CMT's board of directors on Google News. A check of CMT's press releases, also did not produce anything related to the claim.
William's Twitter, Facebook and Instagram accounts all did not have any posts on the Aldean controversy as of this writing.
The Dunning-Kruger Times
The Dunning-Kruger Times is a satirical website with an about page (archived here) that has following disclaimer:
About Us

Dunning-Kruger-Times.com is a subsidiary of the 'America's Last Line of Defense' network of parody, satire, and tomfoolery, or as Snopes called it before they lost their war on satire: Junk News

About Satire

Before you complain and decide satire is synonymous with 'comedy':

sat·ire ˈsaˌtī(ə)r noun: The use of humor, irony, exaggeration, OR ridicule to expose and criticize people's stupidity or vices, particularly in the context of contemporary politics and other topical issues.

Everything on this website is fiction. It is not a lie and it is not fake news because it is not real. If you believe that it is real, you should have your head examined. Any similarities between this site's pure fantasy and actual people, places, and events are purely coincidental and all images should be considered altered and satirical. See above if you're still having an issue with that satire thing.
The website is named after the Dunning-Kruger effect, a term from a psychology experiment that describes the phenomenon of being ignorant of one's own ignorance. (That experiment has been disputed by a math professor.)
It is run by self-described liberal troll Christopher Blair.
Lead Stories also debunked a Dunning-Kruger Times story regarding singer Blake Shelton and Jason Aldean, that report is here.
More Lead Stories fact checks on The Dunning-Kruger Times claims are here.