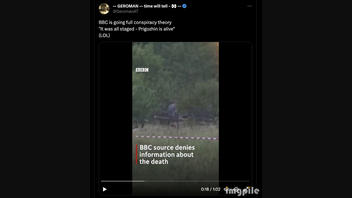 Did the BBC, a British public service broadcaster, produce and publicly post a video claiming that the Wagner mercenary boss Evgeny Prigozhin is still alive? Did the clip confirm that the plane crash -- that, according to the Russian authorities, killed Prigozhin -- was staged? No, that's not true: BBC denied that it ever released this video. It first appeared on an account unaffiliated with the British broadcaster, and as of this writing no BBC coverage mentioned the claim falsely attributed to its journalists.
The story originated from a post (archived here) published on X, formerly known as Twitter, on August 29, 2023. It opened:
BBC is going full conspiracy theory "It was all staged - Prigozhin is alive" (LOL)
The post contained a video, stating:
According to the information, the plane crash was a staging of the Russian authorities. And Evgeny Prigozhin is alive.
This is what the post looked like on X at the time of writing: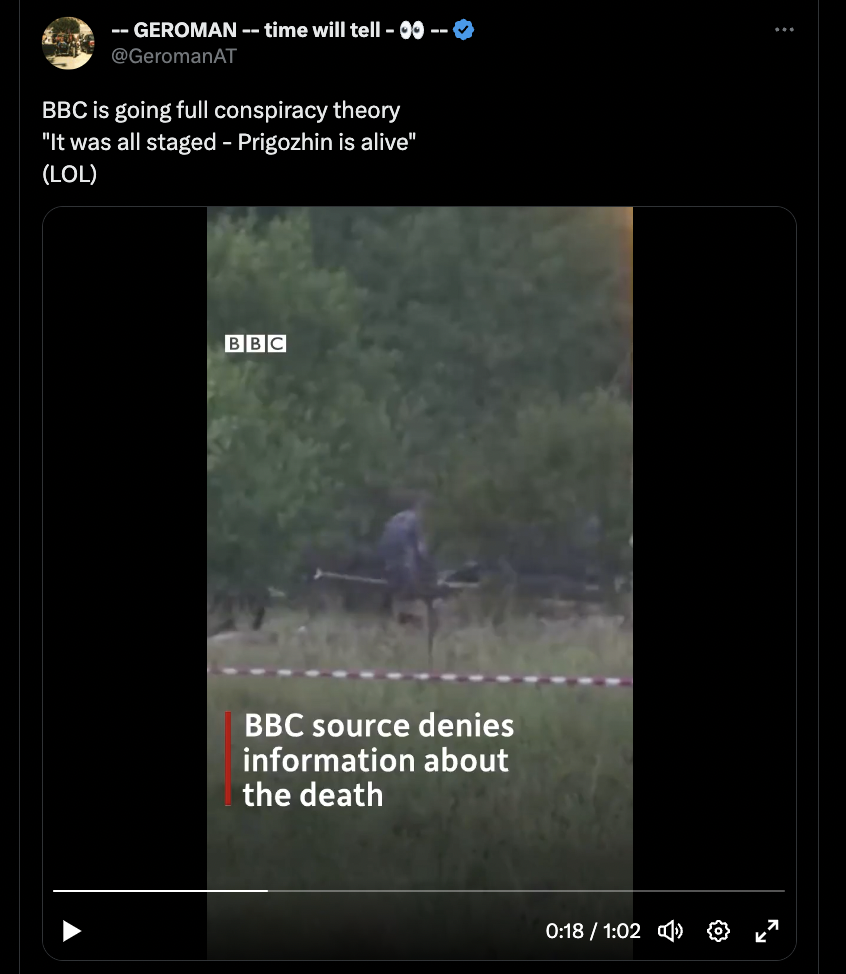 (Source: X screenshot taken on Wed Aug 30 15:40:30 2023 UTC)
The minute-long video did not contain any visual proof of the statements in question or show any documents corroborating them -- it only relied on a supposed single anonymous source, omitting any explanation of how this supposed source became aware of what was allegedly shared with the BBC journalists.
That is considered a suboptimal practice among professional journalists who, according to industry standards, should make an attempt to verify the source's words either through talking to other sources or through examining publicly available information.
The BBC accuracy guidelines specifically warns against relying on a single anonymous source:
We should be reluctant to rely on a single source. If we do rely on a single source, it should be credible, and a named, on-the-record source is always preferable.
A BBC spokesperson denied the authenticity of the video via email sent in response to the Lead Stories inquiry on August 30, 2023:
We are aware of this fake video and our lawyers are urgently looking into it. In a world of increasing disinformation, we urge everyone to check links and URLs to ensure they are getting news from a trusted source.
Earlier, the BBC journalist Shayan Sardarizadeh who works on the broadcaster's news verification team refuted the claim on X, too: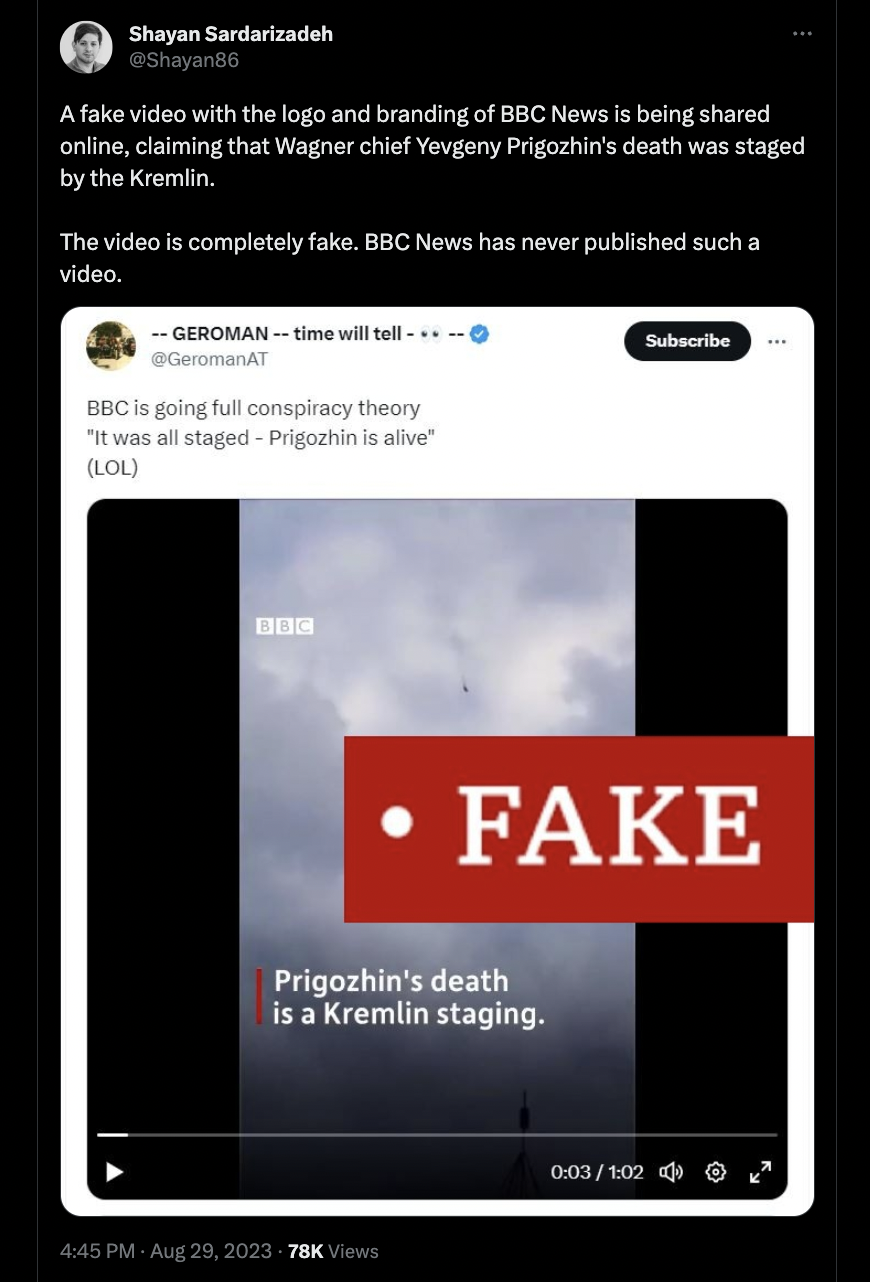 (Source: X screenshot taken on Wed Aug 30 17:22:47 2023 UTC)
The phrase "Prigozhin is alive" was taken in quotation marks on X as if it were a direct quote from a BBC report or news video. However, a Google search for this precise sentence on the BBC website did not produce any exact matches:

(Source: Google screenshot taken on Wed Aug 30 16:17:18 2023 UTC)
Lead Stories manually reviewed the BBC coverage of the Wagner boss since August 23, 2023, when the first reports about the plane crash near the Russian city of Tver started to emerge in the late afternoon local time. No articles stated that the event was "a staging by the Russian authorities" or that "Prigozhin is alive," as confirmed by the screenshots below (click to see a larger image):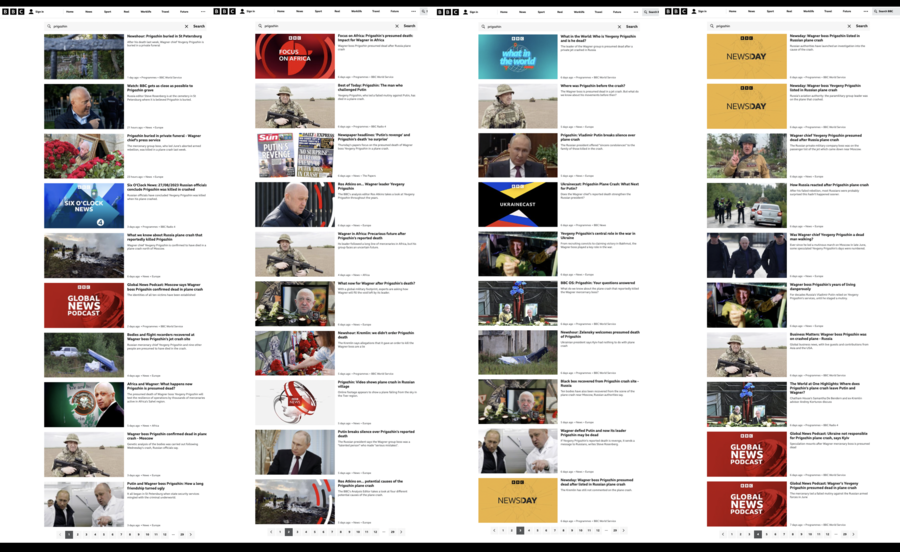 (Sources: BBC.com screenshot taken on Wed Aug 30 15:26:24 2023 UTC; BBC.com screenshot taken on Wed Aug 30 15:26:41 2023 UTC; BBC.com screenshot taken on Wed Aug 30 15.27.46 2023 UTC; BBC.com screenshot taken on Wed Aug 30 15:28:00 2023 UTC; composite image by Lead Stories)
The coverage published by the BBC Russian Service did not contain statements in question either: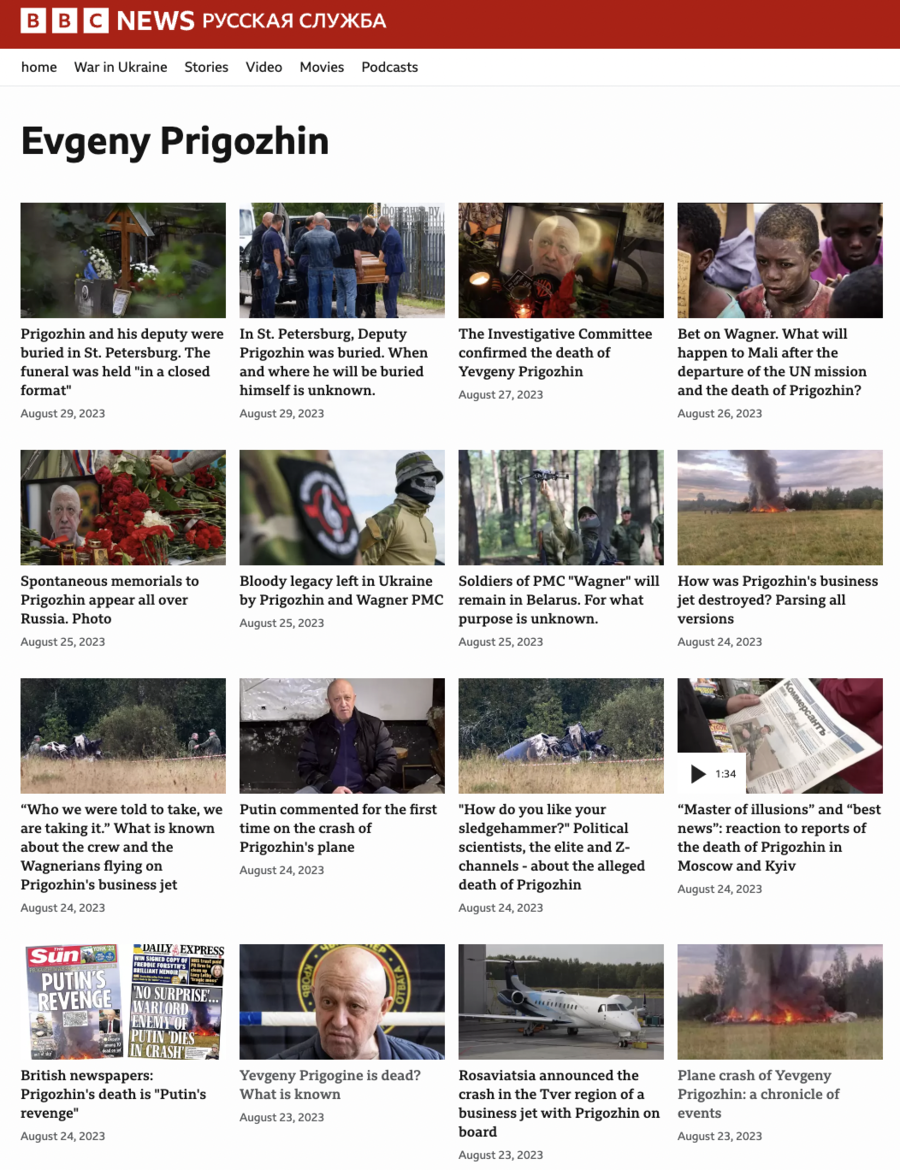 (Source: BBC.com screenshot taken on Aug 30 15:25:00 2023 UTC; the page was translated to English by Chrome)
Lead Stories additionally reviewed official BBC accounts on social media, and none of them showed the video from X posted on August 29, 2023.
It should be noted that while it became known within hours that Prigozhin was listed as the passenger on the flight manifest, many journalists from high-quality media outlets that covered the crash near Tver approached the story with caution, given the difficulty of obtaining independently verifiable information from Russia and the secrecy surrounding the whereabouts of the Wagner boss after his failed attempt to march on Moscow.
Russian officials said that they confirmed Prigozhin's death on August 27, 2023.
Previously, Lead Stories debunked a claim about another inauthentic video falsely attributed to Al Jazeera.