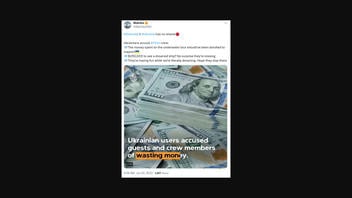 Did Al Jazeera media network publish a video reporting that Ukrainian social media users accused the passengers of the OceanGate Titan submersible of spending too much money on the trip when that money could have been used to support Ukraine? No, that's not true: The video was falsely attributed to Al Jazeera, according to Al Jazeera itself. Other major news outlets did not report on any such story, either.
The claim appeared in a tweet (archived here) posted on Twitter on June 22, 2023. The tweet included a video with an Al Jazeera logo in its upper left corner. The text of the tweet read:
#Zelensky's #Ukraine has no shame😡

Ukrainians accuse #Titan crew:
💬The money spent on the underwater tour should've been donated to support🇺🇦
💬$250,000 to see a drowned ship? No surprise they're missing
💬They're having fun while we're literally drowning. Hope they stay there
This is what the tweet looked like on Twitter at the time of writing: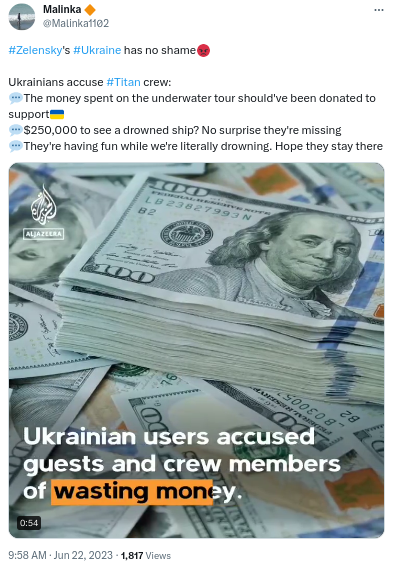 (Source: Twitter screenshot taken on Tue Jun 27 15:51:49 2023 UTC)
Al Jazeera debunk
On June 23, 2023, Al Jazeera published an article that debunked the video and its attribution to the media network. The article stated that the video's attribution to Al Jazeera was "not authentic."
Lead Stories searched Al Jazeera's English's website, Twitter and Facebook for any content that matched the claims made in the fake video. We did not find any matching or even similar information from the media network.
Lead Stories also looked for any legitimate news reports from other media companies that Ukrainian social media users were largely critical of the money that the Titan's passengers spent on their spots in the expedition. Using Google News, we did not find any information that corresponded with the claim.
The fateful Titan expedition
The Titan submersible was designed to carry sight-seers down to the site of the wreck of the Titanic, an ocean liner that sunk in 1912 and was discovered in 1985. Passengers on the submersible may have paid up to $250,000 for a spot to be included in the experimental expedition. The five passengers aboard the submersible were OceanGate's CEO Stockton Rush, businessman and aviator Hamish Harding, businessman Shahzada Dawood and his son Suleman Dawood, and deep-sea explorer Paul-Henri Nargeolet.
The ship that towed it to its descent site on June 18, 2023 lost Titan's signal. On June 22, 2023, the U.S. Coast Guard said that it found debris consistent with a "catastrophic implosion of the vessel." OceanGate Expeditions, a part of OceanGate, the company that designed the submersible, published a statement on June 22, 2023, saying that it believed that all the passengers on the Titan "have sadly been lost."
Lead Stories has previously debunked several other claims about the Titan disaster, compiling them here.