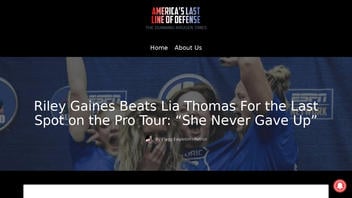 Did former competitive swimmer Riley Gaines "beat" competitive swimmer Lia Thomas for the "last spot on the pro tour"? No, that's not true: This claim appeared in an article on a satirical website known for publishing fabricated content.
The claim appeared in an article published by The Dunning-Kruger Times on August 29, 2023, titled "Riley Gaines Beats Lia Thomas For the Last Spot on the Pro Tour: "She Never Gave Up" (archived here), which opened:
In what bookmakers are calling the upset of all time in women's swimming, Riley Gaines beat Lia Thomas for the last spot left on the US Pro Swimming Tour.
Users on social media only saw this title, description and thumbnail:
This could be the feel-good story of the decade.
The article continued:
Against incredible odds, Gaines pulled out a win by less than a second in the 10K Meter Quad Stroke. "It was really impressive," said Barron, "she never gave up."
The quote is attributed to "USPST President Joe Barron." Barron is not a "US Pro Swimming Tour President." He was a friend of Christopher Blair, the founder of The Dunning-Kruger Times. His name is frequently used in Blair's satirical stories as an homage.
The USA Swimming website, as of this writing, lists Tim Hinchey as president of the USA Swimming Foundation.
Further down in the Dunning-Kruger Times article, there is mention of an "Attorney Ryan J Fish of Williams, Vanden, and Boom." There is no evidence that this person and organization exists.
A search of the Google News index of thousands of web pages, using the keywords "Riley Gaines Beats Lia Thomas For the Last Spot on the Pro Tour" produced no credible independent reports supporting the claim. It would have been deemed a significant news event with widespread coverage if this were true.
Lead Stories reached out to USA Swimming and will update this fact check if a response is received.
Additional Lead Stories fact checks that mention Riley Gains and Lia Thomas can be read here.
The Dunning-Kruger Times
The Dunning-Kruger Times is a satirical website with an about page (archived here) that has following disclaimer:
About Us

Dunning-Kruger-Times.com is a subsidiary of the 'America's Last Line of Defense' network of parody, satire, and tomfoolery, or as Snopes called it before they lost their war on satire: Junk News

About Satire

Before you complain and decide satire is synonymous with 'comedy':

sat·ire ˈsaˌtī(ə)r noun: The use of humor, irony, exaggeration, OR ridicule to expose and criticize people's stupidity or vices, particularly in the context of contemporary politics and other topical issues.

Everything on this website is fiction. It is not a lie and it is not fake news because it is not real. If you believe that it is real, you should have your head examined. Any similarities between this site's pure fantasy and actual people, places, and events are purely coincidental and all images should be considered altered and satirical. See above if you're still having an issue with that satire thing.
The website is named after the Dunning-Kruger effect, a term from a psychology experiment that describes the phenomenon of being ignorant of one's own ignorance. (That experiment has been disputed by a math professor.)
It is run by self-described liberal troll Christopher Blair.