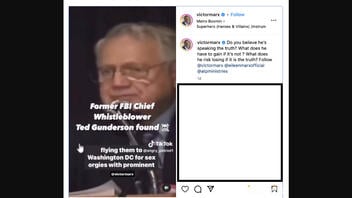 Does a video on social media prove that the death of former FBI agent Ted Gunderson was connected to his public speeches and did not result from natural causes? No, that's not true: The video, shared under different captions on social media that implied such a scenario, contradicted the initial announcement about Gunderson's death made by his son, who told journalists in 2011 that the cause of death was cancer.
The claim reappeared in a post on Instagram on August 1, 2023. Its caption said:
Do you believe he's speaking the truth? What does he have to gain if it's not ? What does he risk losing if it is the truth? Follow

@victormarx

@eileenmarxofficial

@atpministries
Text over the video raised the implication of a possibly suspicious death:
Former FBI Chief Whistleblower Ted Gunderson found

.
Here is what it looked like on Instagram at the time of writing: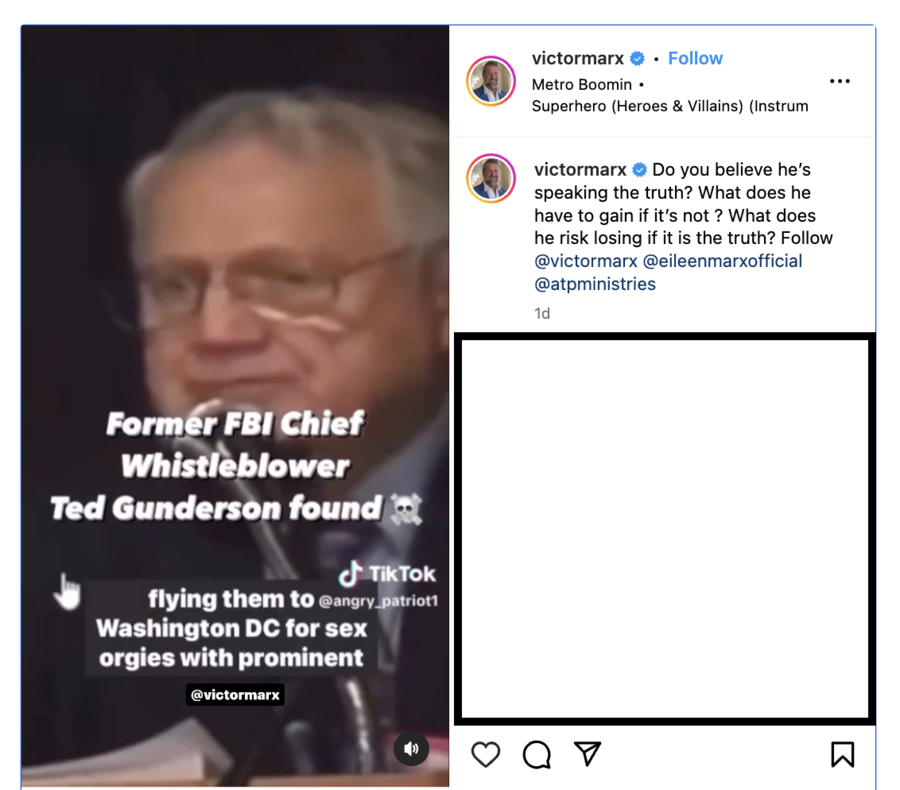 (Source: Instagram screenshot taken on Thu Aug 3 17:01:53 2023 UTC)
The clip shared in the post showed Gunderson promoting a variation of a debunked conspiracy theory from the 1980s about purported ritual satanic abuse.
This clip resurfaced on Facebook on January 29, 2023, with a different caption, implying that Gunderson's death was a then-recent development and that it was somehow connected to his public talks:
This is Ted Gunderson, former FBI Chief 1979. YouTube has erased him from existence. Here is an interview that Alan James from the Circle of White Light did with Ted before he passed away. 👇

https://www.youtube.com/watch?v=pE9H6znSNds
At the time of writing, the older version of the video was still available. Here is what it looked like: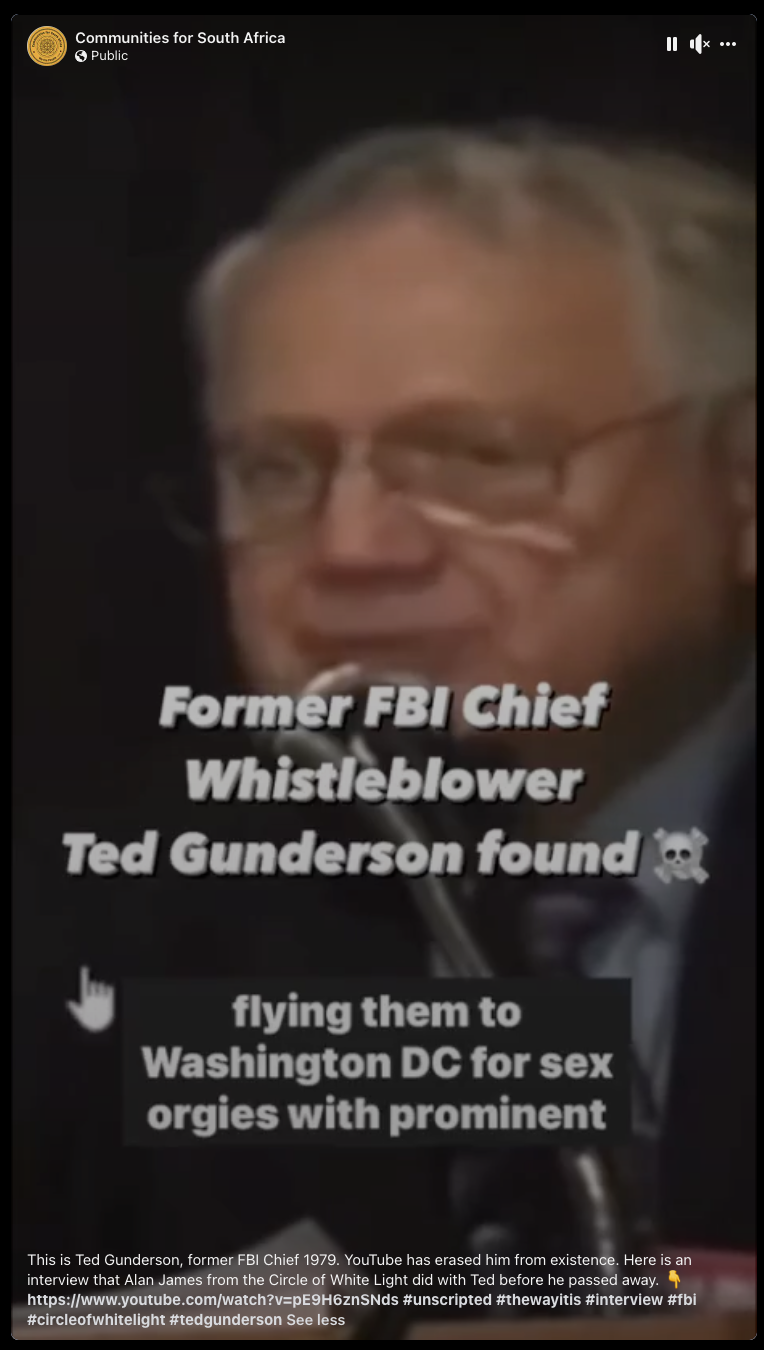 (Source: Facebook screenshot taken on Thu Aug 3 18:07:48 2023 UTC)
However, the YouTube link from that caption led to an upload described as an interview recorded in January 2011, and, unlike the clip shared on social media, it only contained an audio track: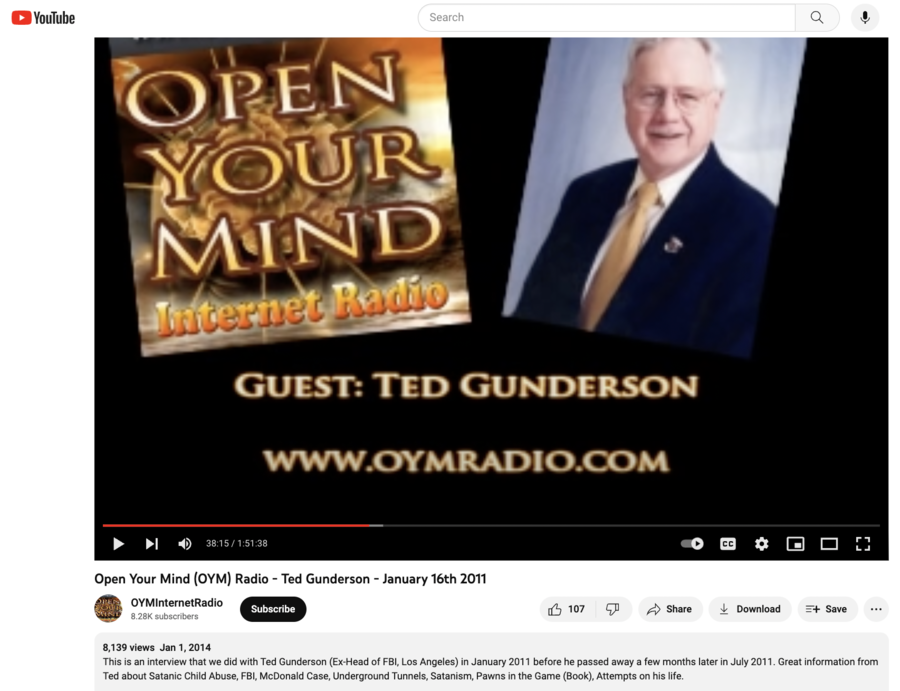 (Source: YouTube screenshot taken on Thu Aug 3 17:53:42 2023 UTC)
Gunderson died on July 31, 2011, at the age of 82. At the time, his son told The Associated Press that his father died of cancer.
Gunderson worked for the FBI between the 1950s and late 1970s. After that, he became a private investigator who gained notoriety for amplifying conspiracy theories. In 1999, the Los Angeles Times described his rhetoric as far-right and anti-government. One of his claims was debunked by Lead Stories here.
Other Lead Stories fact checks about death hoaxes can be found here.