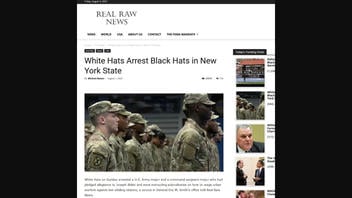 Were a U.S. Army major and a command sergeant major arrested after recruiting 250 soldiers into a private army "whose mission was to suppress civil insurrection if Joseph Biden wins the 2024 presidential election"? No, that's not true: This claim was posted by a well-known and frequently debunked publisher of fake news.
The claim appeared in an article (archived here) published by Real Raw News on August 1, 2023. Titled "White Hats Arrest Black Hats in New York State," the article opened:
White Hats on Sunday arrested a U.S. Army major and a command sergeant major who had pledged allegiance to Joseph Biden and were instructing subordinates on how to wage urban warfare against law-abiding citizens, a source in General Eric M. Smith's office told Real Raw News.

The disgraces to the uniform were Major David Dunbar and CSM Nema Mobarakzadeh, the 10th Mountain Division's staff officer and senior non-commissioned officer, respectively, at Fort Drum.
The ADL (Anti-Defamation League) defines "white hats" as an expression designating "government and military officials who support former President Donald Trump and Q," the conspiracy-theory movement.

This is how the article appeared at the time of writing: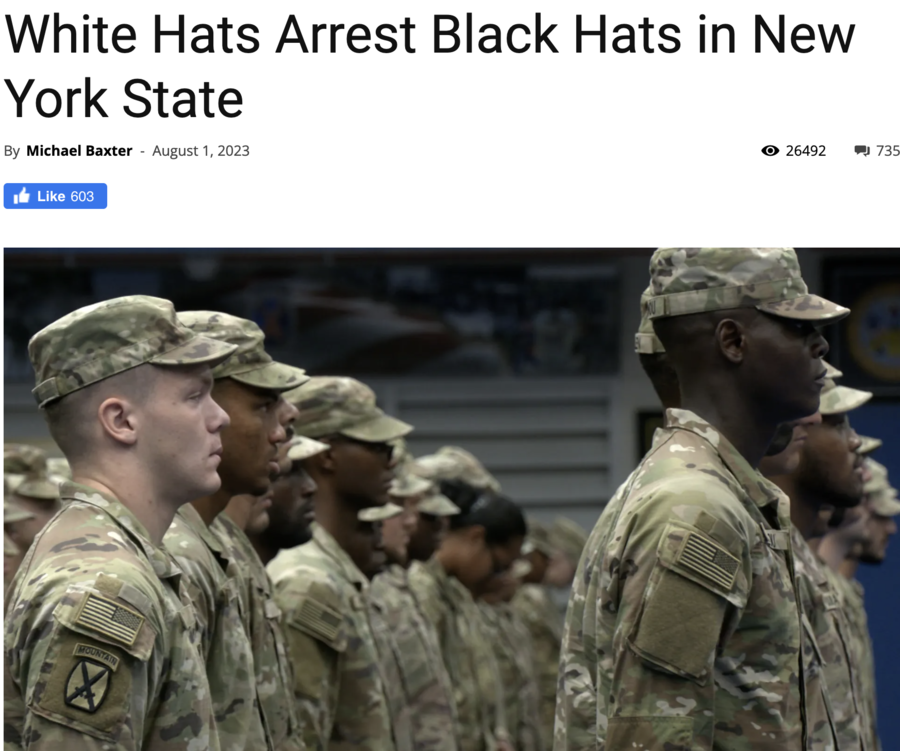 (Source: Real Raw News screenshot taken on Fri Aug 4 18:09:45 2023 UTC)
The article continued:
A JAG affidavit reviewed by Real Raw News states that Dunbar and Mobarakzadeh recruited 250 10th Mountain Division soldiers into a 'private army' whose mission was to suppress civil insurrection if Joseph Biden wins the 2024 presidential election, and details their nefarious plan to storm Trump supporters' homes and seize their weapons at gunpoint.
Citing its unnamed, supposed source, the story alleged that Dunbar and Mobarakzadeh "financed a property rental, a 20-acre tract of cleared land about 15 miles west of Drum, on which they erected a 'plywood town' to simulate attacks on American citizens."
Lead Stories contacted the press office of Fort Drum, a U.S. Army base in upstate New York, roughly a few dozen miles from the Canadian border, and the police at Watertown, a New York town southwest of Fort Drum. We will update this story as necessary if we receive responses.
Lead Stories frequently debunks stories by Real Raw News, a website that publishes made-up stories about U.S. politics. The language and news-style layout of the website make it look like a legitimate news source, so it often fools people into believing the stories are real. Screenshots and copies of the stories regularly turn up on other websites or on social media where they are presented as true.
The Real Raw News website bills itself as "humor, parody and satire" on its About Us page (archived here):
Disclaimer:

Information on this website is for informational and educational and entertainment purposes. This website contains humor, parody, and satire. We have included this disclaimer for our protection, on the advice on legal counsel.
NewsGuard, a tool that provides credibility ratings for websites, published a five-page PDF report (archived here) in 2021 that described realrawnews.com as "[a]n anonymously run website that has published baseless and debunked conspiracies about COVID-19 and U.S. politics." It cautioned that the website severely violates basic journalistic standards.
Previous Lead Stories debunks of Real Raw News items are collected here.