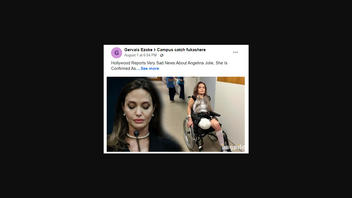 Does a photo of Angelina Jolie in a wheelchair with an amputated leg confirm "very sad news" about the actress? No, that's not true: The photo appears to be a doctored image of Jolie's head on the body of a woman in Scotland whose leg was amputated in January 2023. News outlets published photos of Jolie in public as recently as July 31, 2023, and she did not have an amputated leg.
The claim appeared in a post (archived here) on Facebook on August 1, 2023. It opened:
Hollywood Reports Very Sad News About Angelina Jolie, She Is Confirmed As....See more
This is what the post looked like on Facebook at the time of writing: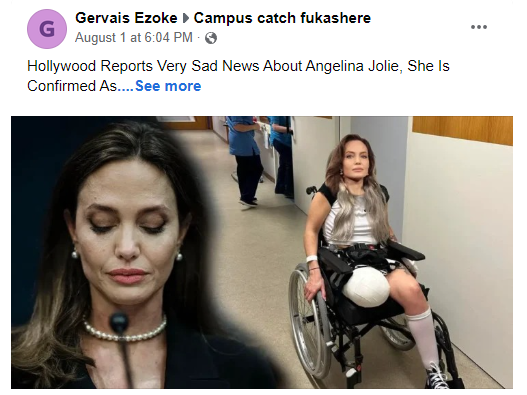 (Source: Facebook screenshot taken on Thu Aug 3 19:36:58 2023 UTC)
The post does not "confirm" any news about Jolie and only implies that something bad has happened to her because she is pictured in a wheelchair with her leg appearing to be amputated. The link in the post connects to what looks like a different site that has a harmful ad for malware that immediately pops up when clicked on.
The post's image appears to be from a real photo of a woman who had her "right leg amputated from above the knee after doctors discovered a cancerous tumour in her ankle and calf," according to a January 21, 2023, article published on the Daily Record website. In the post's image, Jolie's face is substituted for the woman's face but the woman's long hair, a different color than Jolie's, is still visible.
Jolie was photographed walking in Rome on July 31, 2023, where she was walking and did not appear to have had a leg amputated, according to an image on Harper's Bazaar website.
Lead Stories has previously uncovered a network of Cambodian-based websites that spread celebrity hoax articles like this one on Facebook in order to spread malware.