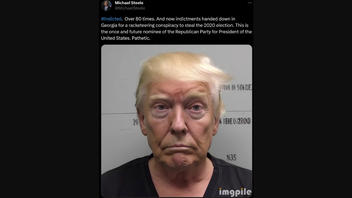 Does a photo show a real mug shot for former President Donald Trump? No, that's not true: No mug shot had yet been taken of Trump for any of his court cases as of August 16, 2023.
The claim appeared in a post (archived here) on Twitter on August 15, 2023. It opened:
#Indicted. Over 80 times. And now indictments handed down in Georgia for a racketeering conspiracy to steal the 2020 election. This is the once and future nominee of the Republican Party for President of the United States. Pathetic.
This is what the post looked like on Twitter at the time of writing: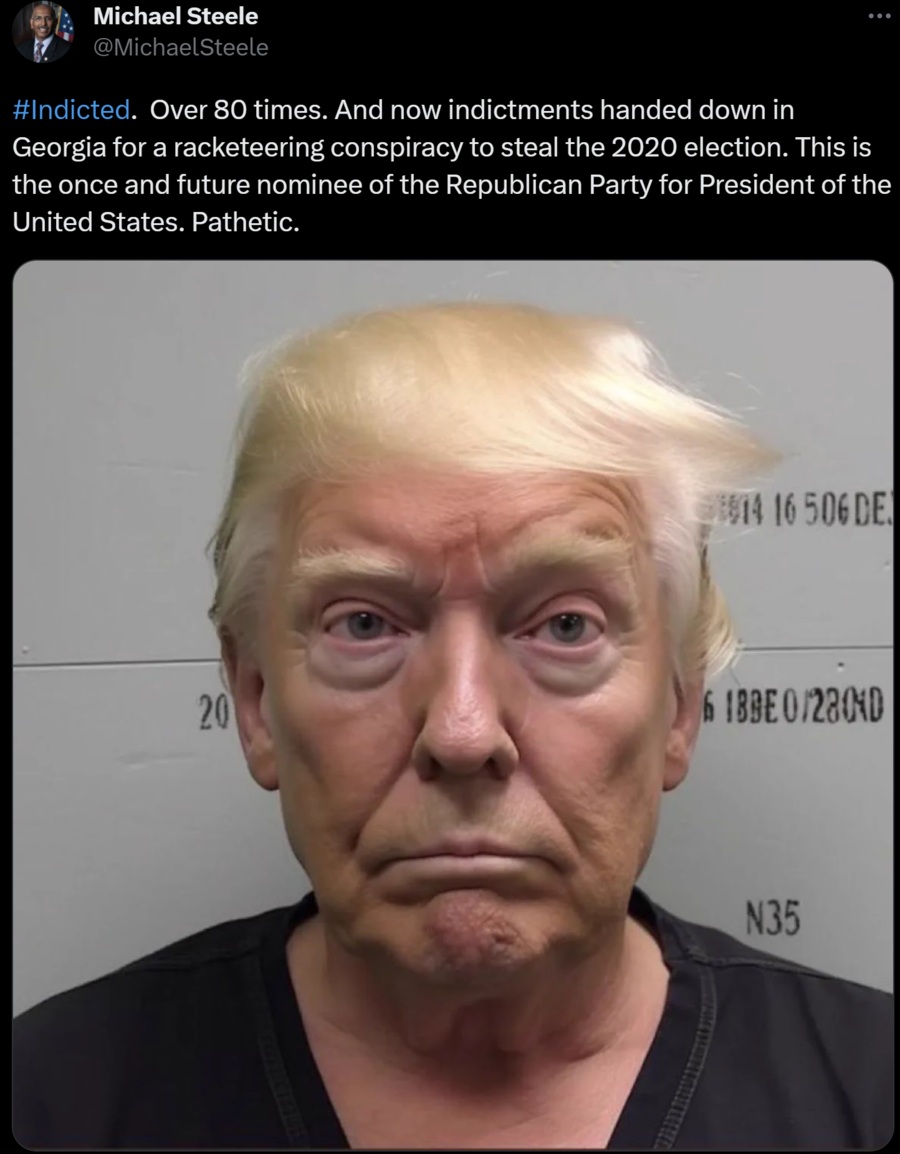 (Source: Twitter screenshot taken on Wed Aug 16 16:32:02 2023 UTC)
Trump's image was posted on the Twitter account of @MichaelSteele, the former Republican National Committee chairman and former lieutenant governor of Maryland. Although the implication in the context of the post is that it's a mug shot, the image is not an authentic booking photograph. When Trump was arrested on April 4, 2023, his booking photo, or mug shot, was not taken, as the New York Times reported:
A few days later, Mr. Trump was fingerprinted and escorted through a Manhattan courthouse after surrendering to investigators from the district attorney's office. But he was also allowed to forgo certain procedural indignities, including being handcuffed and having his booking photo taken.
A Google reverse image search yielded zero matches to any legitimate mug shot of Trump, nor did it establish the source of this image.
Trump was indicted on racketeering charges related to the 2020 election in Atlanta on August 14, 2023, with him scheduled to surrender to authorities by noon on August 25, 2023. Sheriff Patrick Labat of Fulton County, which includes much of Atlanta, said standard procedure would be that Trump would have a mug shot taken then.
Other Lead Stories fact checks involving Donald Trump can be found here.