STORY UPDATED: check for updates below.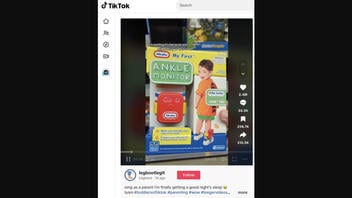 Is a children's "ankle monitor" toy a genuine product sold in Walmart stores and manufactured by a company named Little Yikes? No, that's not true: A video of the "toy" shared widely on social media in July 2023 was created by spoof company Legboot, which makes "bootleg stuff" and pretends the products are authentic merchandise in real stores. The creator of the toy confirmed to Lead Stories that the "product and video are both satirical."
The claim originated in a video (archived here) on TikTok on July 31, 2023, with a caption that reads:
omg as a parent I'm finally getting a good night's sleep 😭 tysm

#toddlersoftiktok #parenting #wow #longervideos #confessions
Below is how the post appeared at the time of writing: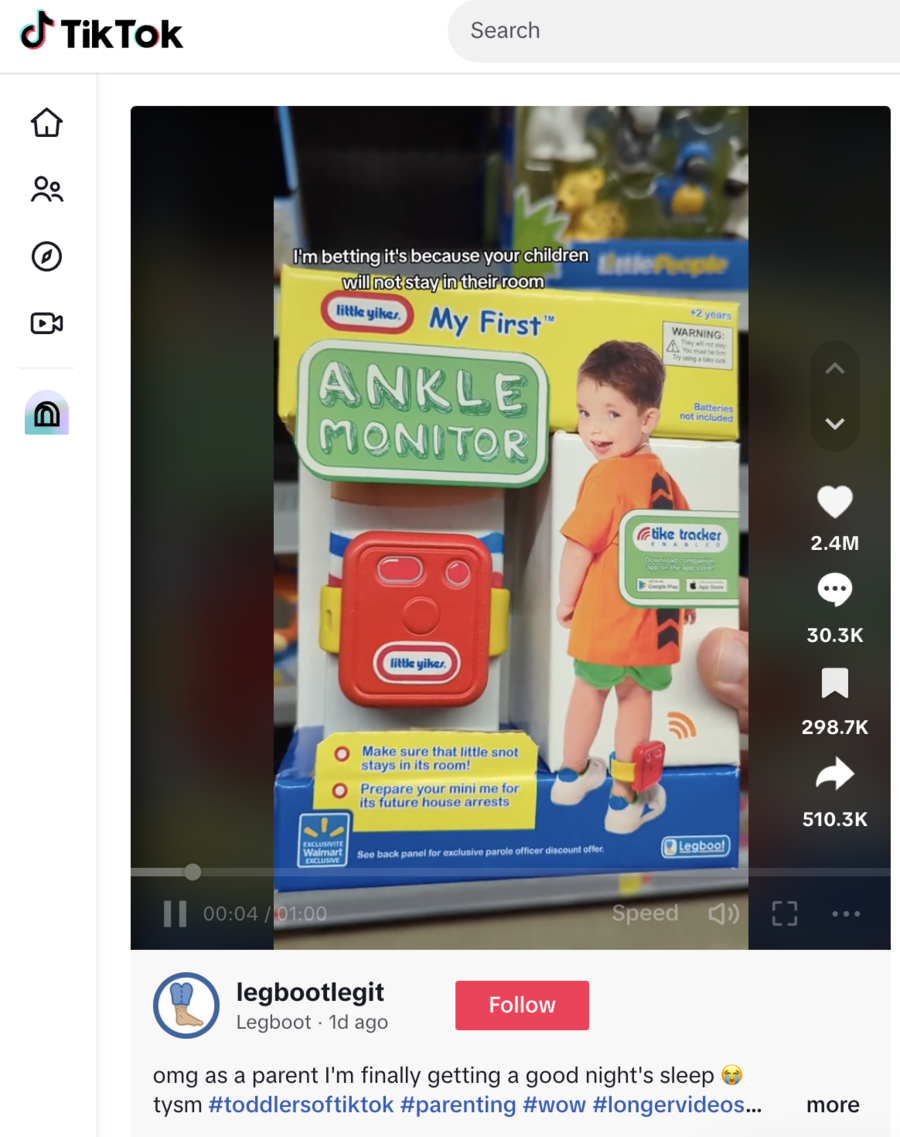 (Source: TikTok screenshot taken Weds Aug. 2 20:01:35 UTC 2023)
In an email to Lead Stories received August 2, 2023, toy creator Legboot confirmed that "the product and video are both satirical."
"I make humorous and weird product parodies. Sometimes they become real products," Legboot creator Justin told Lead Stories. Justin did not include a last name.
"Why do I do it? Mostly for the thrill," added Justin. "The world could use a little more crazy, a little more weird, a little more humor... I'm helping fill that void."
The one-minute video included a narrator who said:
If you're the parent of a young child and you're not getting enough sleep at night, I'm betting it's because your children will not stay in their room.

That was my problem too until recently when I found this ankle monitor in Walmart. This brand is a godsend. Taking a page out of the criminal rehabilitation playbook and applying it to children.

The device easily straps onto your toddler's leg and then puts in the work 24/7 to make sure they're staying where they belong.

Check out these awesome features. Using their app, you can specify a timeout zone, which is the room where your child is supposed to be staying. It's sort of like house arrest.

You can also set up 'no go' zones for extra safety. I'm gonna do the whole house. Now, whenever my little juvenile delinquent sneaks out of his room, I get a notification on my phone.

From this point, there are several different approaches on how to handle the situation, such as screaming at them from your bed or bargaining with them to get back in their room. But my favorite is to employ the built-in electrical impulse training tool. It's actually kind of therapeutic -- for me.
Some social media users appeared to believe that the video showcased an authentic product manufactured by a company named Little Yikes that was genuinely sold in Walmart stores. However, Legboot is a spoof company that, according to its "FAQs" section on the company website, makes "bootleg style apparel (and other products)." The company says on its X (formerly Twitter) bio that it is most known for creating "bootleg stuff" and hiding the products in stores.
In a comment on X posted on August 1, 2023, Legboot noted that the "ankle monitor" was created as part of a collaborative project with @shampooty, an Instagram account that contains a link to an online store that sells comedic adult products meant to mimic children's toys.
Though Legboot does sell some of its mock products online, Lead Stories did not find the "ankle monitor" available for sale as of August 2, 2023. We contacted Legboot for further information on product availability and will update this article accordingly if a response is received.
Lead Stories also searched Walmart's online catalog for Little Yikes products but did not find any relevant results. That's because Little Yikes is not a real company -- it's a spoof on the children's toy manufacturer Little Tikes.
The video narrator also claimed that a child could be monitored through the Little Yikes phone app while showing packaging that implied the app was available through both Google Play and the Apple App Store. Lead Stories did not find such an app in either of the stores.
Lead Stories has written about other claims surrounding fake toys, including debunking a supposed prosthetic sex toy said to be designed for trans women to "experience and celebrate the miracle of childbirth," Fisher-Price not releasing "My First Peaceful Protest" playset with a house that children can set ablaze and a Black trans "Barbie" doll that was not mass-produced to push an agenda on children.
2023-08-07T20:59:57Z

2023-08-07T20:59:57Z

Adds comments from August 2,2023, email from toy creator Legboot.