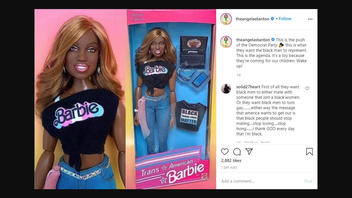 Is a black trans doll being marketed publicly to push an agenda on children? No, that's not true: This is not a mass-produced children's toy. This is a one-of-a-kind custom doll. This handcrafted custom doll was made in support of the Black Trans Lives Matter movement. It is a collector's piece, not a child's toy.
The claim appeared as a post (archived here) where it was published by theangelastanton on September 29, 2020, with the caption:
This is the push of the Democrat Party 🎉 this is what they want the black man to represent. This is the agenda. It's a toy because they're coming for our children. Wake up!
This is what social media users saw at the time of writing: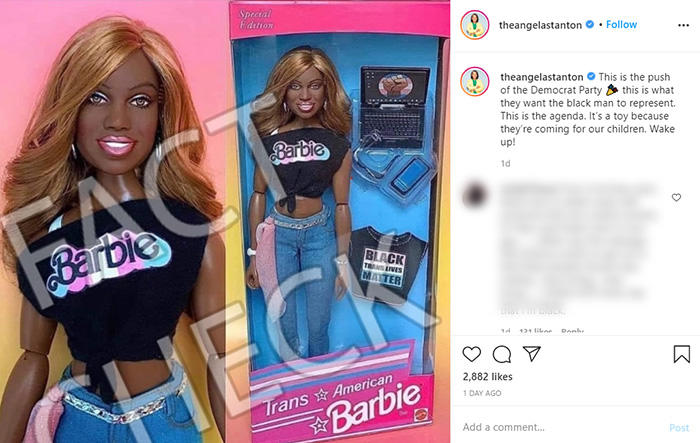 Screenshot of the post as it appeared on Instagram on September 30,2020. Lead Stories added a 'Fact Check' watermark on the photo.
The photos used in the post -- which were taken from the doll creator's social media account and used without permission -- along with the text make the impression that the doll is part of the Barbie series, which is made by Mattel. It is not.
Lead Stories reached out to the artist who made this doll. For their privacy and security, they requested to only be identified as CL. They said they had made the doll to bring more positive visibility to the trans community and confirmed that this is not a mass-produced Barbie doll by Mattel. The cardstock insert of the original Barbie doll box was altered with the addition of the blue, pink and white stripes of the trans flag and the unique 'Trans American' name. The artist says this doll was made with love as a one-of-a-kind unique piece for their own collection and they have had overwhelmingly positive feedback from the trans community about the doll.
CL took some photos of the custom doll to show that it is real, belongs to them and is not photoshopped. The photos currently circulating on social media were taken from CL's social media account and re-posted without their permission.
Two photos of the custom doll taken by CL September 30, 2020
Lead Stories has reached out to Mattel for comment but have not yet received a reply. We will update as appropriate.