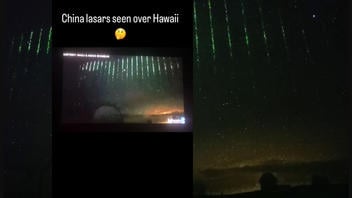 Is there a link between the wildfires that burned on Maui, Hawaii, on August 8, 2023, and a sighting of green lights seen on a January 28, 2023, livestream from the Subaru Telescope on top of Mount Mauna Kea, on the "Big Island" of Hawaii? No, that's not true: While a green laser was sighted for a few seconds from the Subaru Telescope at the Hawaii Observatory of the National Astronomical Observatory of Japan, this laser did not ignite fires. The January lights were initially misattributed to a NASA satellite, but NASA's satellite was not over that location at that time. The identification was revised on February 6, 2023, after NASA determined the satellite overhead at the time was a Chinese Daqi-1/AEMS satellite. There are many false claims regarding the ignition of the August 2023 Maui wildfires. These use recycled, mislabeled and retouched images that look like laser beams, but as of this writing there is no credible evidence suggesting that the wildfires were started by lasers.
The green laser lights were spotted in the early morning hours of January 28, 2023, and a post was made on YouTube by @subarutel_starcamadmin. After NASA determined the source of the lights was most likely to be a Chinese satellite, a video news segment was posted on KHON2.com on February 11, 2023. Segments of the KHON2 video was posted on Instagram on August 13, 2023, by @magnificentfrescoes with no caption. Text captioning added to the video reads:
China Lasars seen over Hawaii
This is how the post appeared at the time of writing: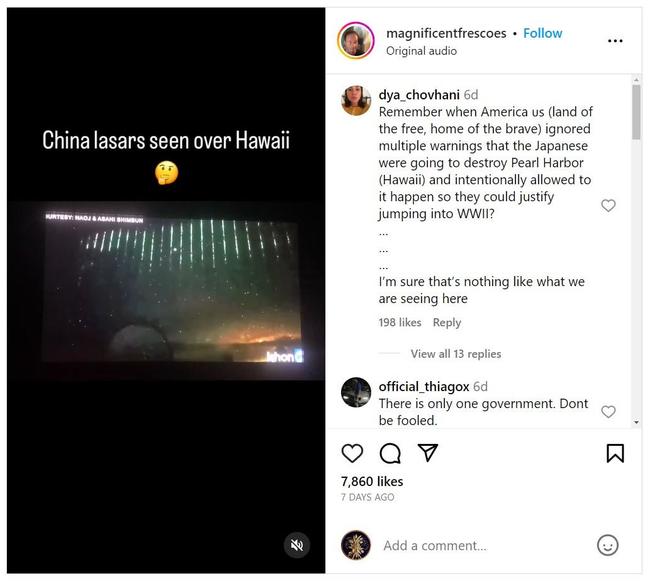 (Image source: Instagram screenshot taken on Mon Aug 21 21:52:54 2023 UTC)
Yes, green lasers recorded by the Subaru Telescope attributed to a Chinese satellite by NASA were seen over Hawaii on January 28, 2023. However neither these, nor any other lasers, have been linked to the ignition of the August 2023 wildfires in Maui.
The image appearing in this screenshot (above) is an enhanced image that appears in the KHON2 segment as well as videos from the Subaru Telescope accounts on YouTube and X (formerly Twitter). This shows all of the light flashes in the same image. This is not how it appeared in the livestream, which showed a rapid succession of vertical flashes that appear to scan from right to left. These flashes may be too fast to observe with the naked eye, so videos include the moment slowed as well as the series of light flashes stacked into one composite image.
The @SubaruTel_Eng account on X made a post about the green lights on January 30, 2023, and posted again on February 14, 2023, to correct the initial identification. The YouTube video posted by @subarutel_starcamadmin contained a correction dated February 6, 2023, but the post preserved the original caption with the misidentification. While NASA was positive the original ID was wrong, that it was not their instruments that made the green lights, their identification of the Chinese Daqi-1/AEMS satellite was qualified with the words, "most likely."
Last night (early morning 2023-1-28 HST) was cloudy on Maunakea. But our Subaru-Asahi Star Camera captured quite an interesting view -- green laser lights coming from the sky!

It was only a second or less -- but our keen viewers did not miss the event!

That was so a mysterious view, then later the viewers got a conclusion from the information on the net -- it could be a remote-sensing laser (altimeter called ATLAS) from ICESat-2/43613 (BUT see below: different conclusion emerged!)! What great people! We really appreciate their great contribution to catching such a rare view!

** Correction 2023-02-06 ! ***
According to Dr. Martino, Anthony J., a NASA scientist working on ICESat-2 ATLAS, it is not by their instrument but by others. His colleagues, Dr. Alvaro Ivanoff et al., did a simulation of the trajectory of satellites that have a similar instrument and found a most likely candidate as the ACDL instrument by the Chinese Daqi-1/AEMS satellite. We really appreciate their efforts in the identification of the light. We are sorry about our confusion related to this event and its potential impact on the ICESat-2 team.
The World Meteorological Organization has a page listing the space based Capabilities of NASA's ICESat-2 (Ice, Cloud and land Elevation Satellite) and for the CNSA's (China National Space Administration) Daqi-1/AEMSQ-1 Satellite. AEMS refers to Atmospheric Environment Monitoring Satellite.The description for the Chinese satellite lists:
Follow-on series of GF-5 satellites for atmospheric environment monitoring
Main missions: Atmospheric aerosol and CO2 monitoring
5 instruments on platform.
Those five instruments are listed in the Satellite Payload at the bottom of the page:
Directional Polarization Camera - 2

Environment Monitoring Instrument-2

Aerosol and Carbon Detection Lidar

Particulate Observing Scanning Polarimeter

Wide Spectral Imager
It is the Aerosol and Carbon Detection Lidar that is the instrument believed to have produced the green laser flashes over Hawaii. The National Oceanic and Atmospheric Administration describes Lidar:
Lidar, which stands for Light Detection and Ranging, is a remote sensing method that uses light in the form of a pulsed laser to measure ranges (variable distances) to the Earth. These light pulses--combined with other data recorded by the airborne system -- generate precise, three-dimensional information about the shape of the Earth and its surface characteristics.

A lidar instrument principally consists of a laser, a scanner, and a specialized GPS receiver. Airplanes and helicopters are the most commonly used platforms for acquiring lidar data over broad areas. Two types of lidar are topographic and bathymetric. Topographic lidar typically uses a near-infrared laser to map the land, while bathymetric lidar uses water-penetrating green light to also measure seafloor and riverbed elevations.
Lead Stories has debunked several conspiracies about the Maui wildfires that use fake, misidentified and mislabeled images that purport to show Directed Energy Weapons or laser beams igniting fires in Maui. Those fact checks can be found here.