STORY UPDATED: check for updates below.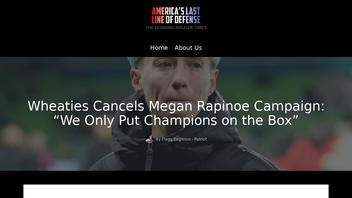 Did professional soccer player Megan Rapinoe have a campaign with the breakfast cereal Wheaties that was canceled after she missed a penalty kick during the 2023 World Cup? No, that's not true: A spokesperson for General Mills, the parent company of Wheaties, confirmed that the claim is false. The claim also started on a satirical website.
The claim originated in an article published by The Dunning-Kruger Times on August 8, 2023, titled "Wheaties Cancels Megan Rapinoe Campaign: 'We Only Put Champions on the Box'" (archived here). The article opened:
Since 1918, the General Mills company has put champions of the sporting world on boxes of its Wheaties brand cereal. This year, the space was reserved for Megan Rapinoe, who was expected to come home from Sweden with yet another World Cup win.

Instead, she came home a loser, with her tail between her legs, after missing an easy kick on an open net. The game wasn't all she lost, however.
Users on social media saw this title, description and thumbnail:
The cereal has a 104 year history of promoting sports champions.
No Wheaties deal
Wheaties, which brands itself as "The Breakfast of Champions," famously features prominent athletes on its cereal boxes. Athletes who have appeared on the box include Muhammad Ali, Michael Jordan and Simone Biles.
The 2019 U.S. women's national soccer team, which Rapinoe was a part of, was featured collectively on a limited-edition Wheaties cereal box following their 2019 World Cup victory. However, Lead Stories did not find any evidence that Wheaties "reserved" an exclusive cereal box campaign for Rapinoe in 2023. A search of the brand's website for "Megan Rapinoe" did not generate any results and search results from Google News for "Megan Rapinoe Wheaties" did not corroborate the claim.
Lead Stories reached out to General Mills, the parent company of Wheaties, for comment on the claim. In an email sent on August 9, 2023, a spokesperson for the company told us:
This claim is untrue. Wheaties just announced that this year's Wheaties Champions are J.J. and T.J. Watt, the first brother duo highlighted on the limited-edition box since 1934. The Watt brothers Wheaties box is currently on shelves now.
The Dunning-Kruger Times
The Dunning-Kruger Times is a satirical website with an about page (archived here) that has following disclaimer:
About Us

Dunning-Kruger-Times.com is a subsidiary of the 'America's Last Line of Defense' network of parody, satire, and tomfoolery, or as Snopes called it before they lost their war on satire: Junk News

About Satire

Before you complain and decide satire is synonymous with 'comedy':

sat·ire ˈsaˌtī(ə)r noun: The use of humor, irony, exaggeration, OR ridicule to expose and criticize people's stupidity or vices, particularly in the context of contemporary politics and other topical issues.

Everything on this website is fiction. It is not a lie and it is not fake news because it is not real. If you believe that it is real, you should have your head examined. Any similarities between this site's pure fantasy and actual people, places, and events are purely coincidental and all images should be considered altered and satirical. See above if you're still having an issue with that satire thing.
The website is named after the Dunning-Kruger effect, a term from a psychology experiment that describes the phenomenon of being ignorant of one's own ignorance (that experiment has been disputed by a math professor).
It is run by self-described liberal troll Christopher Blair.
Joe Barron
In the article making the claim, a person named "Joe Barron" is named as the chairman of General Mills. However, the actual chairman of the board of directors and the CEO is Jeffrey L. Harmening. Harmening has led the company as CEO and a member of the board since 2017 and who has served as chairman of the board since 2018.
The real Joe Barron was a friend of Blair's who passed away. His name is frequently used in Blair's satirical stories as an homage.
Other Lead Stories fact checks
Lead Stories has published more fact checks related to Megan Rapinoe, which can be found here.
2023-08-09T22:34:41Z

2023-08-09T22:34:41Z

Added a response from General Mills spokesperson.