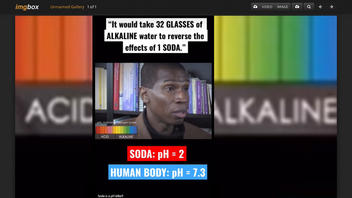 Does the pH of soda (pH 2) make it seriously toxic, "a pH killer," and does it take 32 eight-ounce glasses of alkaline water to reverse the toxic effects of one soda? No, that's not true: A food science professor told Lead Stories that many foods are as acidic as soda and that all are considered weak acids compare to the strong acids of the stomach. A retired industrial chemist told Lead Stories that phosphoric acid is generally recognized as safe by the Food and Drug Administration (FDA).
All soda does have an acid pH that varies depending on the brand, although none has a pH as low as the stated 2. The suggestion that this acidity can be reversed by drinking 32 eight-ounce glasses of water (two gallons) is dangerous advice. Water intoxication (hyponatremia) can be fatal and can occur with much less than two gallons of water.
The video was posted as a reel on Facebook on August 2, 2023, by the page @CultureMedic. It was captioned:
Soda is a pH killer!!
Text overlays in the video margins read:
'It would take 32 GLASSES of ALKALINE water to reverse the effects of 1 SODA.'
SODA: pH = 2
HUMAN BODY: pH = 7.3
This is what the post looked like on Facebook at the time of writing: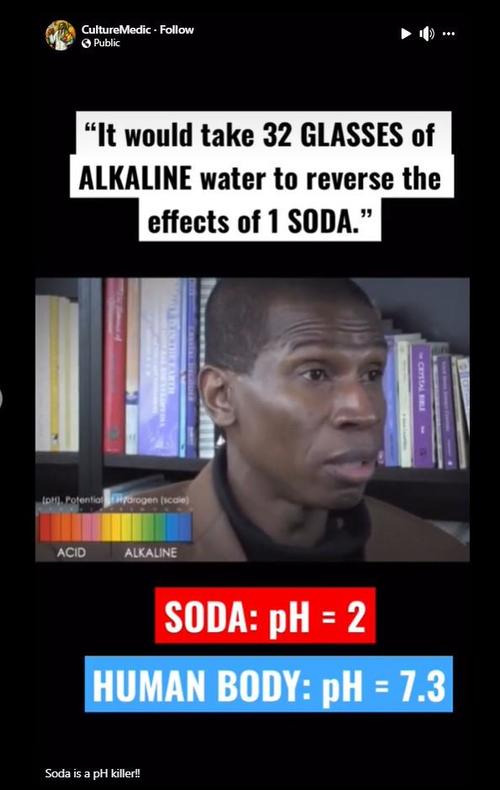 (Source: Facebook screenshot taken on Tue Aug 8 19:07:29 2023 UTC)
The man in the video says:
So when we drink one soda pop, we are putting serious toxicity inside the body. And it would take us drinking 32 glasses, 32 eight-ounce glasses of alkaline water just to neutralize the adverse effect from drinking one soda pop. Some toxic stuff, man. And look at it. People drink it every day.
The speaker in this video was not identified in the post. Lead Stories used the search engine FaceCheck.ID to identify herbalist Djehuty Ma'at-Ra. His claims are not unique -- they are commonly found associated with claims promoting unproven alkaline diets and alkaline water ionization systems. Lead Stories identified posts (pictured below) on Facebook associated with alkaline water systems dating back to 2011 making the same claim. A 2014 graphic illustrated what 32 glasses of water would look like.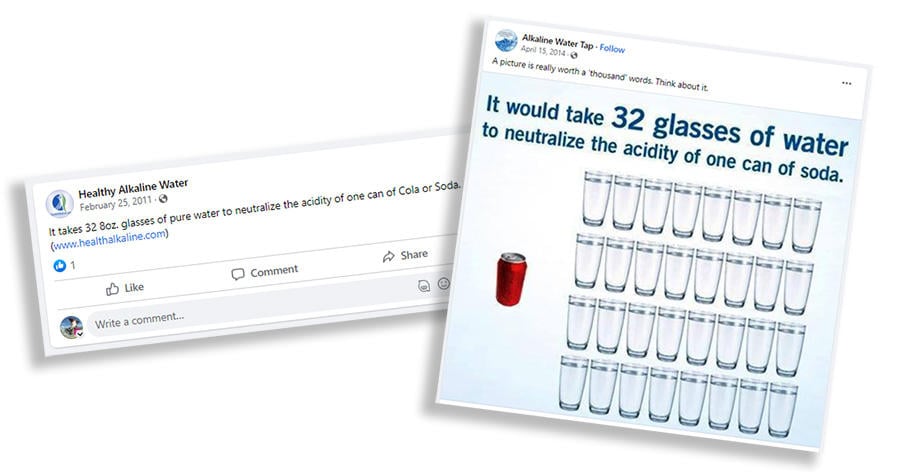 (Source: Facebook screenshots taken on Tue Aug 08 22:17:54 2023 UTC)
The pH of soda does not change the pH of blood
The pH scale (pH is the symbol for "potential of hydrogen") measures how acidic or alkaline something is, and a pH below 7 is acidic.
The human body does not have the same pH in every system. The gastric acid in the stomach is variable and usually has a pH of 1 to 2, which can rise to about 5 when the stomach is full. The pH of blood remains in a very narrow range, 7.35-7.45, maintained by the functions of the lungs and kidneys. Variation outside this range indicates a medical problem such as metabolic or respiratory acidosis when the blood is too acidic, or metabolic or respiratory alkalosis when the blood is not acidic enough.
The pH of the blood is not impacted by the acidity of consumed foods as excess acid is excreted in the urine. A normal pH range for urine is between 4.5 and 8. Diet, which might include soda consumption, can result in changes in the urine pH.
Lead Stories reached out to Devin Peterson, a professor in the Department of Food Science and Technology at Ohio State University. He responded to our query by email on August 8, 2023:
Many food products are acidic and similar in acidity to soda. For example, lime juice has a pH of around 2 whereas tea and wine have a pH of around 3-3.5. Many foods can have a pH below 3.5. Additionally, the stomach consists of gastric juices made up of hydrochloric acid (strong acid) with a pH as low as 1.5, which is critical for nutrient extraction. The acids in soda and food are considered 'weak' acids, compared to the 'strong' acids in the stomach.
Phosphoric acid in soda is not toxic
Lead Stories also posed this question to retired industrial chemist Mark Jones. In an August 8, 2023, email he explained why phosphoric acid is commonly found in sodas and that it is generally recognized as safe (GRAS) by the FDA. He clarified that the definition of toxic depends on context, as not all things "capable of causing harm" are causing harm in every situation:
Sodas are indeed one of those foods that are acidic. The acidity of sodas is intentional. Acidity makes food tart. Vinegar (acetic acid), citric acid, and lactic acid are common components of food and drink. All lower the pH. That's what acids do. Turns out people like the mix of tart and sweet that naturally happens in things like lemon juice. It has a reported pH between 2 and 3. People like pickles, also a low pH food.

Sodas add acid, most commonly in the form of phosphoric acid, to lower pH. It helps keep more CO2 in the soda, helps reduce detrimental bacteria and fungi, increasing shelf life. It provides the tart/sweet mixture we like.

While not acutely toxic, soda, when consumed in high amounts, is linked to undesired health outcomes. Soda can cause harm. If safe is defined as incapable of causing harm, soda is neither toxic nor safe.

... The assumption that all foods should be neutral pH is wrong.
Drinking too much water can be dangerous
Not only is there no significant harm posed by drinking one can of soda meriting an effort to "neutralize" it, but the suggestion to drink 32 eight-ounce glasses of water (two gallons) is dangerous. There is a condition called water intoxication (or hyponatremia) that happens when sodium levels in the blood are abnormally low. This can cause cells, including brain cells, to swell, which can sicken or even kill a person.
An August 3, 2023, article in Health titled "What Happens If You Drink Too Much Water?" details two July 2023 incidents: One woman taking part in a TikTok challenge (video here) was hospitalized after drinking a gallon of water a day for 11 days. A 35-year-old mother died after consuming about 64 ounces of water over 20 minutes because she was feeling dehydrated on a family trip.
Acidic drinks can erode teeth
Much of the available information and research about the acidity of not just sodas, but juices and sports drinks, comes from the dental field. The text on this video says that the pH of soda is 2, but this is an exaggeration. Extensive lists of pH tested commercially available beverages (here and PDF here) show that Coca Cola has a pH of 2.37; the researchers noted other reports where the pH of Coca Cola was found to be as high as 2.53. No commercial soft drinks had a pH of 2. The American Dental Association says this about dental erosion:
Frequent consumption of soft drinks, particularly carbonated sodas, is a primary risk factor for erosive tooth wear. Consumption of acidic snacks/sweets or natural acidic fruit juice may also increase risk for erosion.
Other Lead Stories fact checks about alkaline food and drinks can be found here.