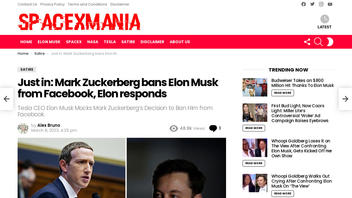 Did Facebook CEO Mark Zuckerberg ban Tesla CEO Elon Musk from Facebook? Has Musk responded to Zuckerberg's alleged statement? No, neither of those are true: This claim comes from a satirical website and was originally posted in March 2023 labeled as satire before it was republished, without the satire label, in August 2023. Lead Stories could not find any evidence in the six months since the original post and the time of this writing that Zuckerberg made this statement or that Musk responded to the purported statement. There is also a tag above the original Spacexmania headline that reads, "SATIRE."
The claim appeared in an article (archived here) where it was published by SpaceXMania on March 8, 2023, under the title "Just in: Mark Zuckerberg bans Elon Musk from Facebook, Elon responds." It opened:
In a surprising move, Facebook CEO Mark Zuckerberg has announced that he will be banning Tesla CEO Elon Musk from the social media platform, citing Musk's "unpredictable behavior" and "tendency to cause chaos."
Here is what the article looked like at the time of writing: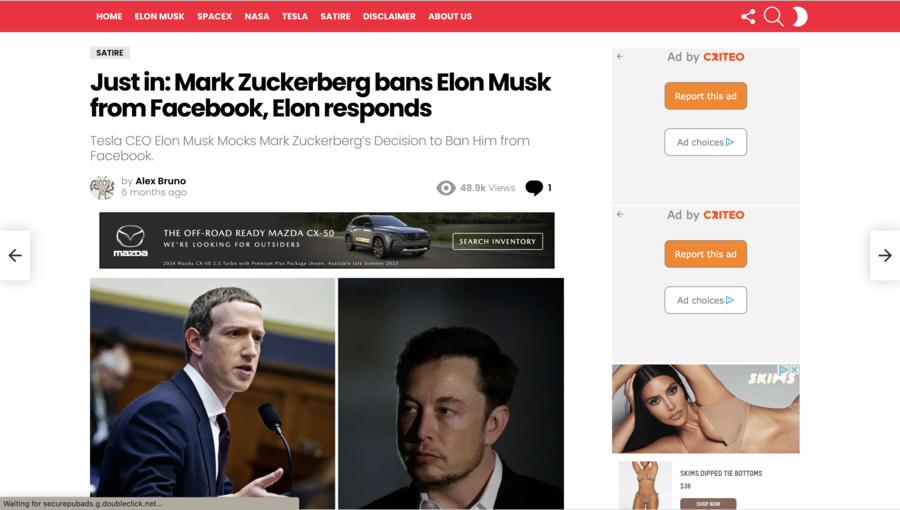 (Source: spacexmania.com screenshot taken on Wed Aug 30 14:39:28 2023 UTC)
SpaceXMania is a satirical website that writes articles made to look like real news about NASA, Elon Musk and two of his business ventures, Tesla and SpaceX. In the above screenshot, there is a small, gray label above the headline for the article that is the focus of this story. It reads, "SATIRE."
Lead Stories did not find any evidence of Zuckerberg stating that he planned on banning Musk from Facebook. Google News' index of thousands of credible news sites did not reveal any evidence of this claim when Lead Stories searched the phrase, "Mark Zuckerberg bans Elon Musk from Facebook."
The article alleges that in response to Zuckerberg making this ban, Musk took to X, formerly known as Twitter, to post, "Who needs Facebook anyway? Instagram is way cooler and Twitter rocks my socks!" Lead Stories could not find any evidence that Musk posted that quote: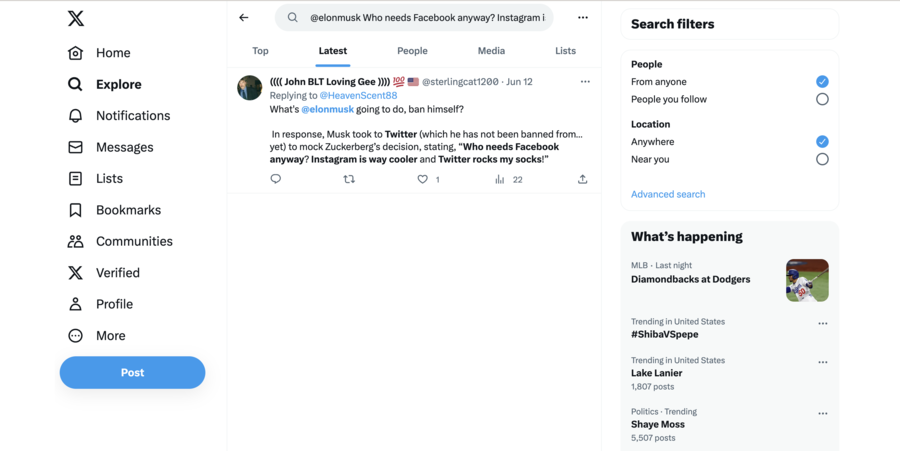 (Source: X.com screenshot taken on Wed Aug 30 15:32:18 2023 UTC)
This article was first published in March 2023, and in the six months that has passed since the writing of this article, no evidence has appeared that would support the claim SpaceXMania is making. Faithhopel.info reposted this article on their website on August 29, 2023, with no indication this is a satirical article, leaving the implication that it was legitimate news.
Other Lead Stories articles on SpaceXMania satirical stories are here.