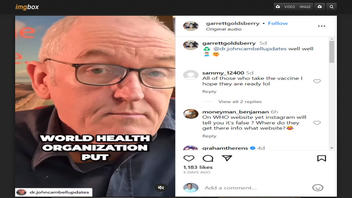 Did the World Health Organization (WHO) say COVID-19 vaccination can cause multiple sclerosis? No, that's not true: WHO has not stated that COVID-19 vaccination can cause multiple sclerosis or any other serious chronic condition. The global public health agency told Lead Stories, "There is no conclusive link between multiple sclerosis (MS) and COVID-19 vaccination."
The claim appeared in a post and video (archived here) published to Instagram on August 24, 2023, by podcaster Garrett Goldsberry. The post's caption says:
♻️

@dr.johncambellupdates

well well 🤦🏻‍♂️🤫
This is what the post looked like on Instagram at the time of writing: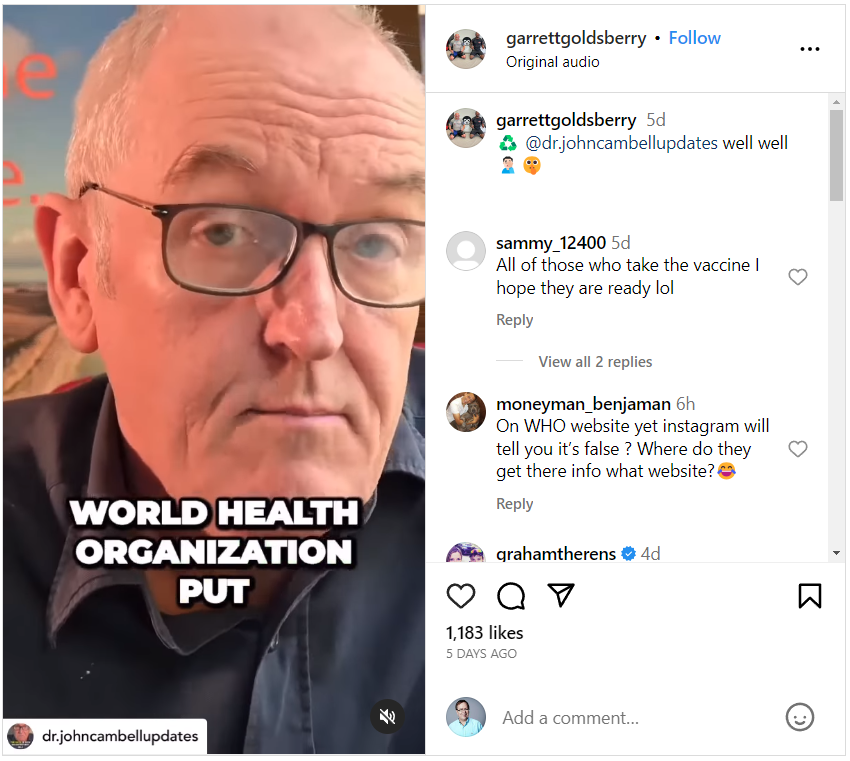 (Source: Instagram screenshot taken on Tue Aug 29 18:22:56 2023 UTC)
The video
The 56-second clip used in the Instagram post is a heavily edited version of a much longer video (archived here) published to YouTube on May 29, 2023. The clip features John Campbell, a popular YouTube host with more than 2.8 million subscribers to his channel. Campbell is not a physician but a retired emergency department nurse.
According to the "About" page on his YouTube channel, his Ph.D. "focused on the development of open learning resources for nurses nationally and internationally." Since starting his channel in 2007, he has posted thousands of videos on a variety of medical topics but has focused primarily on COVID since the start of the pandemic, promoting unproven treatments like ivermectin, spreading misleading death statistics minimizing the number of victims and misinterpreting data about vaccine safety.
This is what Campbell said in the video posted to Instagram:
Last week, the World Health Organization put out a release showing that there was a possible causal relationship between COVID-19 vaccine and multiple sclerosis. It says COVID-19 vaccination can induce multiple sclerosis via cross-reactivity with T helper cells.

COVID-19 vaccination can induce -- now this is the WHO -- so can induce multiple sclerosis via cross-reactive T helper cells, CD4 cells, recognizing SARS-Coronavirus-2 spike protein and as we've said myelin, this essential myelin that protects the cells in the central nervous system.

Now, this is pretty significant in itself, because here we have the WHO actually admitting that SARS-Coronavirus-2 vaccines can cause autoimmune phenomena.
Definitions
Campbell uses a few terms a non-health professional might not be familiar with: multiple sclerosis, myelin and CD4 T helper cells. Their definitions are below:
Multiple sclerosis is an autoimmune disease in which the body's immune system mistakenly attacks myelin, the substance that covers nerve fibers.
Myelin is a fatty material that surrounds and protects some nerve fibers.
CD4 T helper cells are a type of white blood cell that plays a crucial function in the immune system. These cells contribute to safeguarding the body from infections by guiding other cytotoxic cells to counteract foreign substances.
World Health Organization
The "release" Campbell refers to in the video is not from the WHO at all. While the study shown in the clip does appear in the "WHO COVID-19 Research Database," it wasn't commissioned by the WHO or conducted by WHO researchers. So, its findings don't represent the views of the global public health agency.
The authors listed in the study work at University Hospital Zürich and their findings (EP0942) were published in the October 2022 edition of the Multiple Sclerosis Journal.
In an August 29, 2023, email, a WHO spokesperson told Lead Stories that "There is no conclusive link between multiple sclerosis (MS) and COVID-19 vaccination." The statement went on to address the study mentioned in the post on Instagram. It said:
To WHO's knowledge, the results of one case-control study could indicate a correlation between multiple sclerosis and COVID-19 vaccination.

It is too early to draw conclusions from this study as case-control studies do not establish causation but instead establish likely links between two events, that warrant further study.

Additionally, the study included reference to <20 cases of different vaccines belonging to multiple vaccine platforms (e.g. mRNA & Viral vector vaccines from different manufacturers) linked to cases of MS. This requires further study before drawing conclusions.
According to the World Health Organization, more than 13 billion doses of COVID-19 vaccines have been given out. The agency said the vaccines represent a vital asset in the fight against COVID-19 and have been verified to be both secure and efficient.
National Multiple Sclerosis Society
Julie Fiol, associate vice president of clinical innovation and strategy at the National Multiple Sclerosis Society, said the social media posts left out important information from the study that provides additional context. In an August 30, 2023, email to Lead Stories, she highlighted this section from the abstract of the study, which says:
Infection with the SARS-CoV-2 coronavirus can lead to a wide range of acute and also chronic disease manifestations. The rapidly developed vaccinations are highly effective in preventing severe disease courses and have been proven safe. Both natural infection and, to a much lower extent, the mRNA-based vaccinations can be accompanied by transient autoimmune phenomena or onset of autoimmune diseases.
In her email, Fiol goes on to explain how the study doesn't support the claims made in the videos on Instagram and YouTube:
As the ... authors mentioned, central nervous system demyelinating events (the type of damage happening in MS) are occurring more often after COVID infection compared to COVID vaccination. What the poster does not do is say that COVID vaccines cause MS. To prove cause and effect, a different type of study (experimental) would need to be conducted, with very large numbers of people, from multiple locations. Cause and effect cannot be determined by an observational study (case report). This poster is just a write up of observations of what happened in two people. The authors do not prove the vaccine causes MS.
Centers for Disease Control and Prevention
The CDC's Immunization Safety Office provided this response to the social media claim in an August 29, 2023, email to Lead Stories. It said:
To date, CDC has detected no unusual or unexpected reporting patterns of multiple sclerosis (MS) following COVID-19 immunization that would indicate COVID-19 vaccines cause MS.
CDC continues to recommend COVID-19 vaccination for everyone 6 months and older, including boosters.
Food and Drug Administration
In an August 30, 2023, email response to Lead Stories from the FDA, the agency said, "The claims made within this video inaccurately reflect what the researchers reported in their paper." The response continued:
Extensive monitoring of adverse events reported after vaccination with authorized and approved COVID-19 vaccines to the Vaccine Adverse Event Reporting System (VAERS) has not identified a safety signal for multiple sclerosis.

COVID-19 vaccines have undergone--and continue to undergo--the most intense vaccine safety monitoring in U.S. history. The FDA and CDC stand firmly behind the safety and effectiveness of the approved and authorized COVID-19 vaccines, which are fully supported by the available scientific data. Staying up to date on vaccination is the best way to reduce the most serious outcomes from COVID-19 including hospitalization and death.
Vaccine Adverse Event Reporting System
VAERS, which the FDA co-sponsors with the CDC, operates as a crude early warning system and not as a database for the quantification of specific outcomes following vaccination.
Anyone with internet access can add a report to the VAERS list of reports. The public access link to it expressly warns against unwarranted conclusions based on VAERS material because the list only provides a tally of unverified notes about any health event people experience after they are vaccinated.
The list itself cannot be used to prove or quantify, since all it shows is a chronological correlation, not the causal link that would be more difficult to establish. It's the equivalent of a police precinct's running "blotter" reports that may serve as a starting point for police work, not an endpoint.
Read more
Additional Lead Stories fact checks of claims related to vaccines can be found here.
Additional Lead Stories fact checks about Campbell can be found here.