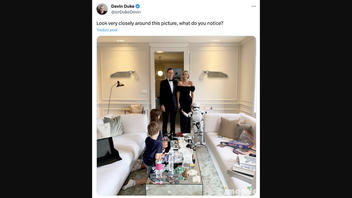 Did Jared Kushner and Ivanka Trump pose for a photo in a room that has surgical bone saws hanging on the walls? No, that's not true: The image of the couple has been doctored and the bone saws have been added to the photo, likely as a commentary on Kushner's business relationship with Saudi Prince Mohammed bin Salman al Saud, who U.S. intelligence agents say ordered the murder and dismemberment, with a bone saw, of journalist Jamal Khashoggi. The original picture was posted on Ivanka Trump's social media account in 2019 and does not have saws hanging on the walls.
The claim appeared as a post (archived here) where it was published on X, the platform formerly known as Twitter, on August 29, 2023. It opened:

Look very closely around this picture, what do you notice?
This is what the post looked like on X at the time of writing: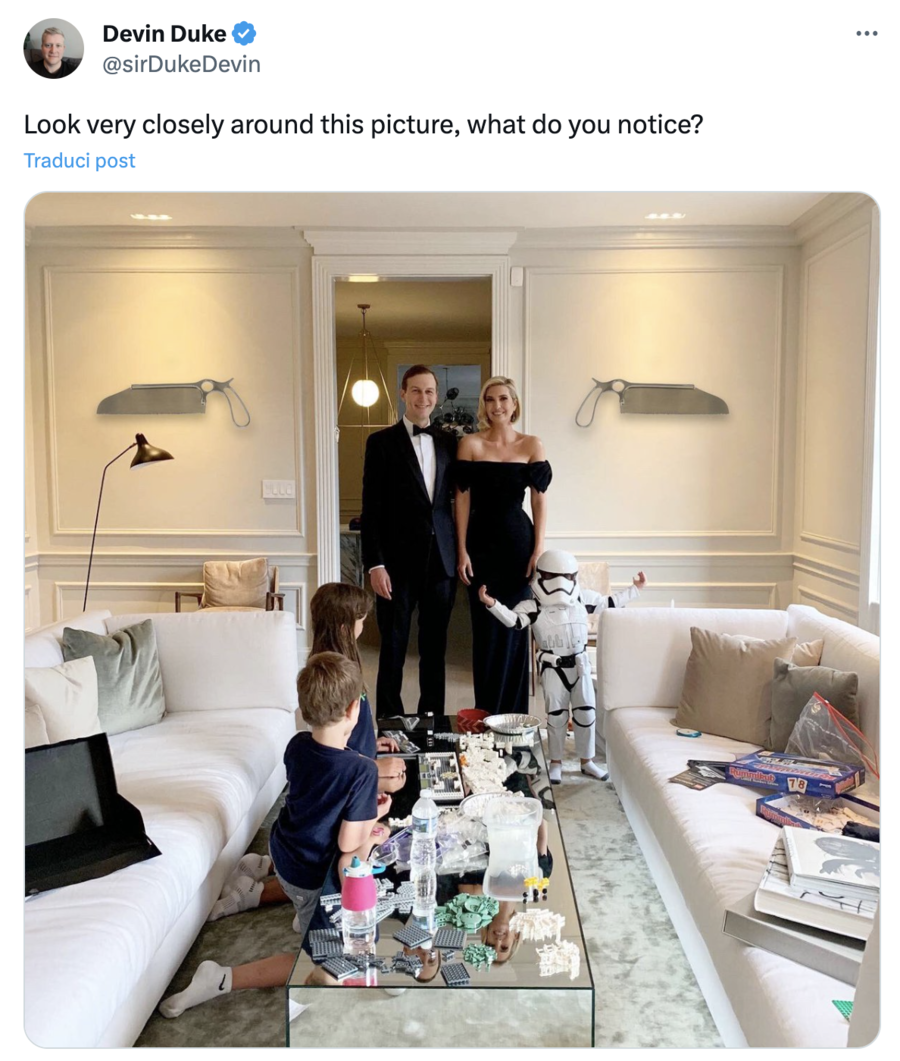 (Source: Twitter screenshot taken on Wed Aug 30 18:52:42 2023 UTC)
The image posted on X in August 2023 does not match the picture originally posted on Ivanka Trump's account (archived here) on September 18, 2019. The original image shows the couple standing in a room formally dressed, with a child dressed like a Storm Trooper from "Star Wars." Ivanka Trump's original caption read, "The Force is strong in my family," a reference to "Star Wars." Here is a screenshot of the original post: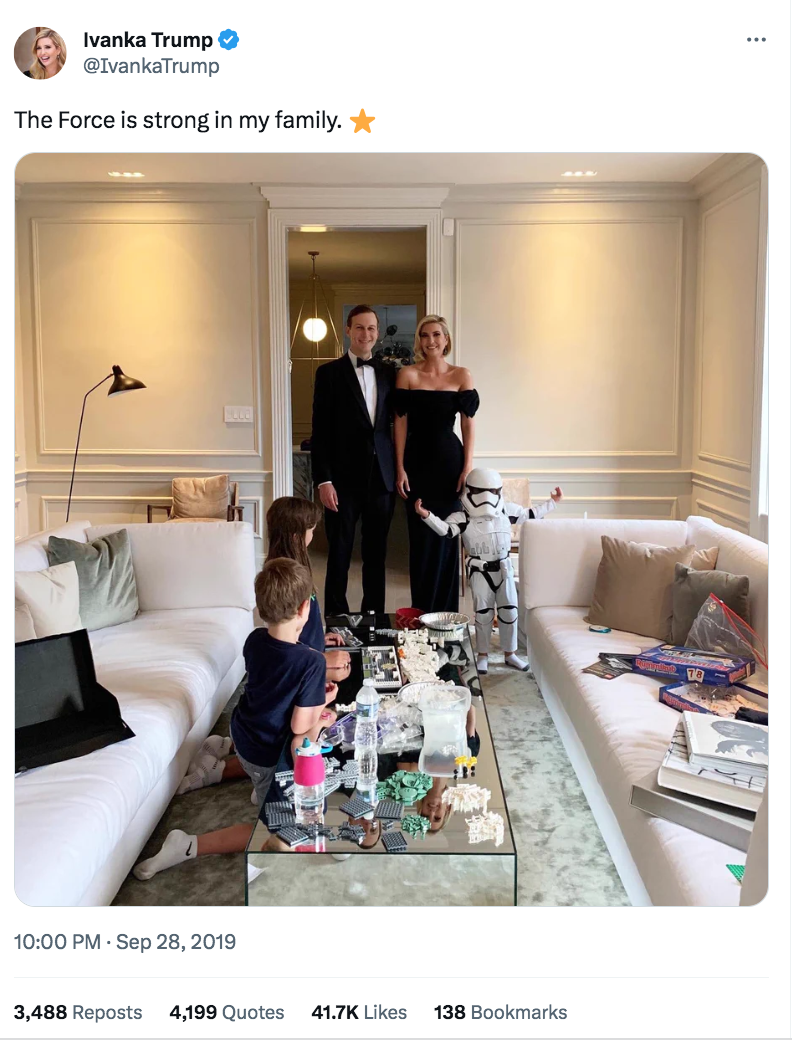 (Source: Twitter screenshot taken on Wed Aug 30 18:31:16 2023 UTC)
Time Magazine named Khashoggi 2018 a Man of the Year after the frequent critic of bin Salman was summoned to the Saudi consulate in Istanbul, swarmed by a team of 15 men, killed and then dismembered with a bone saw. The saws added to the photo exactly match the shape and proportions of the 13-inch Satterlee Bone Saw, shown here on the manufacturer's website, an apparent reference to the bone saw used to cut up the journalist's body, which has never been found.
The room in the Turkish consulate where Khashoggi was murdered was bugged and after transcripts of the recordings were leaked, Congress pressed for sanctions on Saudi Arabia. Kushner, a senior adviser to then-President Donald Trump, was reported by USA Today and other news outlets to have provided the Saudi prince advice on how to handle the controversy over the killing. Then, after leaving his White House job, Kushner created a private equity investment company in which the Saudi royal family invested $2billion.
President Joe Biden in July 2022 said he rebuked the Saudi prince in a private meeting and that bin Salman said it was a rogue operation for which he was not to responsible.
Other Lead Stories fact checks about Ivanka Trump and Jared Kushner can be found here and here.