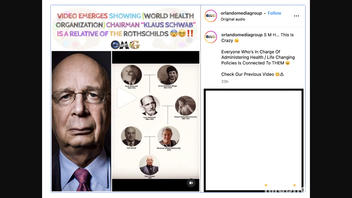 Does Klaus Schwab, a former professor of business policy in Switzerland widely known as the founder of the World Economic Forum, have family ties with the Rothschild dynasty via a person named Marianne Schwab, née Rothschild? Is she his mother? No, that's not true: A viral video making such an assertion did not include any public records to confirm it. Both Klaus Schwab and Marrianne Schwab have denied the claim in the past, and nothing in publicly available materials supports it.
The claim reappeared in a post (archived here) on Instagram on August 15, 2023. It opened:
S M H... This Is Crazy 🫠





Everyone Who's In Charge Of Administering Health / Life Changing Policies Is Connected To THEM 😩
The post contained a video with a top banner saying the following:
VIDEO EMERGES SHOWING (WORLD HEALTH

ORGANIZATION) CHAIRMAN 'KLAUS SCHWAB'

IS A RELATIVE OF THE ROTHSCHILDS 😨😵‍💫‼️

OMG
Here is what it looked like at the time of writing: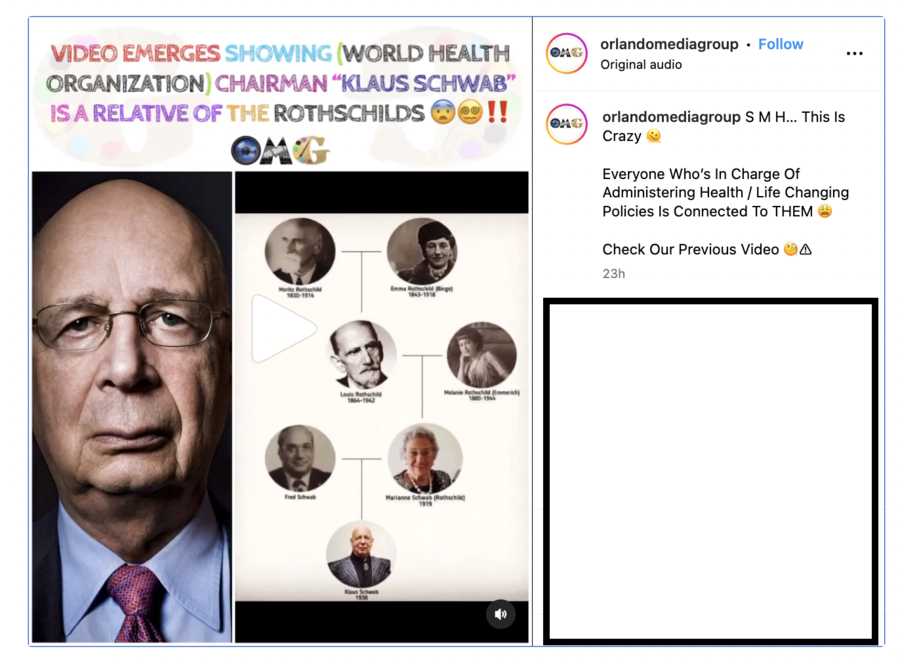 (Source: Instagram screenshot taken on Wed Aug 16 15:15:25 2023 UTC)
The post incorrectly introduced Klaus Schwab as the "World Health Organization chairman." The WHO website doesn't have a single mention of him:

(Source: Who.int screenshot taken on Wed Aug 16 15:48:18 2023 UTC)
In reality, Schwab, 85 at the time of writing, is the founder and chairman of the World Economic Forum, an organization that annually hosts an international gathering of the same name in Davos, Switzerland. Unlike the WHO, it doesn't have any formal authority to issue cross-border health-related guidelines.
Both Schwab and the World Economic Forum have been targets of baseless assertions for a long time.
The claim that is the focus of this fact check derives from recurring antisemitic narratives about the Rothschild family, a dynasty of European bankers started by Mayer Amschel Rothschild in Frankfurt, Germany, and later expanded to other countries by his descendants.
The post asserts that Klaus Schwab is the son of Marianne Schwab, whose maiden name was Rothschild.
But as of this writing, the website containing detailed information about the Rothschild family's genealogy does not mention anyone with the last name Schwab: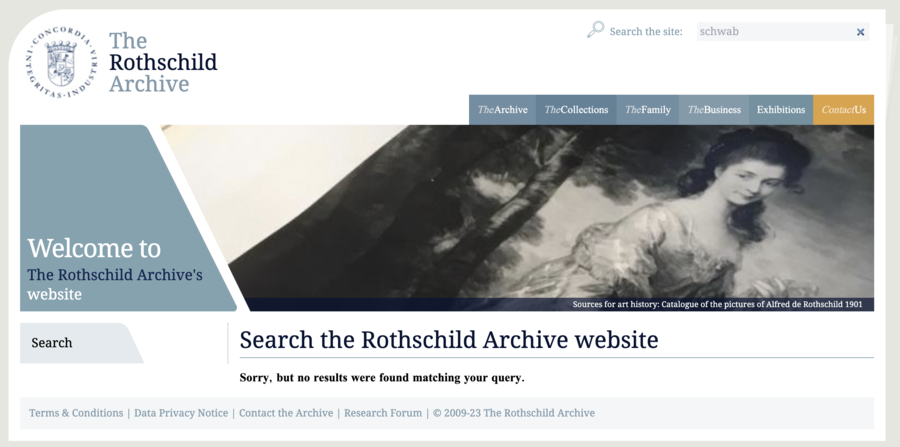 (Source: The Rothschild Archive screenshot taken on Aug 16 20:04:28 2023 UTC)
The video that emerged on Instagram did not provide any new evidence to support the statement in question: It doesn't cite any sources and only shows Schwab's photo next to the graphics mimicking a family tree. Moreover, European fact-checkers have already debunked similar claims circulating in other languages (for example, here).
According to the USC Shoah Foundation whose records are, in part, available through Ancestry.com, Marianne Schwab is a name of a real person. Born in 1919 in Frankfurt (officially -- Frankfurt am Main) to Louis Rothschild and his wife Melanie, she spent her early years in Bad Homburg.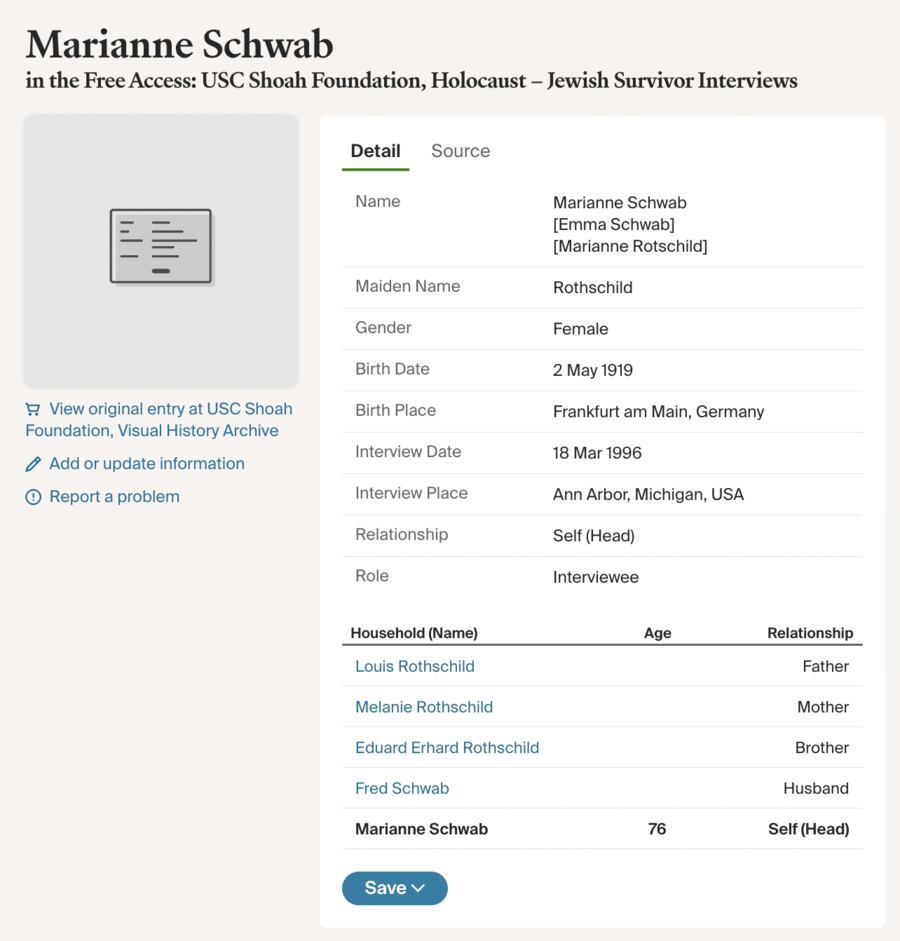 (Source: Ancestry.com screenshot taken on Wed Aug 16 16:50:37 2023 UTC)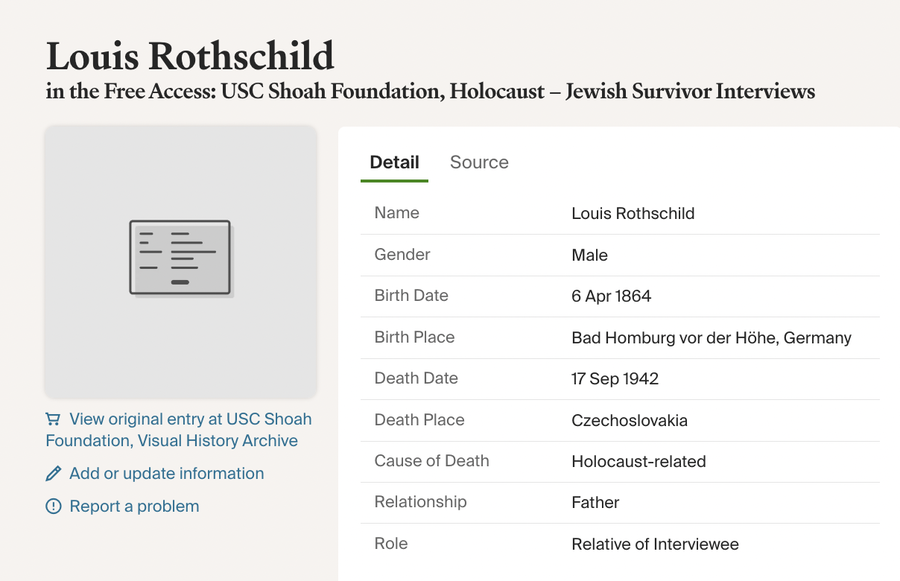 (Source: Ancestry.com screenshot taken on Wed Aug 16 21:09:27 2023 UTC)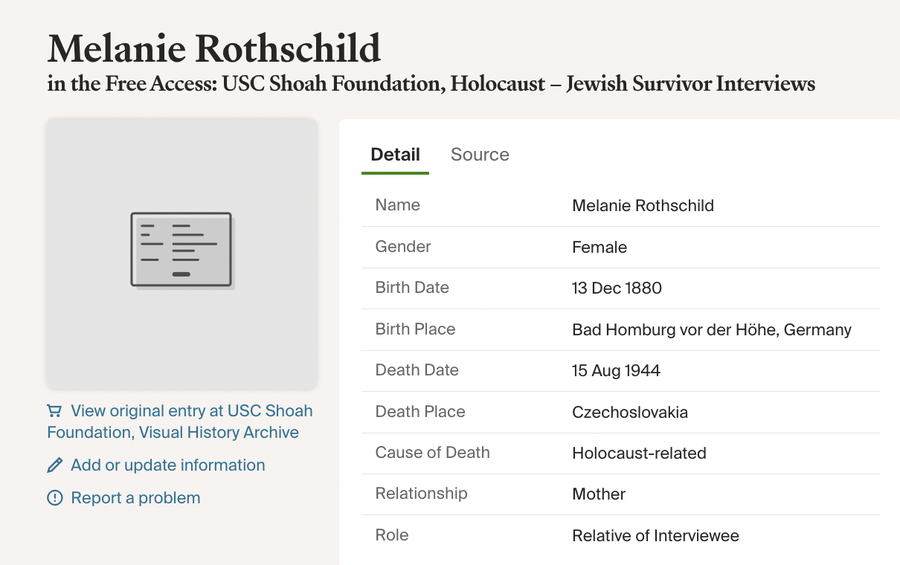 (Source: Ancestry.com screenshot taken on Wed Aug 16 21:09:46 2023 UTC)
In 1942, both of her parents were transported from Germany to the Theresienstadt, one of many Nazi camps located in what is now the Chech Republic. Both died before the end of World War II (see Louis Rothschild screenshot above).
Louis Rothschild was a banker, but, contrary to the claim, a German-language article about the Holocaust described him as a manager, not the owner.
Klaus Schwab was born in March 1938 in a different German city: Ravensburg. In a foreword to one of the books he wrote later in life, he named his parents: Eugen Wilhelm Schwab and Erika Epprecht.
In 2021, Klaus Schwab told the German press, as translated by Chrome:
I don't know Marianne Schwab. She is not part of our family.
Marianne managed to flee Germany after November 1938 pogroms, went to Britain and settled in the United States around 1940. Only after that, she married a fellow Frankfurt native with the last name Schwab. Nothing in publicly available sources indicates that she gave birth to a male child before marriage.
A summary of Marianne's 2003 oral history interview specifically addresses a variation of this recurring narrative:
... although in the same business as the famous House of Rothschild dynasty of Frankfurt, the family was not directly related to them. Her father was also president of the Jewish community, and her maternal grandfather was a city councilman in Bad Homburg.
Other Lead Stories fact checks mentioning the Rothschilds can be found here.