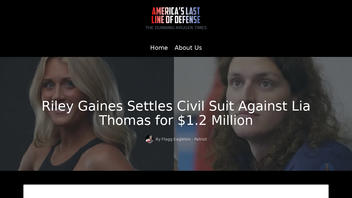 Did Riley Gaines settle a civil suit against Lia Thomas for $1.2 million? No, that's not true: This claim originated from a self-described satirical website aimed at trolling conservatives. That website, The Dunning-Kruger Times, has a disclaimer that describes itself as part of a network of "parody, satire, and tomfoolery" and says, "Everything on this website is fiction."
The claim appeared in an article published by The Dunning-Kruger Times on August 15, 2023, titled "Riley Gaines Settles Civil Suit Against Lia Thomas for $1.2 Million" (archived here). It opened:
Riley Gaines was cheated out of one of the greatest moments of her life by a swimmer with a clear advantage. It cost her more than just a national championship; it also cost her a spot on the women's national team.
Users on social media only saw this title, description and thumbnail:
Riley lost more than a race.
The article claimed:
The NCAA had nothing to say about it, so Riley did what she had to and got a lawyer. After more than a year, it finally paid off. Gaines settles out of court with Thomas for $1.2 million.
While Gaines, a former swimmer at the University of Kentucky, has been a critic of transgender swimmer Thomas, who competed at the University of Pennsylvania as a woman from 2021 to 2022, there are no credible news reports that she settled a lawsuit with her, as a Google News search of its index of thousands of credible news sites using the key words "Riley Gaines Settles Civil Suit Against Lia Thomas" shows.
The article also states:
NCAA President Joe Barron says the league is pleased with the outcome and looks forward to moving past the issue.
Charlie Baker has been the president of the NCAA as of March 1, 2023. Joe Barron is not the NCAA president; he was a friend of the founder of the America's Last Line of Defense (ALLOD) website network, who passed away. The Dunning-Kruger Times is part of ALLOD. Barron's name lives on as an homage, conveniently taking on the role of a spokesperson to offer false official statements when needed.
Lead Stories debunked a previous Dunning-Kruger Times claim that Gaines "settled with the NCAA" for $1.2 million here.
The ALLOD network of sites run by Christopher Blair, a self-described liberal troll who produces content targeted to conservative audiences.
Lead Stories has a satire policy and typically does not fact check content clearly labeled satire. In this case it is warranted as ALLOD content is frequently plagiarized and republished on other websites without the disclaimer.
The Dunning-Kruger Times
The Dunning-Kruger Times is a satirical website with an about page (archived here) that has following disclaimer:
About Us

Dunning-Kruger-Times.com is a subsidiary of the 'America's Last Line of Defense' network of parody, satire, and tomfoolery, or as Snopes called it before they lost their war on satire: Junk News

About Satire

Before you complain and decide satire is synonymous with 'comedy':

sat·ire ˈsaˌtī(ə)r noun: The use of humor, irony, exaggeration, OR ridicule to expose and criticize people's stupidity or vices, particularly in the context of contemporary politics and other topical issues.

Everything on this website is fiction. It is not a lie and it is not fake news because it is not real. If you believe that it is real, you should have your head examined. Any similarities between this site's pure fantasy and actual people, places, and events are purely coincidental and all images should be considered altered and satirical. See above if you're still having an issue with that satire thing.
The website is named after the Dunning-Kruger effect, a term from a psychology experiment that describes the phenomenon of being ignorant of one's own ignorance. (That experiment has been disputed by a math professor.)
It is run by self-described liberal troll Christopher Blair.
Here are other debunks Lead Stories has written about Dunning-Kruger Times articles.