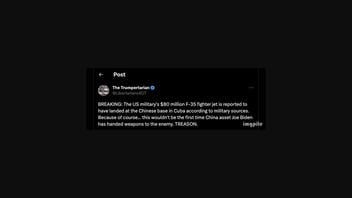 Does a social media post prove that a U.S. F-35 fighter jet landed safely "at the Chinese base in Cuba"? No, that's not true: The debris of an F-35 that vanished in September 2023 was found after a daylong search; its pilot had safely ejected before its crash. No official statements contradicted this version of events, and a national security expert confirmed to Lead Stories that the scenario described on social media was highly unlikely.
The claim appeared in a post (archived here) published on X, formerly known as Twitter, on September 18, 2023. It stated:
BREAKING: The US military's $80 million F-35 fighter jet is reported to have landed at the Chinese base in Cuba according to military sources. Because of course... this wouldn't be the first time China asset Joe Biden has handed weapons to the enemy. TREASON.
This is what it looked like on X at the time of writing:

(Source: X screenshot taken on Wed Sep 20 13:27:55 2023 UTC)
The incident took place on September 17, 2023. A pilot flying a fighter jet ejected at an altitude of 1,000 feet shortly after taking off from a U.S. Marine Corps base in South Carolina.
Officials disclosed this information on the same day on social media, asking the public to help locate the jet:

(Source: Facebook screenshot taken on Wed Sep 20 14:18:53 2023 UTC)
Jeremy Huggins, a spokesman at Joint Base Charleston, told NBC that the plane was on autopilot and, thus, could have stayed in the air for some time after what was described as a "mishap."
On September 18, 2023, a spokesperson for the National Security Council, John Kirby, said on MSNBC (at the 8:45 mark): "Right now we just don't know where that aircraft is."
The fighter jet's debris was discovered near Indiantown in South Carolina later that day.
The post on X didn't contain any evidence that would cast doubts on the official version of the events. It did not disclose names, ranks or lines of work of the so-called "military sources" to explain how they became aware of the purported landing in Cuba. It did not offer any visual proof corroborating the claim, either.
The post in question was one of many similar claims on social media that together formed a conspiracy about the then-missing F-35 flying outside the U.S. Cuba -- the location most frequently mentioned in those posts -- is roughly 800 miles away from South Carolina.
Given the fact that the pilot was heading out for a routine exercise, the plane would not have enough fuel to make it to Cuba, Matthew Schmidt, associate professor of national security and political science at the University of New Haven, told Lead Stories via email on September 20, 2023:
It's common not to fill the tank full for safety reasons (why risk a bigger explosion in exactly this kind of situation?) So getting to Cuba based on fuel alone is a dubious thesis.
Schmidt added that even if the pilot attempted to do so, there would be a trade-off between flying at low altitudes to remain less visible and saving fuel by flying higher but exposing themselves to multiple U.S. radars. In any case, the jet still would be highly unlikely to get to Cuba, especially unnoticed:
The greater fuel consumption at the low altitude it was at, the need to have a preprogrammed autopilot route to Cuba, the fact that if the Navy thought it was heading there they could have eventually found it and intercepted it -- it's clear how wild-eyed this idea was.
While there are known cases when even a heavier, less suitable for maneuvers commercial aircraft survived after running out of fuel midair at a high altitude, that required gliding and it's not something the autopilot mode is typically capable of.
The F-35B model involved in the incident is unique because it can take off and land vertically like a helicopter, but just like all other F-35s, it's a single-seat aircraft. After the pilot's ejection, the jet remained unmanned, and F-35s are not drones that can be operated fully remotely.
Other Lead Stories fact checks about F-35 jets can be found here.