STORY UPDATED: check for updates below.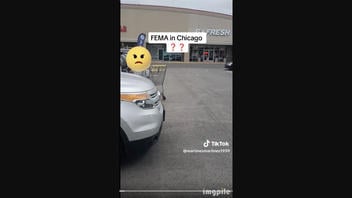 Was the appearance of a Federal Emergency Management Agency (FEMA) field office in the Washington Square Mall complex in Chicago a sign of nefarious activity? No, that's not true: This implied claim is missing context. A state of emergency had been declared for Cook County, Illinois and the Chicago area after summer flooding in 2023. The FEMA organization told Lead Stories that it established the center to support recovery efforts for residents affected by storms, that produced the flooding.
The claim appeared in a post (archived here) on TikTok published on September 8, 2023. The post included a short video recording displaying a FEMA flag post and storefront in a parking lot with a caption that opened:
fking FEMA needs to be dismantle no need for them or Homeland security 🤷🏼‍♂️🤷🏼‍♂️
In the video recording, a man is heard at nine seconds saying:
I spotted this a couple of days ago. This is Chicago. No major storms happen here in Chicago where they need FEMA. I'm 52 years old. I've been in Chicago all my life. Flag post right here. United States Department of Homeland Security.
This is what the post looked like on Instagram at the time of writing: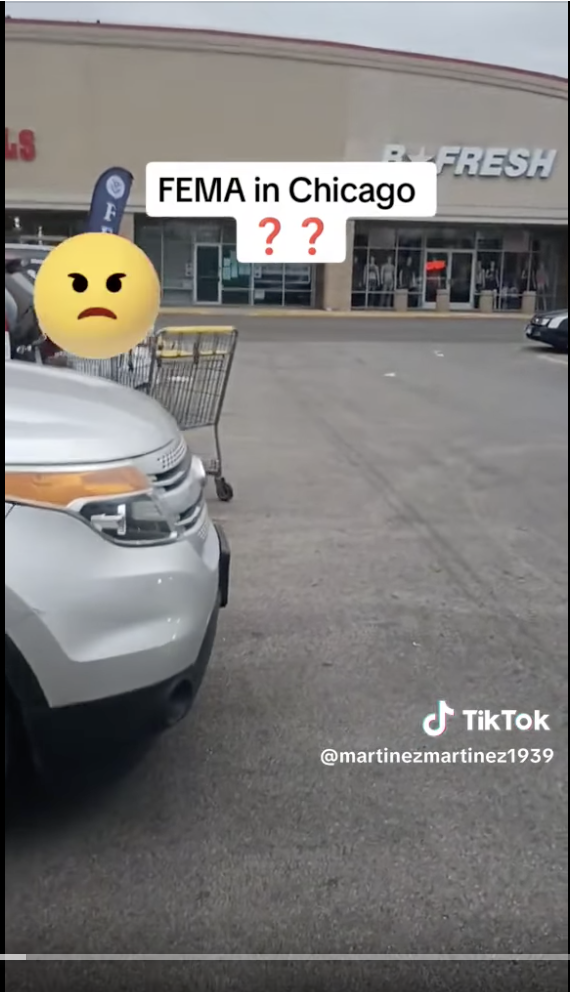 (Source: TikTok screenshot Taken On Fri Sep 15 17:46:15 2023 UTC)
At 53 seconds, the man in the video continued by saying:
FEMA State Recovery Center. What the fuck is this shit here? Look at security. Probably watching my bitch ass. But anyway, fellas, people, this is a mall here in Chicago. I believe they call this the Washington Mall.
The implied claim that this post makes is that the appearance of a FEMA center at the Washington Square Mall in Chicago is suspicious because there had not been a major environmental disaster for FEMA to respond to in that area. However, this post needs more context as there has been a recent weather event in Chicago of the kind FEMA responded to.
In a September 16, 2023 email, FEMA Press Secretary Jeremy M. Edwards responded to an inquiry from Lead Stories concerning this claim:
A disaster declaration was approved on Aug. 15, authorizing FEMA to offer grant funds to residents affected by the June 29 - July 2 storms and flood. As of Monday, Sept. 11, more than $109 million dollars is in the hands of those survivors because of this assistance.

FEMA Disaster Recovery Centers are open in six Cook County locations to help residents kickstart their recovery. Specialists from FEMA and the U.S. Small Business Administration are at the centers to help survivors apply for federal disaster assistance, upload documents, learn about ways to make their property more disaster resistant and get their questions answered in person.
Edward's response is also corroborated by this August 28, 2023, FEMA press release titled "Disaster Recovery Centers Open Across Cook County," which alerted residents that beginning August 29, 2023, four Cook County locations, which includes the Washington Square Mall, would open "to help residents kickstart their recovery after the June 29 - July 2 storms and flood." This Illinois-based disaster recovery event is documented here as being declared by FEMA on August 15, 2023.
As seen in this September 7, 2023 tweet posted by the official FEMA Region 5 Twitter account, which serves the state of Illinois, tthere are other FEMA Disaster Recovery Centers in Cook County, Chicago. There are several more across the county accessible to residents seven days a week, with two more openings in Cook County since the initial declaration.
2023-09-20T22:41:37Z

2023-09-20T22:41:37Z

Adds comments from FEMA press secretary, adds details about FEMA Disaster Recovery Centers in Cook County.