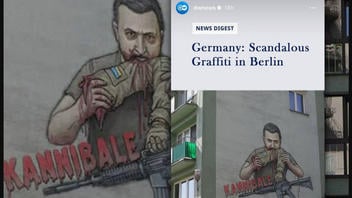 Did at least two German news outlets, Deutsche Welle and the Frankfurter Allgemeine Zeitung, publish reports about a graffiti mural in Berlin that showed Ukrainian President Volodymyr Zelenskyy labeled a "Cannibal," eating the dismembered arm of a Ukrainian soldier holding an AR-15-style rifle? No, that's not true: These screenshots are fabricated propaganda, designed to look like news reports about anti-Ukrainian graffiti. This graffiti does not exist in Berlin, and these German newspapers never published these articles. The green building pictured in the manipulated images is not in Berlin but in Warsaw, Poland.
The fake screenshots showing fabricated German news reports were posted on social media. On September 14, 2023, @Megatron_ron posted an image (archived here) on X (formerly Twitter) that appeared to be a screenshot from Deutsche Welle, Germany's government-run international broadcaster. The image of the graffiti mural is taken at an angle and shows a green-and-cream-colored building with balconies and a German flag. The post was captioned:
Someone in Berlin painted graffiti of Zelensky as a cannibal eating his soldiers.

Berlin police are looking for the author of the mural with Zelensky the cannibal. The Führer must not present himself like this.

They will arrest and prosecute their own citizens because they offended some clown in Ukraine. What Germany fell to.
The text in the fake screenshot reads:
dwnews 18h
NEWS DIGEST
Germany: Scandalous Graffiti in Berlin
DW.COM
This is what the post looked like on X at the time of writing: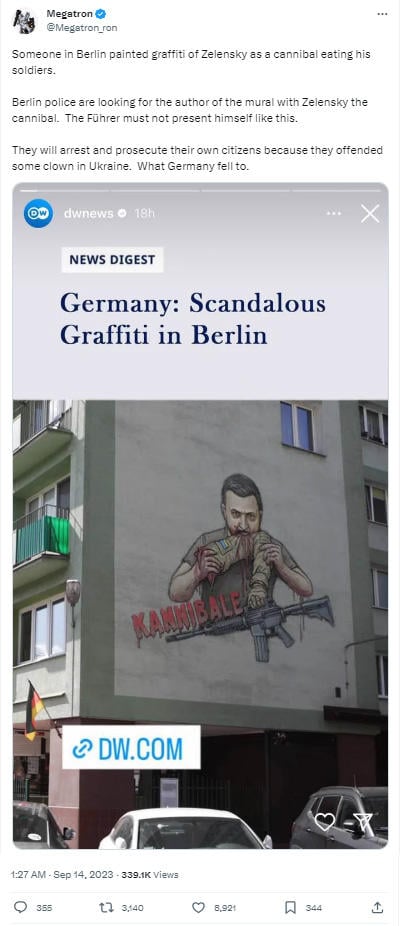 (Source: X screenshot taken on Fri Sep 15 16:03:56 2023 UTC)
Another example of this complex propaganda was posted on the Reddit forum r/HeroesofRussia by @banzay_33 on September 13, 2023. This example (pictured below) appears to be a screenshot of the Frankfurter Allgemeine Zeitung, an influential German daily.

A different image of the graffiti mural, square to the wall, is used in this fake screenshot. As in the X post, the caption of the post also misapplied the word "author" to describe a visual artist.
Berlin police are looking for the author of this graffiti .
This fake screenshot of a Frankfurt news story has text in German that reads:
Frankfurter Allgemeine
VORFALL
Antiukrainisches Graffiti wurde in Berlin gesehen
12.09.2023, 08:18
DeepL translates this to:
Frankfurter Allgemeine
INCIDENT
Anti-Ukrainian graffiti was seen in Berlin
Sep 12, 2023, 8:18 am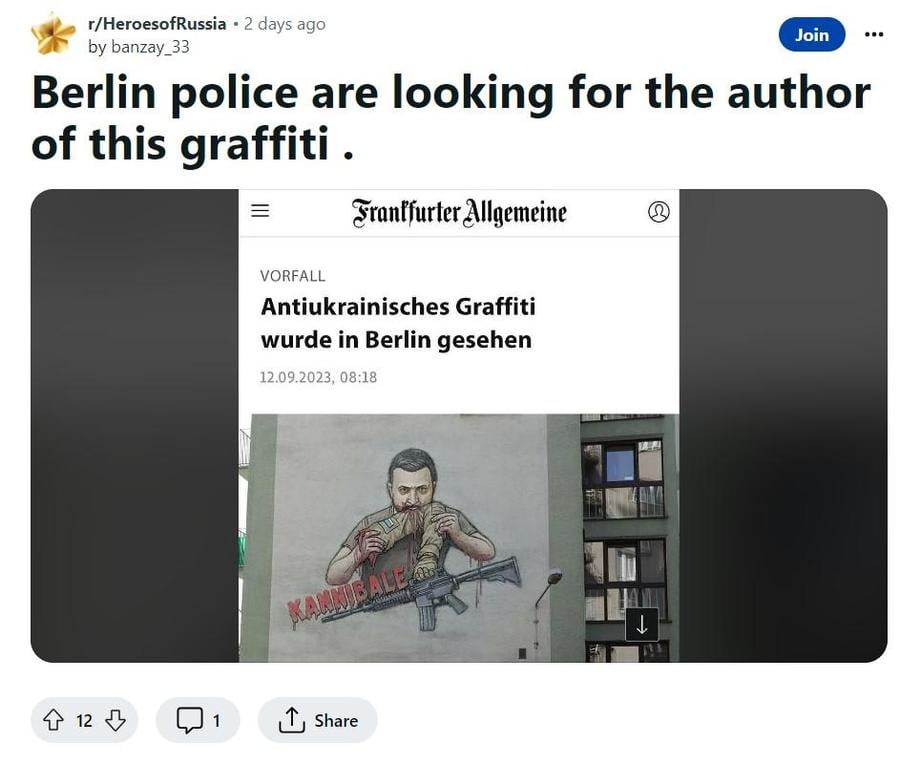 (Source: Reddit screenshot taken on Fri Sep 15 17:37:28 2023 UTC)
Lead Stories searched Deutsche Welle and Frankfurter Allgemeine Zeitung's websites, as well as via Google, in both English and German, and found no results that showed that the articles in these hoax screenshots were ever published.
The high-rise apartment building pictured is not in Berlin but at 4 Ignacego Potockiego in Warsaw, according to Google Maps.
A Google Maps Street View image (pictured below) of this address, taken in August 2021, shows many identifiable features that match the fake screenshots such as the two-tone paint scheme, the green lining of the lowest balcony and the positioning of the outdoor lamps.
There are also details visible in the Street View image that do not appear in the fake screenshots; notably, the Polish flag, which was replaced by a German flag, and the two blue enamel address panels with the street name and building number. The edits of these details obscure the true location of this building.

The Street View image is 2 years old, so the absence of the mural is not evidence that the mural is not there now. As of September 15, 2023, Lead Stories has been unable to verify if the mural is on the building or if it ever was.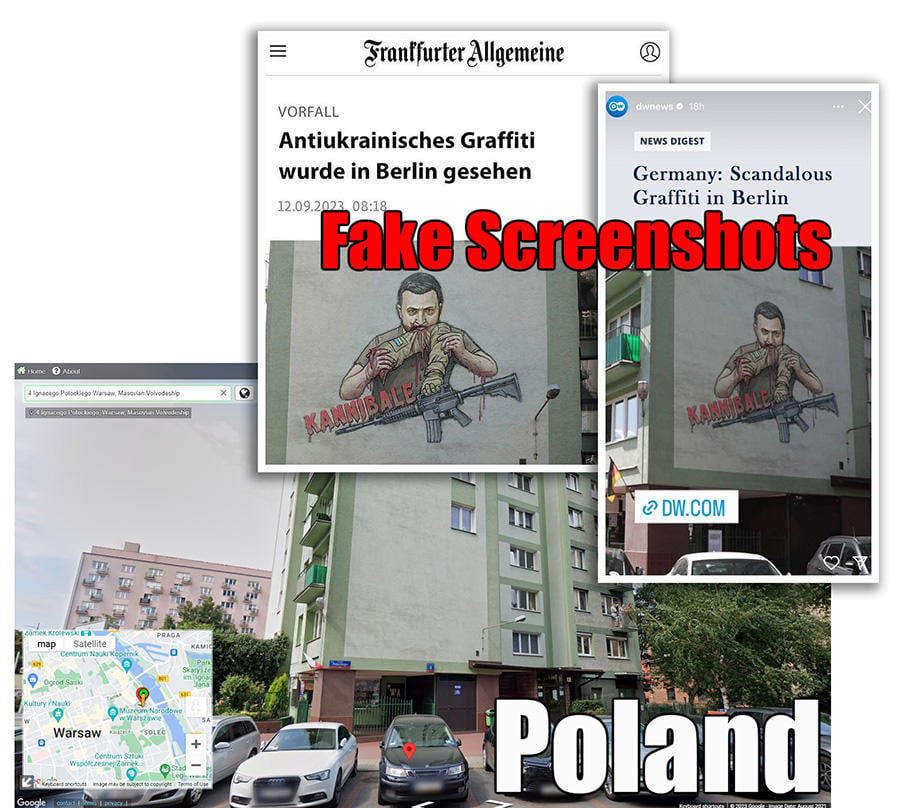 (Source: Lead Stories composite image with Google Street View, Reddit and X screenshots taken on Fri Sep 15 17:37:28 2023 UTC)
A self-described "art-group" from Poland named Typical Optical (on Instagram and Telegram) has produced many anti-Zelenskyy graffiti hoaxes in the past. A common feature of these hoaxes are illustrations, which appear to be sidewalk chalk art, placed into a photo of a real place. They receive attention on social media and Russian media outlets even though there is no evidence these artworks ever existed in those locations. Lead Stories has debunked several of these supposed pieces of graffiti from New York, Paris, London and The Hague.
Another example of an anti-Zelenskyy chalk-art hoax went viral in January 2023. The image, which depicted the Ukrainian leader as a pimple ready to burst, was supposed to be from Berlin, but the street scene was actually a digitally edited image set in Zurich, Switzerland.
This chalk art hoax was posted on @typicaloptical's Instagram and was debunked by the German fact checker Correctiv before the post was deleted.
In December 2022, the Georgian fact-checking site Myth Detector debunked anti-Zelenskyy chalk art hoaxes from @typicaloptical twice; one article featured the Paris hoax and another set in Warsaw; the second article focused on a hoax image in Madrid.
Typical Optical usually renders the figures in an exaggerated caricature style, sometimes depicting Zelenskyy with bulging eyes, as part octopus or as an insect (below left and right).

This latest unattributed Berlin hoax (below center) has a more natural style, but the rendering appears to be consistent with Typical Optical; especially the blue-and-yellow Ukrainian flag patch on the sleeves, the drips of blood and green goo and the revisited theme of Zelenskyy voraciously eating something.

(Lead Stories composite image with screenshots from X, Reddit and Instagram taken on Fri Sep 15 20:58:29 2023 UTC)