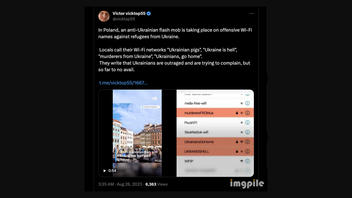 Did the German public broadcaster Deutsche Welle (DW) report that Poles have started to rename their Wi-Fi networks to insult Ukrainian refugees in Poland? No, that's not true: Both DW and the Ukrainian government refuted the claim. A Lead Stories analysis indicates that the claim's list of supposed Wi-Fi networks may predate Russia's 2022 full-scale invasion of Ukraine that displaced millions of Ukrainians.
The English-language version of the claim originated from a post (archived here) on X, formerly known as Twitter, on August 26, 2023. It opened:
In Poland, an anti-Ukrainian flash mob is taking place on offensive Wi-Fi names against refugees from Ukraine.
Locals call their Wi-Fi networks 'Ukrainian pigs', 'Ukraine is hell', 'murderers from Ukraine', 'Ukrainians, go home'.
They write that Ukrainians are outraged and are trying to complain, but so far to no avail.
The post shared a video with a DW logo and a screenshot from it that showed a list of supposed offensive Wi-Fi network names along with those of other free public networks.
This is what the post looked like on X at the time of writing: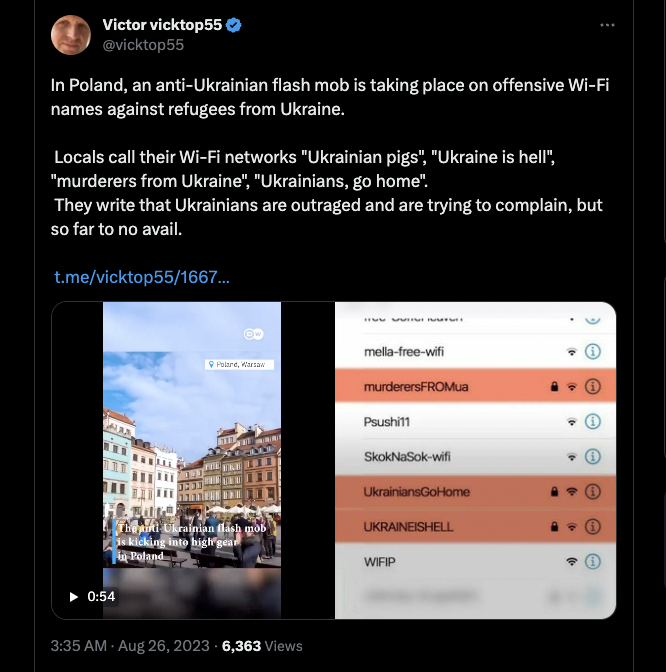 (Source: X screenshot taken on Fri Sep 22 21:15:20 2023 UTC)
The video opened with a wide shot of one of the best-known Warsaw landmarks, Old Town Market Square. However, Google Maps does not show entirely the same combination of businesses providing free Wi-Fi at that location as the video does.
A closer examination suggests that the video's list may be outdated. For example, it included the network "free-Coffee-Heaven." Costa Coffee took over a Warsaw-based coffee-shop chain of this name (Coffeeheaven) in 2009; five years later, it changed the chain's logos to Costa Coffee at 21 locations in the Polish capital. That switchover makes it unlikely that the chain's Wi-Fi networks would still bear their old name in 2023.
Another network on the video's list, "SkokNaSok-wifi," shows the name of a local juice bar. However, Google Maps showed that, as of the time of writing, the bar's two Warsaw locations were not operating: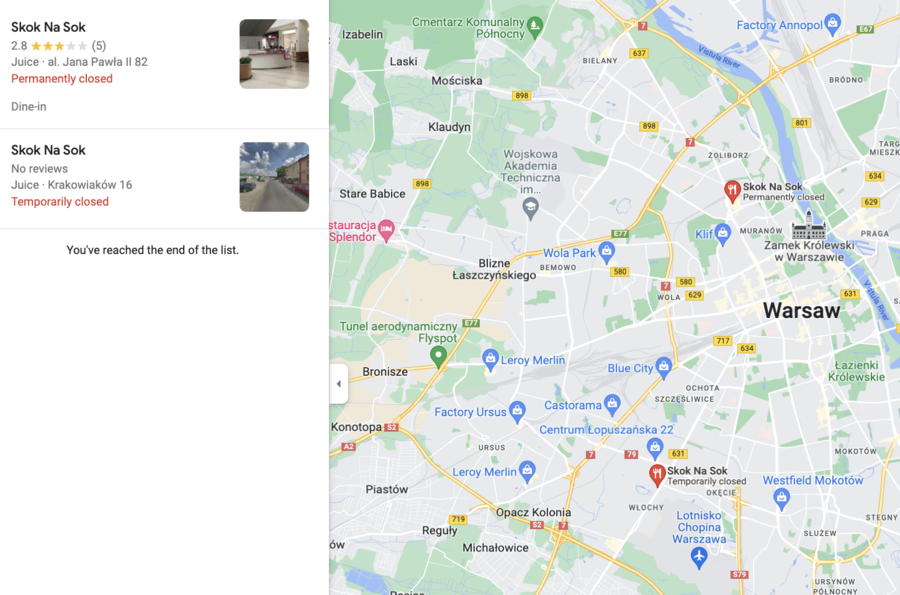 (Source: Google Maps screenshot taken on Fri Sep 22 20:37:46 2023 UTC)
Though Warsaw is one of Europe's 10 most populous European cities, with some 3 million residents in the greater metropolitan area, the social media spoof of a DW video contained no visual or verbal references to any neighborhood in the Polish capital other than Old Town Market Square.
As seen in the gallery below, the rest of the clip contained generic shots that could have been filmed in many locations, and not necessarily in Poland (except for a shot of a uniformed man wearing a black coat with a Polish inscription on the back):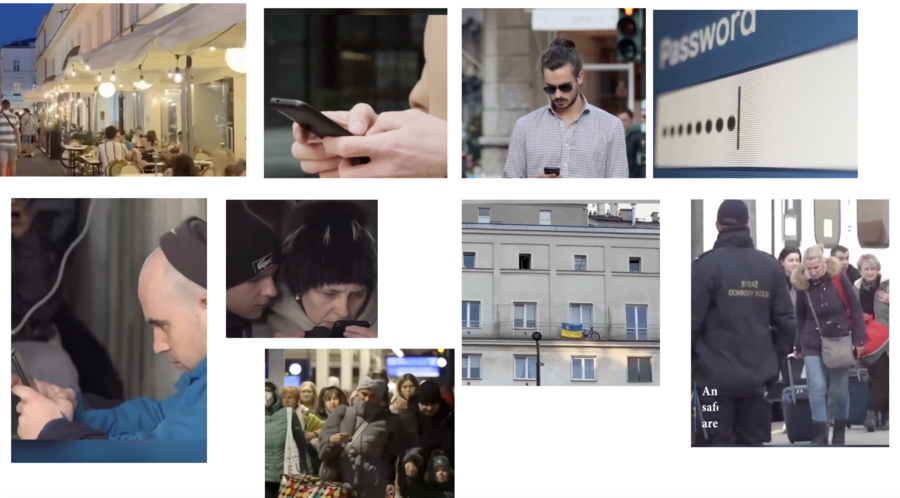 (Source: X screenshots; composite image by Lead Stories)
A reverse image search showed that the shot of the crowd in winter clothes was taken from a February 2023 BBC report about Ukrainian refugees coming to Warsaw, and that the shot of a man wearing a ponytail while walking with a cellphone had appeared on social media in 2020.
The claim about "offensive Wi-Fi names against refugees from Ukraine" started to circulate on Russian-language pro-Kremlin websites on the same date, August 26, 2023, as the fake DW video appeared online. The search results below have been automatically translated into English by Google: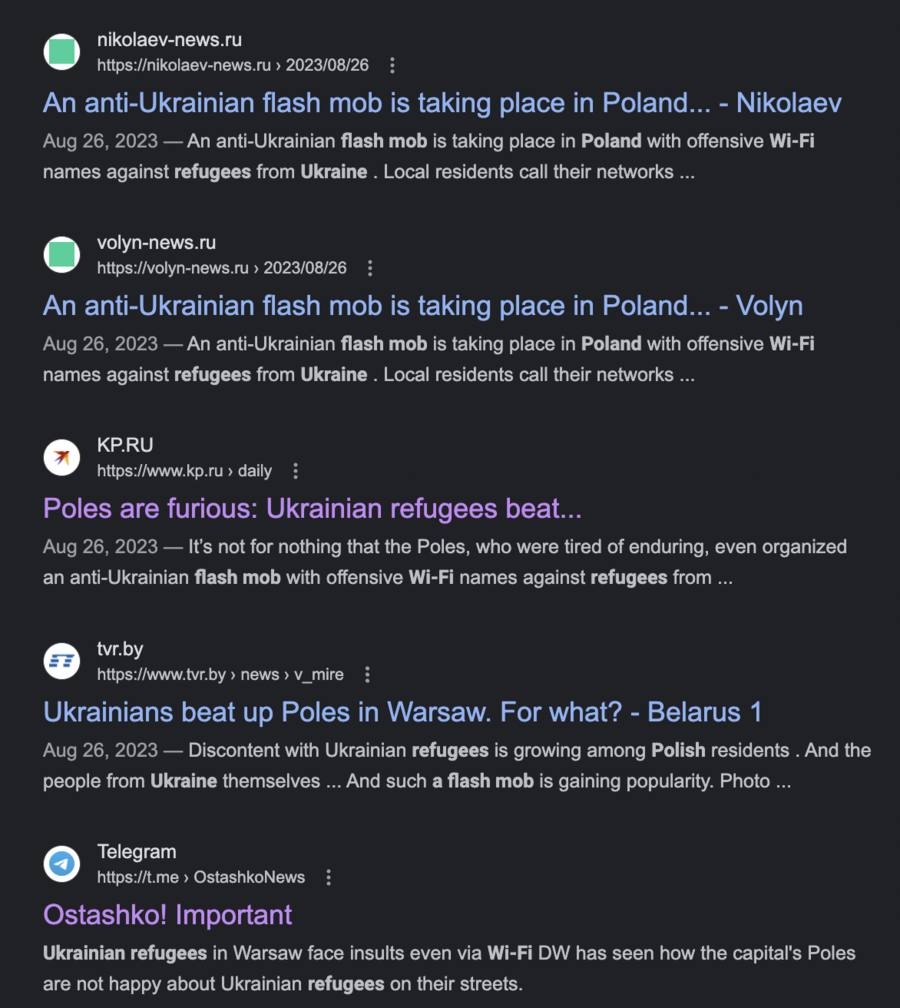 (Source: Google screenshot taken on Fri Sep 22 17:54:10 2023 UTC; the page was automatically translated from Russian by Chrome)
Just like the fake video in question, these "reports" lacked key details about time and place. All of these sites repeated the same language and contained no additional original reporting, such as first-person accounts or follow-ups on related alleged incidents.
When Lead Stories searched in Polish via Google Translate for the terms "Poland," "Ukrainian refugees" and "Wi-Fi" on Polish-language news websites, only two relevant results appeared. One was a repetition of the claim about Wi-Fi networks, published by a Polish-language website, and the other was a debunk: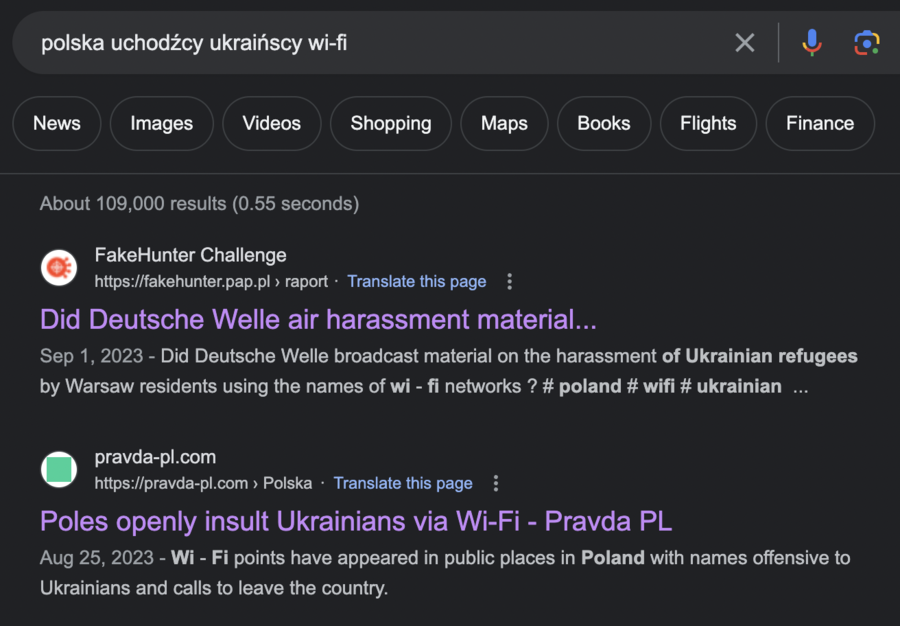 (Source: Google screenshot taken on Fri Sep 22 18:55:44 2023 UTC; the page was translated from Polish to English by Chrome)
Had the story been true, local media would likely cover it. By September 2023, Poland had accepted at least 1.6 million refugees from Ukraine, which is more than any other country. While Poles' attitudes toward this wave of newcomers have been largely positive, Polish officials announced in the early fall of 2023 that the country may allow many supportive measures to expire in 2024. Within that context, any rapid change in attitudes toward refugees, such as offensive Wi-Fi network names, would have been widely reported, if proven to exist.

The social media video that made the claim about these network names, however, does not offer proof. It uses generalization ("everyone") and assumptions ("no doubt that the purpose of the action ...") that are atypical for Deutsche Welle, generally known for balanced, fact-based coverage:
And everyone who wants to connect to free wi-fi in a cafe or on the street sees anti-Ukrainian network names. All wi-fi points are accessible only by password so there is no doubt that the purpose of the action is to intimidate Ukrainian refugees ...
A search of the DW English-language website revealed no traces of such a report. It showed only a fact check debunking the claim: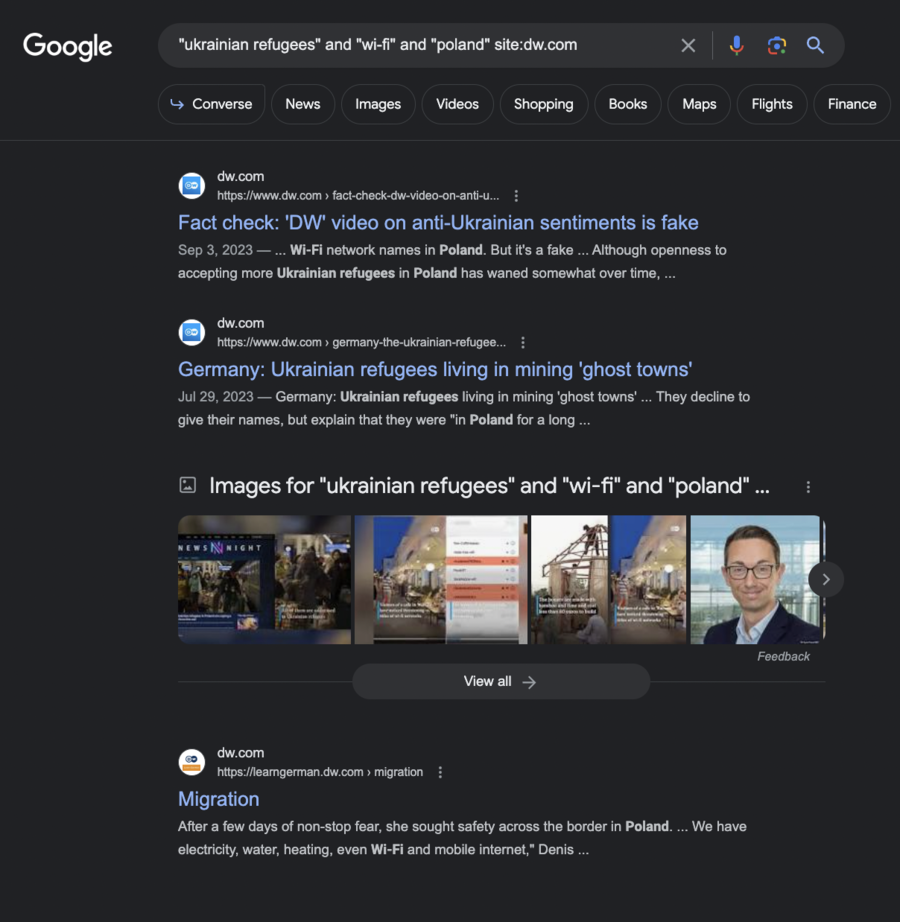 (Source: Google screenshot taken on Fri Sep 22 19:20:16 2023 UTC)
DW refuted the claim, highlighting discrepancies between the company's visual style and what was seen in the video on social media. For example, both the logo and text field were slightly misplaced in the clip in question.
Ukraine's government-run Center for Countering Disinformation described the video as "fake," attributing its creation to "Russian propagandists."
This is not the first time that Russian propaganda has targeted Ukrainian refugees. Similar narratives appeared in Germany in 2022.
The illegitimate use of a credible media company's logo to add credibility to a claim is not a new technique, either. For example, as Lead Stories reported in late August 2023, a video falsely claimed that the BBC had reported that Russia's Evgeny Prigozhin, the head of the Wagner mercenary group, had not been killed in a plane crash, even though the Russian authorities confirmed his death.
Additional Lead Stories fact checks of claims about the war in Ukraine can be found here.