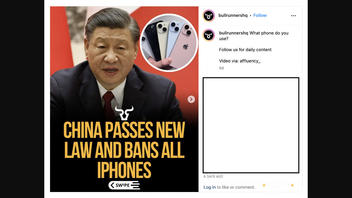 Did China pass a law formally prohibiting the use of "all iPhones" in the country? No, that's not true: No credible sources reported about the purported piece of legislation; China's officials denied the existence of such a law, and then, as a new iPhone model became available in mid-September 2023, people in China still could order these Apple devices. The claim appears to be an exaggeration of the Wall Street Journal article discussing a reported expansion of some restrictions on the use of foreign-made devices in China's government agencies, not a ban on "all iPhones."
The story appeared in a post (archived here) published on Instagram on September 19, 2023. It opened:
What phone do you use?





Follow us for daily content





Video via: affluency_
The add-on text in the attached image continued:
CHINA PASSES NEW

LAW AND BANS ALL

IPHONES

SWIPE
Here is what it looked like at the time of writing: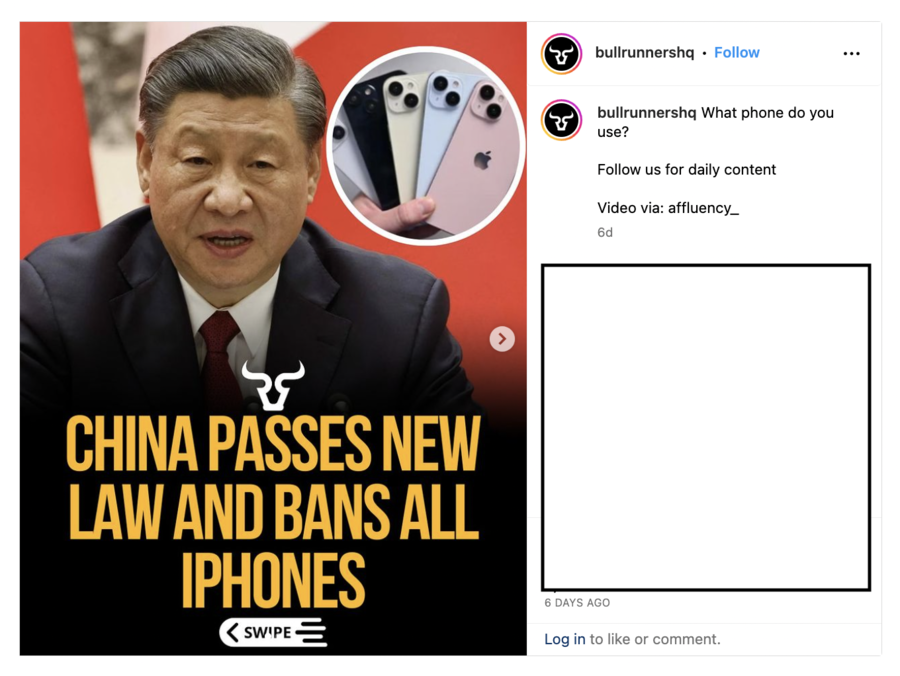 (Source: Instagram screenshot taken on Mon Sep 25 10:54:00 2023 UTC)
The second file attached to the post was a video from the PBD podcast hosted by Patrick Bet-David, who talked about an "immediate ban on all Apple devices by government officials" in China.
Contrary to the claim, six days after the post's publication, the Apple website in China allowed purchasing iPhones, as seen below in the screenshot automatically translated to English: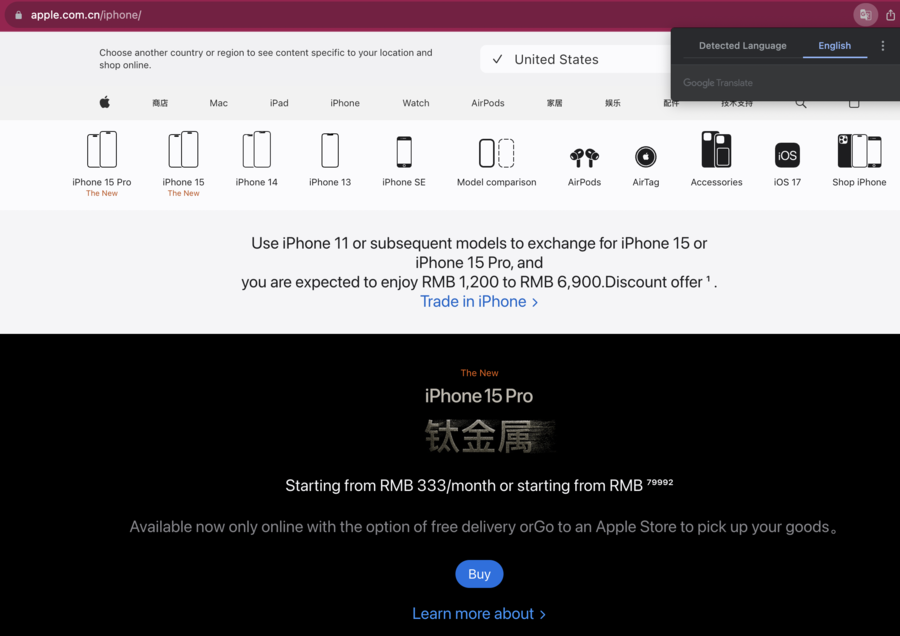 (Source: Apple.com.cn screenshot taken on Mon Sep 25 12:11:14 2023 UTC)
The claim started to circulate after The Wall Street Journal reported on September 6, 2023, that China had "ordered" state officials not to use iPhones or any other foreign-manufactured devices at work. The article relied on unnamed sources and never discussed the total prohibition of "all iPhones" or a law formally outlawing these devices. Instead, it cited rather informal "instructions" given to government employees in "workplace chat groups or meetings" by their superiors.
The WSJ additionally added:
It wasn't clear how widely the orders were being distributed...
On September 13, 2023, China's Ministry of Foreign Affairs spokesperson Mao Ning did not say anything specific about the reported verbal or texted "instructions" at China's government agencies but denied (archived here) that the country issued any new formal restrictions, nor a nationwide ban:
China did not issue any law, regulation or policy document that bans the purchase and use of cellphones of foreign brands, such as iPhone.
China's official response also brought up security concerns associated with foreign-manufactured devices. For example, as Bloomberg noted, in September 2023, at least one iPhone in the United States was infected with the spyware Pegasus and in June 2023, Russia accused Apple of working with U.S. national security agencies to hack the iPhones of Russian nationals.
On the day of China's Ministry of Foreign Affairs press conference, the National Security Council spokesman John Kirby, commenting on the reported expansion of restrictions on the use of Apple devices among government employees in China, told journalists that the White House was following the new developments with "concern," as cited by Reuters. According to Bloomberg, Kirby then described the situation as "of the kinds of aggressive and inappropriate retaliation to US companies" and continued:
The truth is, we don't have perfect visibility on exactly what they're doing and why, and we certainly would call on them to be more transparent about what they're seeing and what they're doing.
Apple did not respond to the Wall Street Journal's initial article.
When Lead Stories reached out to Apple, the reply came on September 25, 2023, from Alex Kirschner whose LinkedIn profile lists him as the company's senior PR manager for the iPhone department in Cupertino. His email contained a single question:
You see these reports from reputable news outlets?
Kirschner also attached two links to media reports about iPhone sales in China.
According to Bloomberg, China's market generates one-fifth of all Apple sales.
The rumor about the purported ban on "all iPhones" appeared shortly before the iPhone 15 was scheduled to hit the stores. It negatively affected the price of Apple's shares, a CNN article pointed out (archived here.)
Roughly two weeks before it, Chinese company Huawei issued its latest smartphone in spite of U.S. sanctions. CNBC described it as a new "threat" to Apple.
On September 22, 2023, the first day of iPhone 15 sales in China, Reuters reported (archived here) that people still could enter Apple stores to pick up pre-ordered devices in Shanghai and Beijing. Some had their iPhones delivered in one hour. The company that offers such a service said that the sales via its app increased by 253 percent, compared to the release of iPhone 14 one year earlier, reported CNBC (archived here.)
Other Lead Stories fact checks about technology can be found here.